Living on the coast means having access to some of the freshest seafood in the country, and here in Miami there's enough fresh seafood to last us a lifetime! 
Shrimp and lobster make up two of Florida's largest seafood assets, and it just so happens that all the good stuff is harvested right here in South Florida. The waters, temperatures and ecosystems around the Keys and the Gulf make perfect habitats for these crustaceans. 
Cooking with Miami's freshest shrimp & lobster
Shrimp
Shrimp is the highest-earning species in Florida's seafood industry, raking in over $50 million each year and providing thousands of jobs and economic benefits. Florida harvests four different kinds of shrimp throughout almost all the year, meaning there is a fairly consistent supply available fresh from the docks at any point in the season.
When buying shrimp fresh from Florida fisheries (try saying THAT ten times fast!), you can rest easy knowing that you're not only getting the freshest stuff out there, but you're also making a more eco-friendly choice. 
Wild shrimp is harvested using large nets that are dragged along the ocean floor. While this is certainly an effective fishing method, it is a practice that leaves a fair amount of destruction in its wake. Everything in the way gets caught by the net, including marine life that fishermen are not targeting; these are known as "bycatch," and there are around four to five pounds of bycatch for every one pound of shrimp harvested. 
This sounds terrible, but the good thing is that wild shrimp in Florida are harvested using bycatch reduction devices (BRDs). This means that the locally sourced shrimp you're buying from a Florida fishery is by far a more sustainable and eco-friendly choice than buying shrimp that's been imported. 
So head to your local Miami seafood market and snag some of that fresh shrimp for your next cocktail night or grilling evening. And, while you're browsing Pinterest for a good shrimp recipe, why not add this one to your list? It's straight from the Florida Department of Agriculture and Consumer Services! 
Florida Gulf shrimp and sweet pepper stir fry with honey-citrus glaze 
1 lb Florida shrimp, peeled and deveined
3 assorted bell peppers, sliced
1 onion, sliced
1 tbsp toasted sesame seeds
1 tbsp honey
1 cup orange juice
¼ cup cornstarch
¼ cup low-sodium soy sauce
Extra virgin olive oil (for cooking)
Sea salt and ground black pepper, to taste
Coat the shrimp in the cornstarch and sauté in oil over medium heat until almost cooked (about 3 minutes). Remove shrimp and sauté the peppers and onions until cooked. Add honey, orange juice and soy sauce and allow liquid to boil. Add shrimp back to the pan, stir to coat and cook for an additional 3 minutes or until shrimp is fully cooked and sauce has thickened. Serve over rice, and enjoy!
Spiny lobster
Most of Florida's lobster supply comes from Miami-Dade, Monroe and Broward counties, where the habitat is perfect for finding these spiny crustaceans. 
Harvesting lobsters in Florida is even more sustainable and eco-friendly compared to, say, harvesting shrimp. Fishermen use cage traps that rest on the ocean floor to lure and trap the lobsters inside, and every day the traps are raised, emptied and lowered back into the water. Even if other animals accidentally meander into the cage, the fishermen who empty the cages by hand simply toss the unwelcome guests back into the ocean where they live to swim another day. 
Florida's spiny lobster is distinguished by its spines (shocker, really) and small claws, and is sometimes called the Rock lobster or Florida lobster. While Maine lobsters have the large, distinct claws that carry most of the meat, spiny lobsters have small claws and carry most of the mead in the tail. 
Don't be shellfish with your crustaceans, as they are foods meant to be shared with those special people in your life. Lobster doesn't have to be a dish exclusive to an ultra-fancy occasion, either. Rather, make use of fresh Florida lobster to make an assortment of different dishes like grilled lobster tail or broiled lobster at home. In fact, try this easy lobster penne pasta next time you're feeling a little adventurous. 
Florida lobster penne pasta
1 lb lobster tail meat, cooked
3 tbsp extra virgin olive oil
1 onion, minced
2 cloves garlic, crushed
1 can diced tomatoes
½ cup clam juice
1 tbsp red wine vinegar
2 tbsp Italian herb blend
¾ tsp cayenne 
⅓ cup heavy cream
Sea salt, to taste
1 pound penne pasta, cooked
Cut lobster tail into pieces and sauté over medium heat with onion and garlic until onion is soft (10 minutes). Add the tomatoes, clam juice, cayenne, herbs and vinegar and bring to boil. Reduce heat to medium-low and simmer for 20 minutes. Season with salt and pepper to taste. Pour sauce over cooked and pasta and serve hot. 
If you live in our luxury South Florida apartments, then you're always just a few blocks away from some kind of local seafood store. Support your local economy by finding some fresh shrimp or lobster, and try out some of these tasty dishes! 
Enjoy!
Pin it!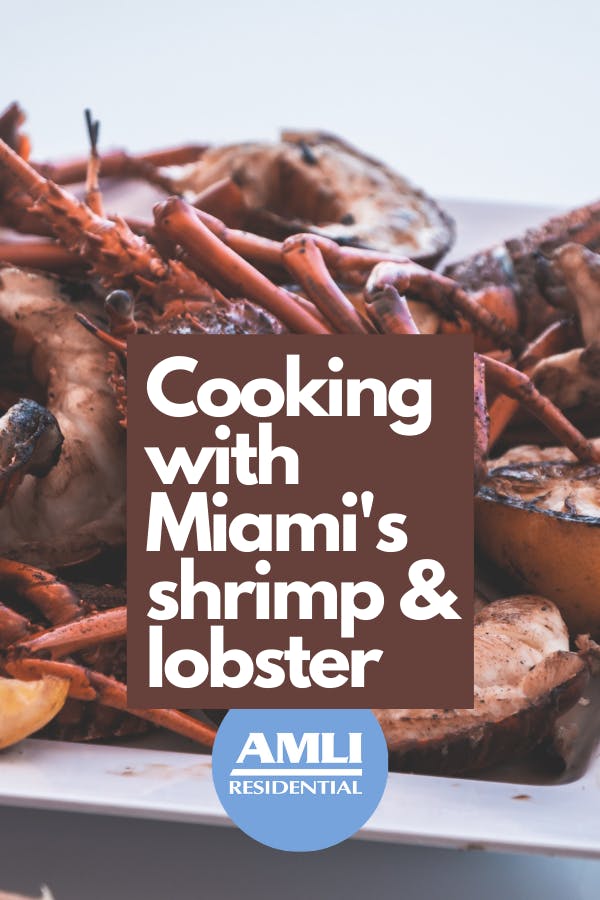 Featured photo courtesy Pixabay/NadineDoerle