Texas has a rich cultural history that, as most histories usually do, includes a rich history of food. Here are Texas' state foods that have roots in the people, plants and places that make Texas what it is today!
If you live in our Dallas apartments, Austin apartments or Houston apartments, then this is for you! Try out these recipes below to celebrate the great state you live in!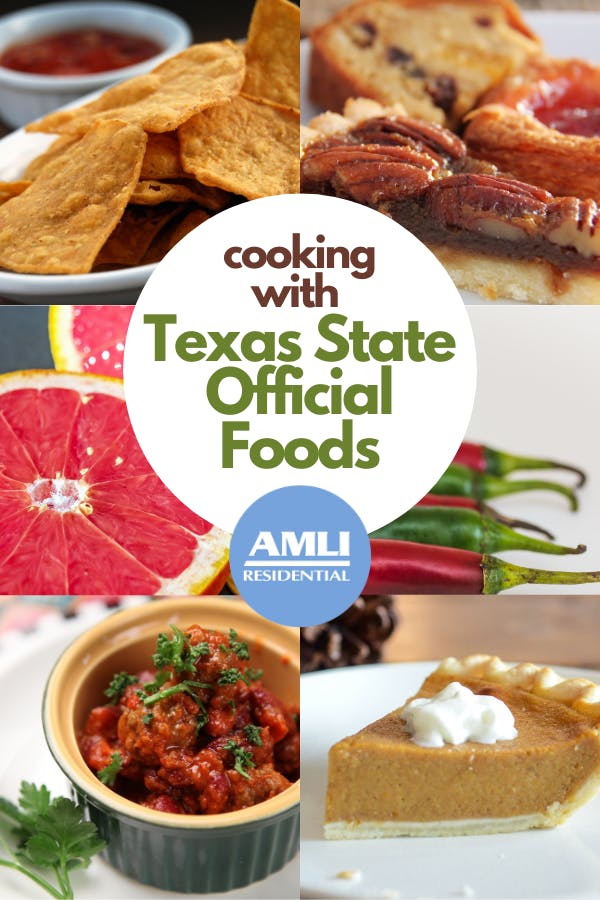 Texas state foods 
Texas state dish: chili
It's no wonder that this warm, hearty dish is the state food of Texas, as chili does seem to have originated right from this very region!
Legend has it that the recipe for chili came from a Spanish nun in the early 1600s. Apparently, Sister Mary of Agreda appeared to Native Americans in a vision and delivered the very first recipe for chili, which included deer meat, chili peppers, tomatoes and onions. 
There's also the story that the recipe for chili arrived with immigrants from the Canary Islands to Texas in the early 18th century when they settled in San Antonio. 
No matter where the recipe originally came from, it's true that chili has been a go-to dish for cowboys, frontiersmen and families throughout modern-day Texas history. In 1997, the Texas State legislature named chili as the official state dish. 
Here's how you can make it for yourself!
Texas state fruit: Texas red grapefruit
The Rio Grande Valley is a lush region that's perfect for growing many kinds of fruits, including citrus fruits. In 1929, one grapefruit tree mutated and grew a slightly sweeter, redder grapefruit. This mutated grapefruit variety was so popular that it's been the official state fruit since 1933!
Here's how you can use a Texas red grapefruit to make a ruby red grapefruit cake, ruby red grapefruit marmalade and even grilled shrimp with a grapefruit glaze!
Texas state pepper: jalapeno
Jalapenos have been eaten by residents of the Texas region for thousands of years, so it's only appropriate that this mild pepper found its way onto the list of Texas' official symbols! Plus, more jalapenos are consumed in Texas than anywhere else in the country, so it's obviously pretty popular.
Incorporate this Texas pepper into dishes like these bacon-wrapped jalapeno poppers or this sweet Texas jalapeno jelly!
Texas state native pepper: chiltepin
The chiltepin is thought to be the pepper of all peppers. As in, the original pepper from which all other peppers evolved! This small, red pepper is tiny and round and is believed to be Aztec in origin, although it's uncertain just where the bush first grew. 
Make some spicy hot sauce using the chiltepin with this recipe here!
Texas state vegetable: sweet Texas onion
The official name for these large onions is "Sweet Texas 1015 onions," which refers to their suggested planting date of October 15. This onion is sweeter than most and is known for its large rings, making it a perfect ingredient for onion rings, grilling and guacamole!
Here's how you can make some of the best onion rings you've ever tried using these sweet Texas onions!
Texas state health nut & Texas state pie: pecan
The pecan is certainly quite popular in Texas, as it's not only the state nut, but it's the state tree and the state pie, too!
The pecan tree naturally grows in south-central North America and has been used by Native Americans for thousands of years, even dating back to prehistoric times. In fact, the word "pecan" comes from the word meaning "requiring a stone to crack" in the Algonquian language. 
Here's a recipe for a classic pecan pie that celebrates Texas' official nut, tree and pie!
Texas state snack: tortilla chips and salsa
Out of all of the revolutionary kitchen, cooking and eating gadgets we've managed to come up with as a human race, there's still no better way to shovel salsa into one's mouth than by using a classic old tortilla chip.
Salsa has long been in the kitchens of Mesoamericans dating back to the ancient times, but it was mostly used as a sauce rather than a dip. It was only in the early 20th-century southwest that salsa began to evolve into a dip. 
Tortilla chips have a much more recent history, and the origin of the crunchy snack can be traced back to as recently as the 1990s in California. Nevertheless, the holy matrimony between the spicy dip and the crunchy chip certainly belongs in Texas, where the two live happily ever after in the books of the Texas State legislature.
Here's how you can make yourself a delicious bowl of Texas-style salsa!
Texas state bread: pan de campo
Also known as "cowboy bread," pan de campo is a skillet-baked bread that was popular among early vaqueros on the sprawling Texas ranches. The yeast-free bread is made from a simple mixture of flour, baking powder, fat, water and salt, making it easy, quick and convenient to cook over an open fire in a Dutch-oven. 
Here's how you can make some pan de campo for yourself!
Texas state cobbler: peach cobbler
Although a cobbler can be made out of any fruit covered in batter, the peach cobbler remains as one of the more popular cobbler combinations.
 In the summertime, Gillespie County in Texas becomes the center of peach-producing madness, producing over 40% of the peaches in Texas. It's with these sweet, sweet peaches that the Texas peach cobbler gained its reputation for being the state's favorite cobbler!
Here's a recipe for a classic Texas-style peach cobbler that's sure to please!
Texas state squash: pumpkin
The town of Floydada in the South Plains of Texas is the largest producer of pumpkins in the United States, exhibiting the squash's strong ties to the state and its history. Cowboys used to feed pumpkins to their livestock, it was used as a natural remedy to snakebite (and freckles!) and it was a valuable food source during the winter months before refrigeration was invented.
Here's a recipe for a Texas Hill Country spiced pumpkin pie that will squash any competition!
Every one of these Texas state foods celebrates a part of Texas' history in such a delicious way, so embrace these delicious traditions of your state and enjoy yourself while doing so!
Bon appetit!
Pin it!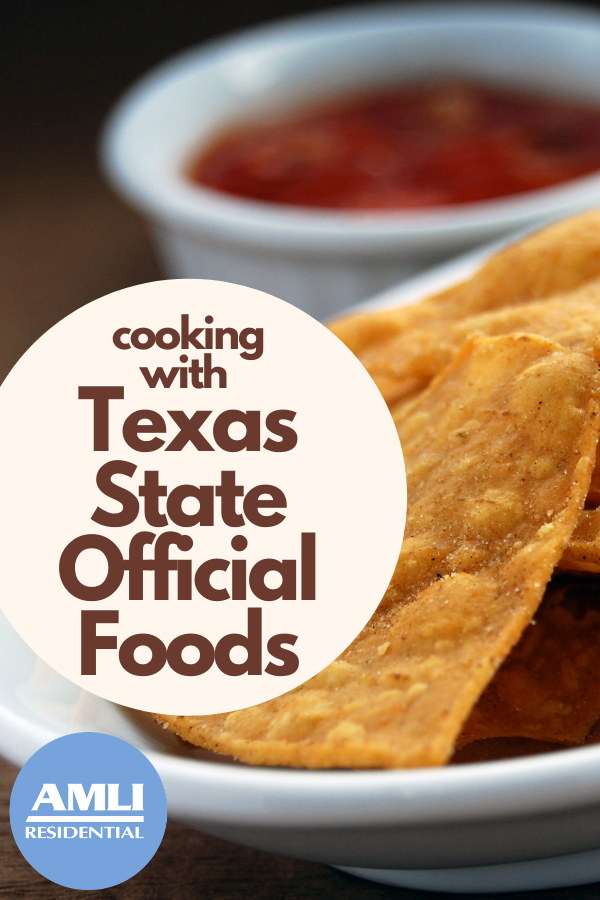 Featured photo courtesy Pixabay/marcelokato