Looking to upgrade your spice game? Start with some homemade spice blends!
A spice blend can make or break a dish, especially one that's curated to match the aromas and flavors of a collection of well-chosen spices. A homemade spice blend can give you more control over what you'd like your food to taste like and how fresh the flavors are, and they can make great gifts for your chef-minded friends!
Here are a few spice blends from all over the world that you can make at home with ingredients you can find around town!
Global spice blends to make at home
South African mother-in-law masala
If you've ever wanted to delve into the wonderful world of South African cooking, then this fiery masala spice mix is a must-have! 
South African cuisine is a mixed blend of its own, with people and cultures from all over the world represented in its diverse dishes and flavors. Like, for example, the curries that hail from the east coast around Durban, where heavy Indian influence has created its own unique variation of Indian-South African cooking.
This mother-in-law masala is the basis for many curries and spicy dishes such as bunny chow (curry served in a hollowed-out loaf of bread) and a good bowl of vindaloo. It's fiery and hot with underlying aromas of sweetness, making it a great spice mix to have!
Mother-in-law masala spice blend recipe
7 tbsp Kashmiri chili powder 
3 tbsp cayenne pepper powder
1 tbsp piri piri chilies
1 tbsp smoked paprika powder
1 tsp garlic powder
1 tsp ginger powder
1 tsp black pepper
1 tbsp black mustard seeds
2 tbsp coriander seeds
1 tbsp fennel seeds
1 tbsp green cardamom pods
1 tsp cumin seeds
1 tsp fenugreek seeds
½ tsp grated nutmeg
3 bay leaves
3 tbsp dried curry leaves
3 sticks cinnamon
2 star anise
4 cloves
Jamaican jerk seasoning
What's chicken without some jerk? 
There isn't much that can compete with Jamaican cooking, and the island-bred jerk seasoning is testament to the cuisine's astonishing success. Jerk seasoning is fresh, spicy, aromatic and intensely flavorful, and it's a true joy to use on anything from grilled chicken to shrimp to vegetables and more. 
Jerk seasoning spice blend recipe
1 tbsp onion powder
1 tbsp garlic powder
2 tsp cayenne pepper
2 tsp salt
2 tsp ground black pepper
2 tsp dried thyme (or use 1 tsp ground thyme)
2 tsp sugar (or use brown sugar)
1 tsp ground allspice
1 tsp dried parsley
1 tsp paprika
1/2 tsp hot pepper flakes
1/2 tsp ground cinnamon
1/2 tsp ground nutmeg
1/2 tsp ground clove
1/4 tsp ground cumin
Nepali garam masala
Garam masala powder is a commonly used spice mixture in the Indian subcontinent. It's just like curry powder in the sense that it is an amalgamation of many different aromatic spices, but garam masala has an extra punch of earthiness that creates a much richer and deeper flavor profile. 
You'll get different versions of garam masala all over India, Nepal, Pakistan, Bangladesh and the rest of the region, but this Nepali garam masala is an especially flavorful one to try. It's used in many dishes in Nepali cuisine, so use this recipe to delve deep into the flavors and recipes of Nepal!
Nepali garam masala spice blend recipe
1/2 cup cumin seeds
1/2 cup coriander seeds
1 tbsp whole black peppercorns
2 to 4 small cassia leaves
3 (1-inch) sticks cinnamon
8 green cardamom pods
2 black cardamom pods
1 tbsp whole cloves 
1 small whole nutmeg
Indian tikka masala
This tasty spice mix is a star when it comes to tomato-based dishes and curries, and it's a blend readily found in stores and international markets all around the country. 
That being said, it's so easy to make your own tikka masala blend at home that you'll never want to buy a mix again! Many recipes use whole spices that are then ground, but you can use pre-ground spices in a pinch if you're willing to sacrifice a bit of flavor. 
Tikka masala spice mix recipe
2 tbsp kashmiri red chili powder
2 tbsp coriander powder
1 tbsp roasted cumin powder
2 tsp garam masala
1 tbsp Amchur powder (dried mango powder)
1 tsp turmeric powder
1 tbsp chaat masala
2 tsp fennel seeds powder
2 tsps garlic powder
1 tbsp kasoori methi (dried fenugreek leaves)
Moroccan ras el hanout
Moroccan cuisine is well known for its use of ras el hanout, an aromatic spice blend that features a wealth of warm, sweet, earthy and fiery spices. 
The name is literally translated to "top shelf" as a reference to its superior quality. The exact blend varies region by region, and most ras el hanout blends can feature upwards of 30 spices in their unique combinations!
Ras el hanout spice blend recipe
2 tsp ground ginger
2 tsp ground cardamom
2 tsp ground mace
1 tsp ground cinnamon
1 tsp ground allspice
1 tsp ground coriander
1 tsp ground nutmeg
1 tsp ground turmeric
1/2 tsp freshly ground black pepper
1/2 tsp ground white pepper
1/2 tsp ground cayenne pepper
1/2 tsp ground anise seed
1/4 tsp ground cloves
Za'atar
This Middle-Eastern spice blend is a versatile and flavorful one, with uses on everything from vegetables to hummus to roast lamb to baba ganoush and more! The exact recipe varies region by region, as most traditional recipes do, but the majority of za'atar contains the same blend of dried herbs and roasted spices. The key ingredient, though, is sumac, which gives the blend the almost citrus-like tanginess that makes it such a versatile mix. 
Za'atar is a common ingredient in Turkish cooking, as well as many places along the eastern Mediterranean. It's a must-have for your spice cabinet if you are a fan of roast vegetables, lamb, beef, chicken and other Middle Eastern specialties. 
Turkish za'atar spice blend recipe
1 tbsp dried thyme- crushed (or sub oregano)
1 tbsp cumin (see instructions about whole or ground)
1 tbsp coriander
1 tbsp toasted  sesame seeds
1 tbsp sumac
½ tsp kosher salt
¼ tsp or more Aleppo chili flakes- optional
So, next time you're looking to buy a spice mix at the store, check to see if you can find a recipe to make it at home, first! Trust us, you'll get a level of flavor that's miles better than what you'd buy in a simple jar.
Enjoy!
Pin it!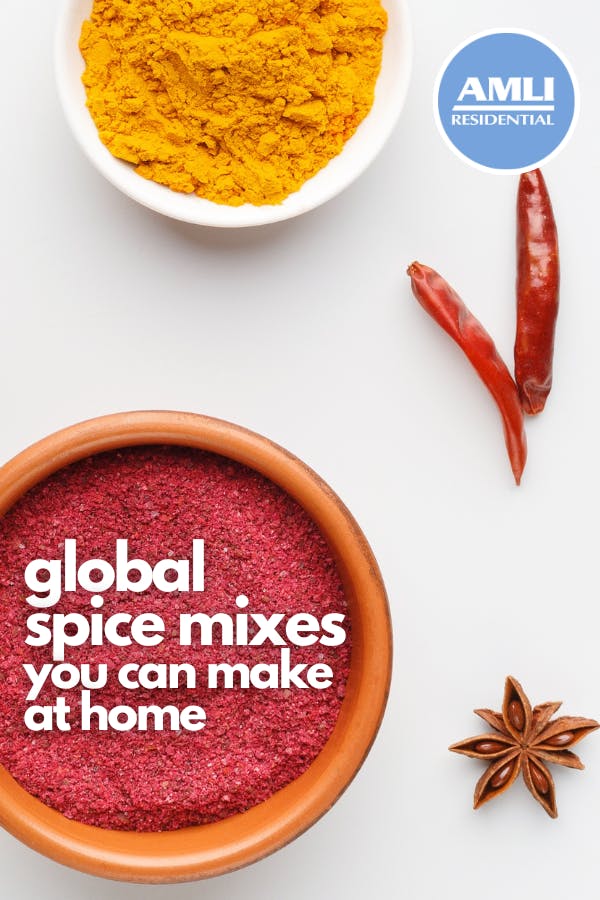 Featured photo courtesy Pixabay/atulcodex