South Africa's cuisine resembles its population: bright and colorful with influences from all over the world. And, if you live in any of our AMLI apartments, you know that we are a community of people from all over the nation and world! Here is just a little bit of what we love about South African cuisine and culture.
South Africa is a country that is home to a wide variety of cultures, tribes and ethnicities. In fact, that's why it's often referred to as "The Rainbow Nation" by many of its inhabitants. South Africans are mainly of Central African, European and Indo-Asian descent, resulting in a bright, vibrant cultural mix of religion, language, traditions and, of course, food!
Here are a few of South Africa's most popular foods that are simple enough to make and tasty enough to give it a go. You may find that you've got a knack for cooking like a South African!
The flavors of South Africa
Many of the traditional South African foods have their bases in curries, meats and vegetables. The cuisine does vary in different parts of the country, as most nations' cuisines do, but, overall, there are plenty of common foods that have been unofficially coined as South Africa's "national foods". 
The European settlers of South Africa primarily consisted of the Dutch and the English, as well as a small amount of the French. The Dutch East India Company trading route stopped in Cape Town, an oceanside city at the southern tip of Africa, before heading up through the Indian Ocean to India, Malaysia, Bangladesh and Indonesia, so plenty of Indo-Asian spices and foods passed through South Africa's ports. 
The eastern and southern coasts of South Africa have strong Indian ties and have the largest populations of Indian South Africans in the country. Many of South Africa's curry dishes originated in these Indian communities and have become dinnertime staples for people all over the country. 
Dutch and English farmers created their own foods and customs after several generations had been away from Europe. Dutch South Africans became known as Afrikaaners, and an emphasis on stews, vegetables and, most importantly, meats became common in many Afrikaans recipes. 
Difficulty: ⭐⭐
Course: Main dish
Pronounced [bəˈbuəti] (thanks, Google Translate!), bobotie is an Afrikaans dish consisting of minced meat, raisins, yellow rice, spices and egg. If there was to be an official national food of South Africa, bobotie would probably hold the title, as it is rarely found or eaten outside of the country. 
A bobotie dish is usually cooked in a casserole dish or cast-iron pan. Minced meat spiced with turmeric, curry powder, coriander and cumin is the center of the dish, and many decide to add raisins or sultanas to add a bit of sweetness. A creamy egg mixture is poured on top of the dish before it is baked, giving the meat an omelette-like topping that binds it all together. The dish is traditionally served with yellow rice, slices of banana, chutney or shaved coconut, as many other curry dishes are.
Try it out! This recipe for bobotie is simple, flavorful and fairly easy to make! 
Local tip: Curries are always better with a dollop of chutney, but if you don't have any then apricot jam will do the trick, too! 
Milktart
Difficulty: ⭐
Course: Dessert
Milktart is to South Africa what apple pie is to America: it's a recipe that every household seems to have their own version of, and it's served at nearly every restaurant. There's not much to it, honestly. Milktart is simply a custard dish that mainly consists of a sweet milk custard base with cinnamon sprinkled on top. 
There are many ways to make milktart, as it involves heating the milk gradually and stirring at specific intervals, but the easiest recipe is, surprisingly, a microwave recipe! The microwave method ensures an easy, no-bake, hassle-free route for bakers, and the ingredients probably couldn't get any simpler. The biggest thing to worry about is whether you want a graham cracker crust or not (local tip: always go with the crust)!
Try it! This milktart recipe is easy and informative, so there's nothing stopping you from trying this South African delicacy!
Local tip: These make for perfect cupcake-sized tarts if you use these mini graham cracker shells!
Bunny Chow
Difficulty: ⭐⭐
Course: Main dish
Whatever you think this is, it's not. This dish has nothing to do with bunnies, surprisingly, but rather has its roots in the Indian South African community on the Eastern Cape of the country. The exact origins of the dish are unknown, but many attribute the creation to Indian farm workers who needed an easy way to transport their curries into the fields. No one needs to carry dishes around when you can just eat the bowl!
Bunny chow, which is often just called a bunny, is any curry dish that is served in a hollowed-out half of a bread loaf. It's essentially the South African street-food version of a bread bowl at Panera, but instead filled to the brim with curry. 
The curries used in bunny chow vary from person to person, and even the bread used can be personalized to your taste. Bunny chow isn't a specific curry recipe in a specific bread loaf, but it is rather a tradition of combining any version of the two in a tasty, filling dish. 
Try it! Really any recipe makes a good bunny chow, but try out this traditional curry recipe from Durban, the bunny chow capital of South Africa!
Local tip: This is an all-hands-on-deck meal, so don't be afraid to eat with your fingers!
Difficulty: ⭐⭐⭐
Course: Main dish
This dish is a mouthful in more ways than one! Pronounced poy-key-kause, potjiekos is an Afrikaans word that literally means "small pot food," as it is traditionally cooked in a small dutch oven (called a potjie pot) over a fire.
Potjiekos is a meat stew with vegetables that is cooked low and slow. It's usually cooked with lamb, but can also be made with beef, pork, seafood or wild game, and it is always cooked with a variety of vegetables. Essentially, potjiekos is a rich stew that is well worth the wait!
The potjie pot is a small (or large, depending on the size of the meal), three-legged cast-iron pot that can stand over a small fire. First, the meat is browned in the hot pot, then broth and vegetables are added and the closed pot is left to stew slowly for as long as the chef (that's you!) desires. The dish is usually served with a ground-up corn meal called pap and eaten with the fingers, but it can also be served with rice, pasta or potatoes. Many South Africans enjoy cooking potjiekos because of the outdoors and social elements of the traditional meal.
Try it! Here's a resource that will help you find a recipe for whatever meat you want to use. 
Local tip: Potjiekos is a social food! Find a park where you can reserve a fire pit and invite some friends over to try your new dish.
Pin it!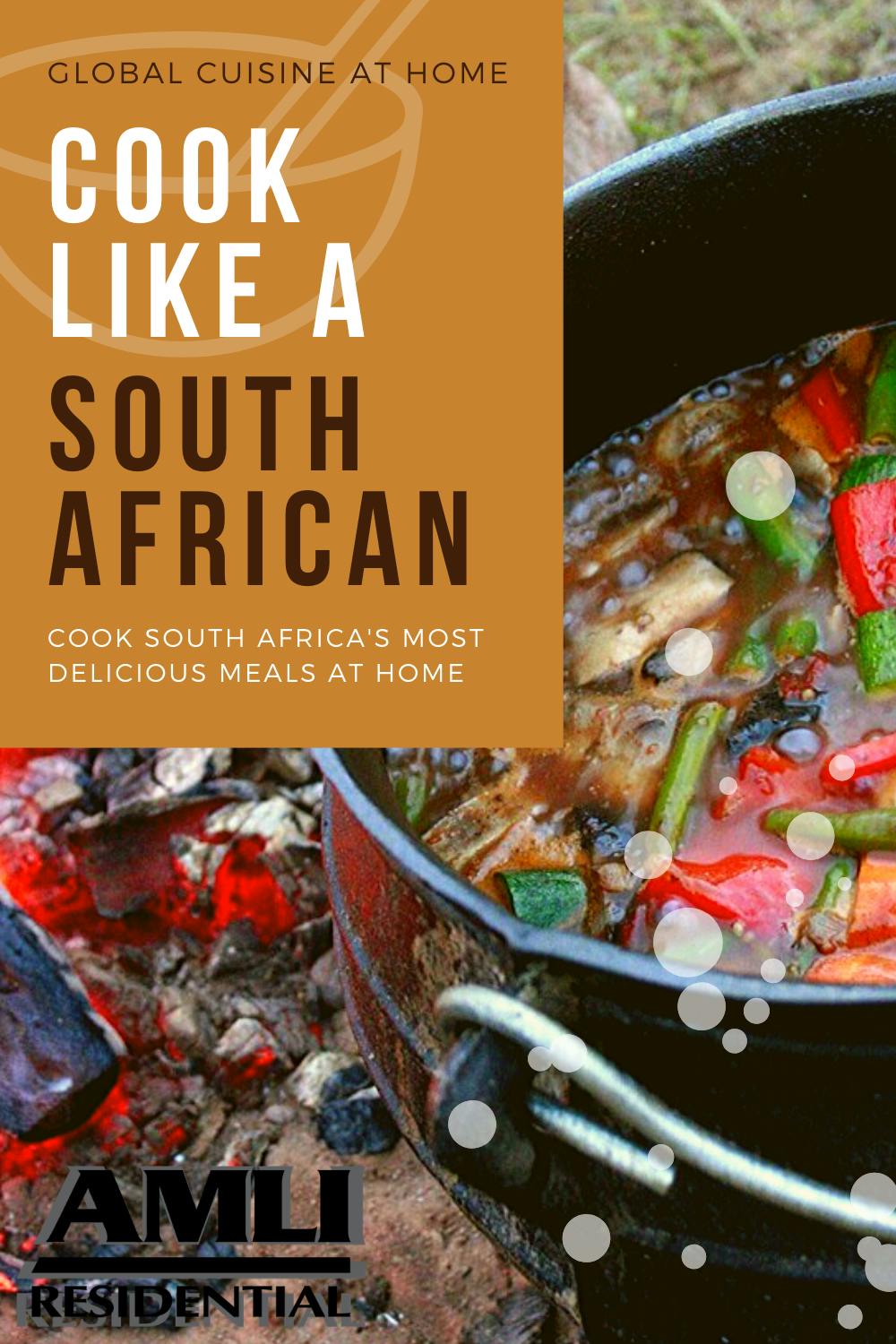 Featured photo courtesy Pixabay/cindycrazycatlady