Going for a hike can be a fun and relaxing way to spend your leisure time. Between the fresh air and pretty views, it rejuvenates the body, mind and soul. 
Bringing along your furry friend can add to the joy of hiking, and the biggest benefit is that your dog will love it! They will get some great exercise and plenty of mental stimulation from all the new sights and smells and friends to meet along the way. 
That all being said, below are some of our favorite dog-friendly hikes in Atlanta. 
Know before you go:
It is your responsibility to have your dog under control at all times. 
Always leash up or use an e-collar appropriately to keep the trail enjoyable for all users.
Be sure to carry bags and pick up after your dog — pack it in and pack it out. 
Don't forget water and a bowl to keep your dog hydrated and happy! 
Make sure you check land-use guidelines for any additional pet rules. 
5 dog-friendly hikes in Atlanta
Difficulty: Easy
Distance: 2.4 miles
Trail type: Loop
Trailhead location: Interim Eastside BeltLine Trail, Atlanta
This trail is perfect for the days you want to get outside and enjoy some fresh air in beautiful green spaces right in the city. Nestled between the Midtown neighborhood and the Virginia-Highland neighborhood, this multi-use walking trail is incredibly accessible and is shared with bikers, bird watchers and folks out for a walk. And, with the trail being almost entirely paved, it is easily navigated by strollers and wheelchairs. The beautiful lake views and seasonal flowers make for a pleasant walk — our favorite time to visit is in the fall when the foliage explodes in breathtaking shades of reds, oranges and yellows. 
Difficulty: Easy
Distance: 3.2 miles
Trail type: Point-to-point
Trailhead location: Atlanta BeltLine Westside Trail, Atlanta
The beautiful urban trail will take you from Washington Park to Adair Park. Along the way you can catch a glimpse of many wonderful pieces of local art from paintings to sculptures to statues, graffiti and more! The wildflowers in the spring are vast in variety and create a stunning backdrop for photos on your hike. Sections of the trail pass through dense vegetation and trees, allowing you to forget you are in the middle of the city. Plan to share this trail with other users like runners, walkers and bikers.
Difficulty: Easy
Distance: 2.6 miles
Trail type: Loop 
Trail location: 2852 Cascade Rd, Atlanta
The Cascade Springs Nature Preserve is a beautifully forested 120-acre nature preserve with trail, waterfalls, streams and picnic tables. During busy times you will see other hikers and runners, but during low-use periods of the day you are likely to enjoy long periods of solitude. 
On sunny days, the overhead forest foliage provides ample shade for an afternoon walk. We absolutely love escaping to this forest with our dogs to enjoy the quiet and stillness of nature. Enjoy a snack and water break near the stream or any of the waterfalls. If you are lucky, you may even see deer or other wildlife that call this nature preserve home.
Difficulty: Easy
Distance: 1.6 miles
Trail type: Loop
Trail location: 2020 Lenox Rd NE, Atlanta
Located in the Buckhead-Lenox neighborhood, the Morningside Nature Trail offers a scenic nature walk. This loop trail is short — allowing you the opportunity to get in a quick hike or take your time wandering through nature while enjoying every step.
While it may be on the shorter side for distance, there is still plenty to see and do. There is easy access to the creek where you can have a picnic lunch on the shoreline. On a hot day you can wade into the water to cool down and let your dog splash around to get their energy out. The dense foliage provides great shade for those hot, sunny Georgia days and the wildflowers are absolutely stunning in the spring. 
Difficulty: Moderate
Distance: 18.3 miles
Trail type: Point to point
Trail location: Centennial Olympic Park, 265 Park Ave W NW, Atlanta
Completing this trail will be a rewarding all-day adventure. Over the course of 18 miles, you will pass through urban areas, forest-covered paths and nice city parks. Towards the beginning of your hike you will pass through Freedom Park which is noteworthy as Atlanta's largest linear park. This park hosts over eighty miles of gently rolling trails. Almost anywhere along the way you can easily hop off trail for a lunch break at a local eatery, and you can enjoy local art and sculptures throughout the trail. At the end of this 18-mile trail is a new trail to summit Stone Mountain — be sure to stay off it, as this trail does not allow dogs. 
If you live in or near our luxury Atlanta apartments, then definitely check out these dog-friendly trails in Atlanta for some all-around fun with your four-legged friend. Chances are, they'll love it!
Have fun!
Pin it!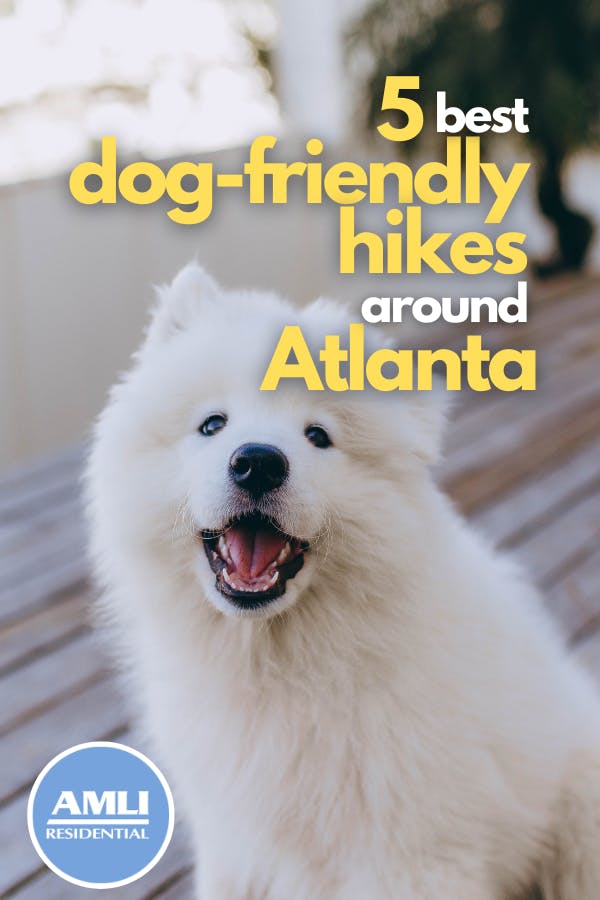 Featured photo courtesy Pixabay/jatocreate