A way for city dwellers to escape the everyday, hiking is one of the best ways to get outdoors and enjoy the nature in your region. Not only is it beneficial to your physical health—but it's a great way to boost your mood and energy levels. The Atlanta area has plenty of hikes to get you out of your apartment and enjoying the beautiful weather. Beyond the rolling hills and rocky footing of these hikes, two have mesmerizing waterfalls sure to capture your attention. Whether you're interested in a short hike with the family or an all-day excursion, there are options close to Atlanta for you to enjoy.
Perfect for novices or intermediate-level hikers, Cascade Springs Nature Preserve Trail is a 1.9-mile loop surrounded by 120 acres of wildlife, streams and waterfalls. This dog-friendly location will give you the chance to explore Atlanta's tranquility and serves as a retreat from your daily tasks and responsibilities. Discover forested trails and old historical structures, leading you to picturesque views of Cascade Falls and Utoy Creek. This charming hike allows you to bring your leashed dogs along with you for the adventure, making this a great hike during the spring, summer and autumn months. Cascade Springs Nature Preserve is a short 20-minute drive from our Midtown Atlanta apartments.
If you're in the mood to immerse yourself in Georgia's beauty without straying far from Atlanta, Sweetwater Creek State Park has everything you could ask for and more. Perfect for a simple hike, heart pumping run or trek with the family, Sweetwater Creek has over 2,500 acres of lush landscape for your enjoyment. This place has it all—overflowing with wildflowers, history and plenty of beautiful flowing water and terrain for you to capture pictures of and enjoy the scenic charm. Although there is plenty of exploration to do on your own, we've selected a few trails that you should be sure to check out. Check them out on their own, or create a day-long excursion and give them all a whirl.
Sweetwater Creek Red Trail: 2 miles
Sweetwater Creek White Trail: 4.1 miles
Sweetwater Creek Orange Trail: 4.75 miles
These trails will lead you through Civil War ruins and a forest full of simplistic greenery and rocky bluffs. With some of the best hiking trails around, Sweetwater Creek State Park can often become crowded—especially during the holidays and on the weekends. This park is just over 30 minutes from our Lindbergh apartments.
A little over an hour from downtown Atlanta, Amicalola Falls State Parks will lead you to the tallest waterfall in the state, cascading down 729 feet of rocky outcropping. Located in Dawsonville, Amicalola Falls offers a wide variety of activities for you to enjoy. Take your pick from hiking the endless trails to participating in archery and zip-lining. Interested in making this a weekend getaway? No worries! Whether you're an avid outdoors thrill seeker or more interested in the "glamping" side of things, Amicalola State Park offers accommodations suited for everyone. Rent a room from their lodge, your own private cabin or one of the many campsites offered.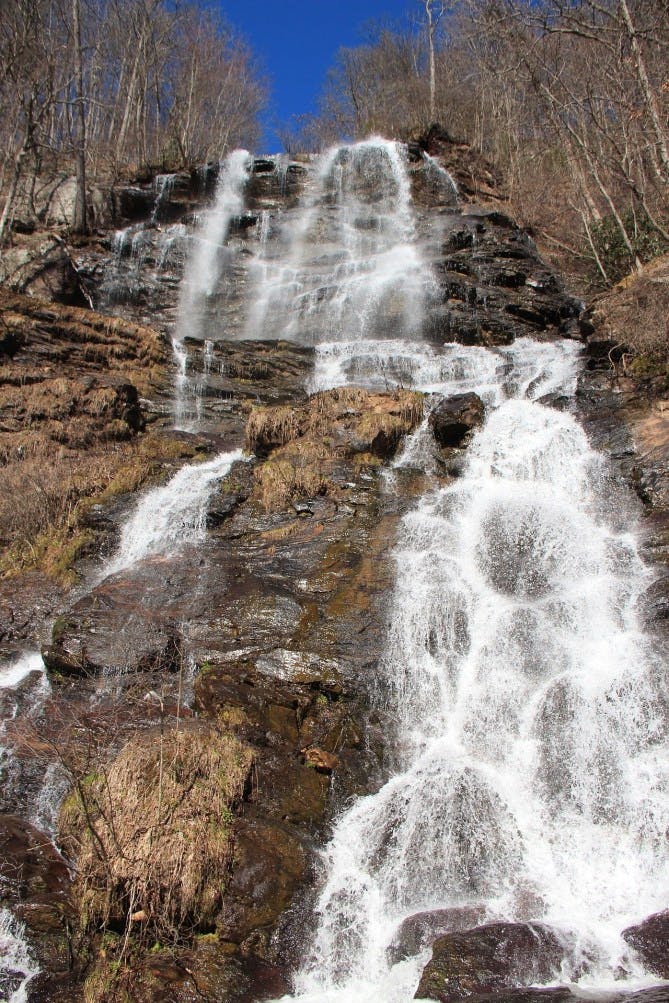 With so much of our time spent behind a screen, it's important to get out of your comfort zone and take the path less traveled. Good for the mind, body and soul, hiking provides you with the opportunity to connect with nature and appreciate the alluring charm surrounding you. While listening to the tumbling water cascading over rocks and taking in these postcard-worthy moments, these trips are sure to be unforgettable.
Interested in learning more? Be sure to stay up to date with the AMLI blog!