Remember when we were younger and our parents used to tell us that breakfast was the most important meal of the day? They weren't wrong, but more often than not—people are mindlessly pouring another bowl of cereal or grabbing toast with a cup of coffee as they run out the door to begin their day. And while there's nothing wrong with throwing together a quick breakfast, you'll find much more good in creating a meal that's healthy and packed with protein.
Why a hearty breakfast matters
You stay fuller longer
Several studies have indicated that adding lean protein to your breakfast can curb your appetite and cravings for the remainder of the day. Wondering why? Well, protein-packed meals release the hormone ghrelin, also known as the "hunger hormone," which stimulates the appetite and can intensify your hunger. Therefore, adding protein to your diet will increase your fullness and reduce your hunger, potentially keeping you from grabbing the glazed doughnut that's been eyeing you in your office.
It fuels your metabolism
Simply put, more protein means a faster metabolism, and a faster metabolism means more calories burned. Foods that are rich in protein will not only provide you with more energy, but it will also keep you from losing muscle mass. Seems like a win-win, right?
Many people adding protein-packed foods to their breakfast regimen start first by just making scrambled eggs every day, but that can get old fairly quick. Luckily, creating healthy breakfast options isn't as challenging as you may think. In order to help fuel your day in a delicious way, we've gathered three breakfast options for you to create in your apartment. And don't worry, we understand that mornings can be hectic, so we made sure they are quick and easy to make so you can get on with your day. Enjoy!
Try these recipes
The good thing about smoothies is you can pretty much take almost any sensible fruit and vegetable combination available in your kitchen, toss it in a blender and have a 95 percent chance that things will turn out delicious. And while smoothie concoctions may seem endless, we were able to find one that's easy to make yet still packed with flavor.
Ingredients:
2/3 cup plain Greek yogurt
1 banana
2/3 cup blueberries (fresh or frozen)
2 large strawberries (fresh or frozen)
1 cup spinach
1/2 cup milk (skim, whole, almond…the choice is yours!)
2 tsp protein powder, optional
1 tbsp honey, optional
Now throw it all together and press the blend button. Just like that, you're done! And remember, you don't always need protein powder to create a protein smoothie. You won't get as much as you would with the powder, but here the Greek yogurt still acts as an excellent source of protein.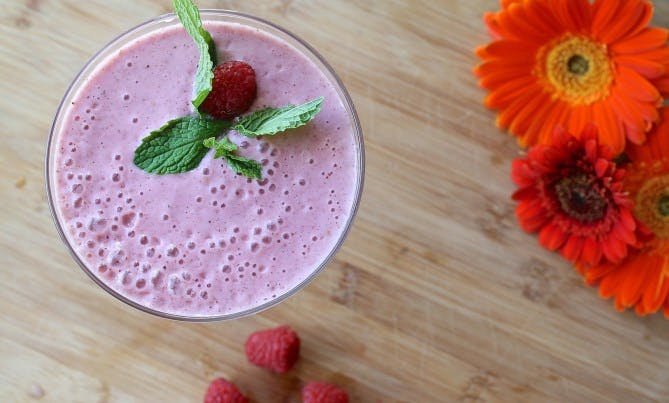 With only six ingredients, this scrumptious breakfast option has 27 grams of protein! Get the recipe below:
Ingredients:
7 ounces 2 percent Greek yogurt
1/2 cup berries of your choice
1 ounce chopped walnuts
Cinnamon to taste
Honey to taste
Now the creation process is up to you. You can either blend all of the ingredients together to create a sweet concoction, or layer the ingredients to build yourself a parfait bowl. Once you've finished, dust a layer of cinnamon and add a drizzle of honey to create additional sweetness.
Alright now we will admit, this does have eggs. However, we've made sure it's a recipe that adds loads of flair and flavor, making it the perfect go-to dish.
Ingredients:
1 egg
2 egg whites
Whole wheat tortilla
1/4 cup shredded cheese
1 tbsp salsa
Salt & pepper to taste, optional
Once you've gathered all of your ingredients, scramble the egg with the egg whites before placing on your whole-wheat tortilla. Add your cheese and salsa and top with salt and pepper if the extra spice is wanted, before rolling your tortilla up and digging in. Super easy, and super yummy!
Interested in more articles like this? Be sure to keep up with the AMLI blog!