It turns out that Denver had its fair share of mob activity back in the day.
The Carlino Brothers ran one heck of a bootlegging operation in the 1920s. They controlled most of southern Colorado's liquor market and became the kingpins of a liquor empire by the 1930s. With lives seeped in assassinations, arson, smuggling and undercover FBI agents, Pete and Sam Carlino's lives were destined to end violently, which they did.
After the Carlino Brothers fell, fellow bootlegger Joseph Roma rose to replace the two as the mighty head of Denver's criminal world. He ran his smuggling, kidnapping, narcotic kingdom from a small grocery store on Quivas Street. Although small in stature, Roma's reach was large and powerful, and historians refer to him as one of the most ruthless mob bosses in Denver history.
The Smaldone Brothers
Brothers Clyde, Eugene and Clarence Smaldone reigned in Denver from the 1940s to the late 1980s. Among the brothers' alleged crimes were acts such as tax evasion, gambling, smuggling, underground bookmaking, jury tampering, attempted bombing, auto theft and murder. These were just the provable crimes: who knows what else they had done in their lifetimes that didn't get picked up?
Basically, the Smaldones were major figures in the City of Denver for a good portion of the 20th century. Their presence, however, was not only marked with crime and felony. The Smaldones also ran (mostly) legitimate businesses all over Denver.
Gaetano's: Then
One of these businesses was a small Italian restaurant in the Sunnyside/Highland neighborhood called Gaetano's. Aside from serving authentic Italian cuisine, this cozy restaurant became the headquarters for all the Smaldones' nefarious criminal acts in Denver.
Gaetano's was the origin point of the Smaldones' success. The profits from their small restaurant launched the Smaldones into wealth and fame, leading to the brothers opening a casino that drew hundreds of thousands of dollars from Denver's elite. Gambling was very much illegal, but the Smaldones had a charm that could turn the gaze of officials away from their underground practices. The Smaldones returned the favor by donating generous amounts of money toward city programs, such as school lunches, water lines and house renovations.
Now the Smaldones are no longer in Denver, and their empire has crumbled into dust. However, as a tribute to the power of really good food, Gaetano's is still proudly standing. With the deep, rich history of Denver's mob scene seeped into the walls, this restaurant has built on its infamy as the home of Denver's most notorious criminals.
If walls could talk, this restaurant would have more stories than you could imagine. Perhaps the walls would tell of the hidden gambling room upstairs, accessible only by a hidden door in the men's room. Perhaps they would tell of the deals, handshakes and softly-uttered threats made at each of the leather-clad booths. Or, perhaps, they would whisper rumors of Frank Sinatra himself quietly playing poker in the basement.
Gaetano's: Now
Unfortunately, the walls don't talk, but there is still an unmistakable story in the atmosphere of the small restaurant. Sit in booths where Clyde Smaldone held meetings with his henchmen, drink a Gangster Cocktail at the bar and munch on the meal that skyrocketed the Smaldone's success almost 70 years ago: lasagna with ground beef and sausage.
There aren't many places that can proudly display a criminal history, but Gaetano's takes the opportunity to educate the community on local Denver history through stories of its old owners. There's no better place to learn about old Denver than Gaetano's, and you'll get some nationally recognized food there, too.
Food Network listed Gaetano's as one of the top places to eat in Denver. It's also listed as one of Colorado's 10 most iconic, historic restaurants and as one of the 50 best old-school restaurants in America. And, it's been featured as one of Denver's 100 Essential Restaurants by Westword.
So make your way down to Gaetano's for an evening steeped in mystery and history. Not everyone has a chance to step back in time and experience their city in someone else's shoes, so take advantage of the treasure right in your backyard.
Enjoy the drinks, savor the food and don't get into any trouble.
Capeesh?
Pin it!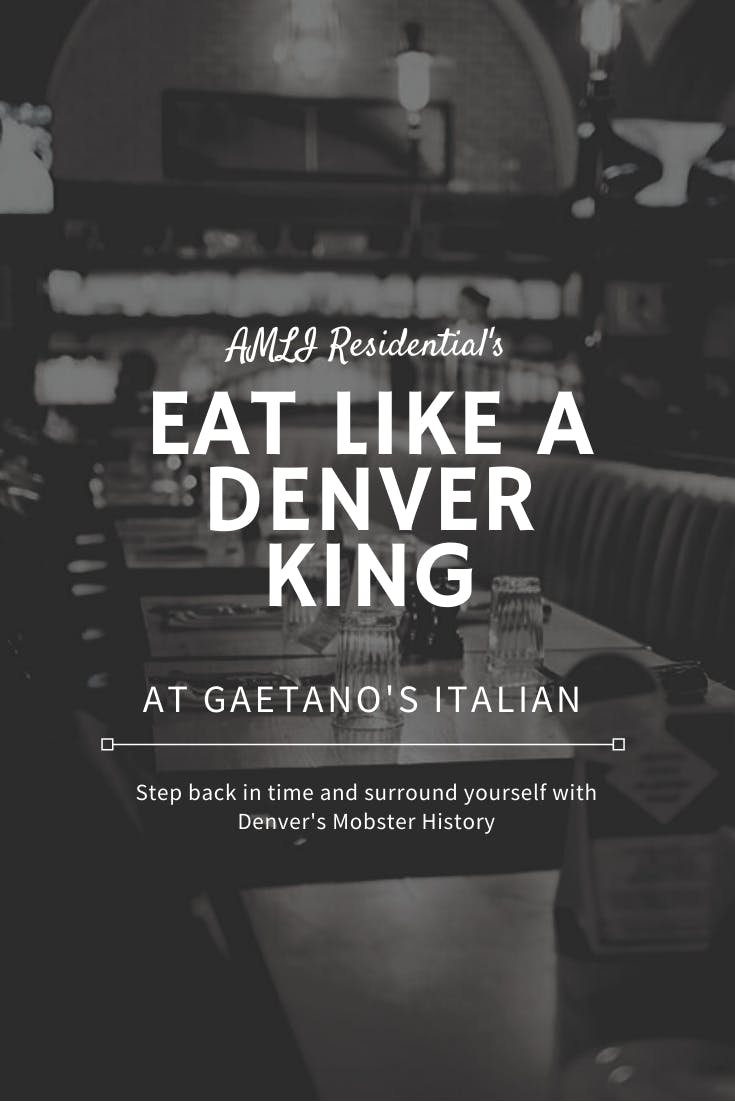 Featured photo courtesy Unsplash/Roberto Valdivia