Southern California is not exactly known for its winter wonderlands. And, by and large, this is for good reason. But if you're craving some fresh powder and can't escape to the Sierra Nevada or Rocky Mountains, you're not out of luck. Here are eight places where you can enjoy snow in Southern California this winter. Check weather forecasts and snow reports before you visit to avoid disappointment.
Big Bear Lake (6,752′ ) accumulates an average annual snowfall measuring 67 inches, making it popular with snow sports enthusiasts. If you're not looking to ski or snowboard, try snow tubing at Big Bear Snow Play or the Alpine Slide at Magic Mountain. The latter doesn't even involve require you to climb a hill. A "Magic Carpet" carries riders to the top of the bobsled-style ride. Big Bear Lake is a 90-mile drive from AMLI Uptown Orange.
The town of Frazier Park (elevation: 4,639) receives little snow. But nearby Mount Pinos and Chula Vista Campground get plenty of the white stuff. They also have good hills for sledding and ample parking. With respective elevations of 7,800 and 8,300 feet, the Los Padres National Forest campgrounds transform into winter wonderlands late fall. Snow typically lingers until May. Frazier Park is just over an hour's drive from AMLI Lex on Orange and AMLI Warner Center. To reach the campgrounds, continue another 20 or 30 minutes up the mountain.
For a snow-filled day or weekend of fun without throngs of skiers and snowboarders around, head to Idyllwild. Skiing is not allowed in this San Jacinto mountain town, featured in John Villani's 100 Best Art Towns in America. Situated 5,400 feet above sea level, Idyllwild averages 60 inches of snowfall annually. The 90-mile drive from AMLI's Uptown Orange apartments to this quaint Riverside County destination takes about two hours.
This sunny San Bernardino mountain town receives 25 inches of snowfall per year and offers several fun options for playing in it. One of them is Snowdrift, Southern California's oldest and largest snow tubing park. From its perch 6,500 feet above sea level, Snowdrift offers downhill tubing fun for novice, intermediate, and advanced tubers. If you want to stay overnight, rent a cozy, fireplace-equipped cabin. Snowdrift Tubing Park and Green Valley Lake Recreation Area are within 90 minutes' drive of AMLI's Orange and Glendale apartments.
A few miles closer to AMLI's Southern California apartments, another high-altitude lake in the San Bernardino National Forest gets blanketed by snow during winter. In the shadow of Mount San Gorgonio, Southern California's highest mountain, Lake Arrowhead boasts stunning alpine scenery. The town averages 19 inches of snow a year. But if there's none on the ground when you visit, continue west on CA-18 until you encounter some.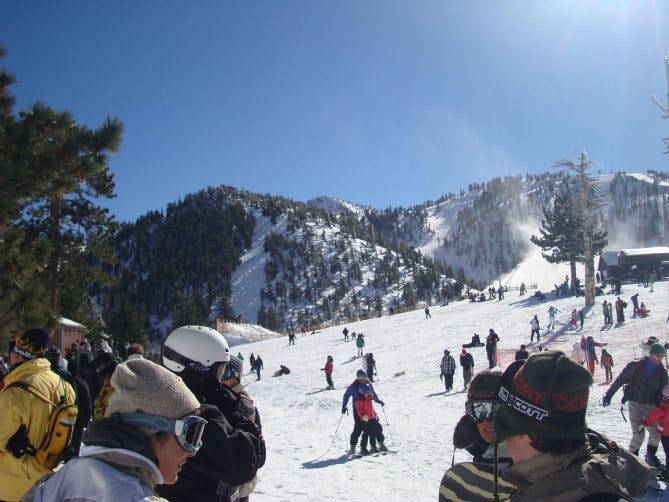 Mount Baldy affords Los Angeles and Orange County residents convenient access to natural skiing and snowboarding terrain. Also popular for snow tubing, Mount Baldy is less than an hour from downtown L.A. in good traffic. Consider visiting for quick access to snow sports or somewhere for your kids to see and play in snow in Southern California. The 4,193-foot col's annual annual snowfall measures 11 feet.
In just ten minutes, this high desert tram ascends more than 5,800 feet over Mount San Jacinto's pristine wilderness. Between Long Valley Ranger Station (2,634′) and the terminus at Mountain Station (8,516′), riders watch the desert valley landscape transform into a snowy mountain mass. From Mountain Station, you have access to 50 miles of hiking trail, several observation decks, a natural history museum, two documentary theaters, and two restaurants. Mount San Jacinto's annual snowfall average is just shy of 10 feet, and the peak is almost always snowcapped outside of summer. The Palm Springs Aerial Tramway parking lot is less than two hours' drive from AMLI's Glendale and Orange apartments.
Running Springs
Nestled between Keller and Butler Peaks, Snow Valley Mountain Resort is ten minutes' drive from the center of Running Springs. The resort's base elevation is 6,800 feet and its highest slope starts at 7,841. Snow Valley Mountain averages 12+ feet of snow per year. And by Southern California standards, its ski slopes are superb. The resort also operates a family-friendly snow play area, with downhill sledding offered weekends and holidays from 10am to 4pm. Expect the drive from AMLI Uptown Orange to take between 75 and 90 minutes. You can rent or purchase equipment and accessories in the SportShop.
Wrightwood
The San Gabriel mountain town of Wrightwood (5,935′ elevation) averages 64 inches of snowfall per year. For many Los Angeles and Orange County residents, Wrightwood's Mountain High is the closest ski resort. Mountain High's snow play area is also reputedly fun for children and non-skiers looking to enjoy snow in Southern California. Across the highway is North Pole Tubing Park, another popular place to play in the snow in Southern California. Wrightwood is a 90-minute drive from AMLI's Los Angeles County apartments and 75 minutes from AMLI Uptown Orange. Mountain High Ski Resort and Big Pines' popular snow tubing park are less than five miles north of Wrightwood on the CA-2 W.
Like what you just read? Why not subscribe to the AMLI Blog so you don't miss another post?