Florida's Coral Castle is shrouded in mystery. How did one man move and carve dozens of megalithic stones weighing several tons each? How did he balance the axis of a 16,000-pound gate so precisely that a child could swing it open with the push of a finger? And why was he so secretive about his building methods? Here's a look at what we know about the inspiration for, construction of, and mystique surrounding Coral Castle in Homestead.
What is Coral Castle?
Coral Castle is an oolite limestone structure made from giant stones weighing a combined 2,000,000+ pounds. The two-story castle tower is furnished with a throne, heart-shaped table, Florida-shaped table, rocking chairs, beds, and a bathtub, all carved from stone. An accurate sundial, Polaris telescope, obelisk, barbecue, water well, fountain, and celestial stone sculptures are also on the Homestead castle grounds. All of this was single-handedly build by Latvian-American eccentric Edward Leedskalnin.
Why was Coral Castle built?
According to Coral Castle legend, Leedskalnin's 16-year-old fiancée Agnes Skuvst called off their marriage one day before the wedding. Distraught, Leedskalnin fled his small home country for North America. After a few years working in lumber mills in Canada, California, and Texas, he contracted tuberculosis. Believing the climate could benefit his health, Ed relocated to Florida City. There, he was miraculously healed and began work on a structure to which he'd dedicate the next and final three decades of his life.
The accuracy of this backstory is difficult to verify. In Leedskalnin's A Book in Every Home, he implies that his "Sweet Sixteen" was more ideal than reality. A Latvian account claims the girl existed, however, it contends that her name was not Agnes, but Hermīne Lūsis. Investigators posit that Leedskalnin's involvement in an armed uprising against the Russian tsar in 1905 is the real reason he fled Latvia. What we do know is that Ed built one of the most fascinating structures of the 20th century.
Leedskalnin's building methods, claims, and secrecy
Legend has it that Leedskalnin used reverse magnetism or supernatural powers to single-handedly construct Coral Castle. During the 28+ years Edward spent carving and moving stones, he forbade spectators from viewing him at work. This fueled the mystique surrounding the structure. It also drove curious locals to spy on Leedskalnin. Witness accounts claim he moved blocks of coral "like hydrogen balloons." When asked about his construction methods, Edward's go-to response was that he'd "discovered the secret of the pyramids." Leedskalnin is also widely reported to have told inquisitors that he simply understood the laws of weight and leverage. He claimed to have used only one tool in the construction of Coral Castle: "a perpetual motion holder."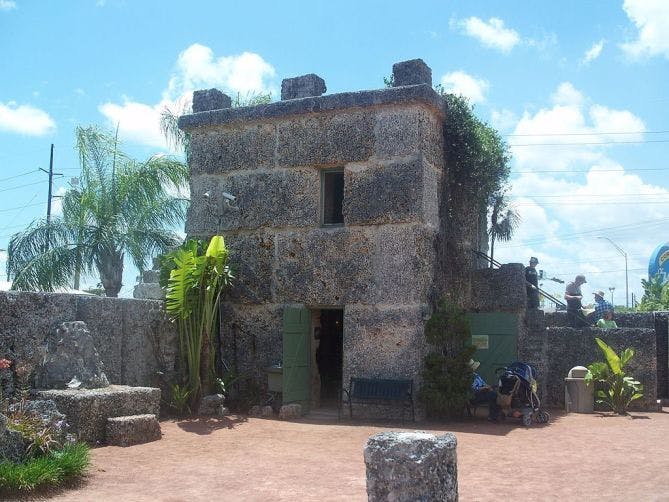 Indisputably skilled craftsmanship
While uncertainty over Leedskalnin's building methods still exists, there is consensus where the precision of his craftsmanship is concerned. No light passes through the structure's joints. Neither time nor nature's elements have compromised the structure's integrity. Coral Castle sat directly in the path of Category 5 Hurricane Andrew. Yet when it hit Florida in 1992, the stones did not shift at all. One of the castle's most impressive and mind-boggling structural features is an eight-ton, eight-foot tall revolving gate with an impeccably balanced axis. The gate is carved to fit within 1/4″ of its walls and was reportedly balanced enough that a child could swing it open with the push of a finger.
Moving "Florida's Stonehenge"
The greatest mystery surrounding Stonehenge is how its giant stones traveled more than 160 miles from their place of origin. In 1936, Edward Leedskalnin began the three-year process of moving Coral Castle ten miles north to Leisure City. After all component parts were moved and reassembled, Edward resumed work on Coral Castle's construction. The coral pieces added to the structure following the move were quarried just feet from the castle's southern wall. The swimming pool and pit found there are both quarries.
Breaking even
Leedskalnin did not permit prying eyes while working on his castle. But when he wasn't carving or moving stones, visitors could throw down a dime and marvel at his work. Edward charged ten cents per person to tour the Florida City castle grounds. Following the move to Homestead, Ed raised the entrance fee to twenty-five cents. But Leedskalnin was a charitable man. And if someone claimed to not have money and he believed them, he'd show them around for free. Leedskalnin led tours of the castle grounds himself, obliging most questions he was asked about the castle. When visitors inquired about his motivation for building the castle, Edward responded vaguely that it was for his "Sweet Sixteen."
In addition to income from leading tours, Leedskalnin received money from selling part of his Homestead property to the government for the construction of U.S. Route 1. He also wrote and sold pamphlets about magnetic currents and other subjects. After Leedskalnin's death, investigators found ,500 in Coral Castle.
Coral Castle's legacy
Edward Leedskalnin fell ill in November 1951. He posted a sign on the front gate that read "Going to the Hospital" before catching a bus to Miami's Jackson Memorial Hospital. Leedskalnin, who worked on the castle until he fell ill, died of a kidney infection 28 days later.
In the time since Leedskalnin's death, Coral Castle has appeared in films including The Wild Women of Wongo and Nude on the Moon. Leedskalnin's story inspired Billy Idol's 1986 hit "Sweet Sixteen." And, in 2014, the South Florida attraction was featured on an episode of the History Channel's Ancient Aliens series called "Mysterious Structures." Although no longer led by Coral Castle's builder, the privately owned and operated structure is open daily for tours. Coral Castle Museum is less than half hour's drive from AMLI Dadeland and AMLI Doral.
Like what you just read? Why not subscribe to the AMLI Blog so you don't miss another post?