There's nothing like walking through the front door after a long day and immediately feeling relaxed. That's what a home should be, right? It should be a place where you feel like you can breathe easy and enjoy the special moments of the day.
The decor of your home can really make or break how relaxed you feel at home. If you've got clutter everywhere and nothing that you enjoy looking at, then you might tend to feel stressed out more often, or you may not enjoy being a home at all. If this resonates with you, then go ahead and check out our articles on decluttering your apartment, how to become a minimalist or how to break messy habits!
Basically, the decor and style of your home should make you feel happy, and what better way to invite relaxation and tranquility into your home than by bringing in some beachy, balmy Floridian decor?
If you live in our luxury South Florida apartments, then you know all about beachy decor. You see it everywhere from apartments to coffee shops to storefronts, so you're practically an expert on Floridian decor already!
If you're wanting to add some Florida interior style into your life, then here are a few tips on how you can make your apartment look like a Floridian getaway.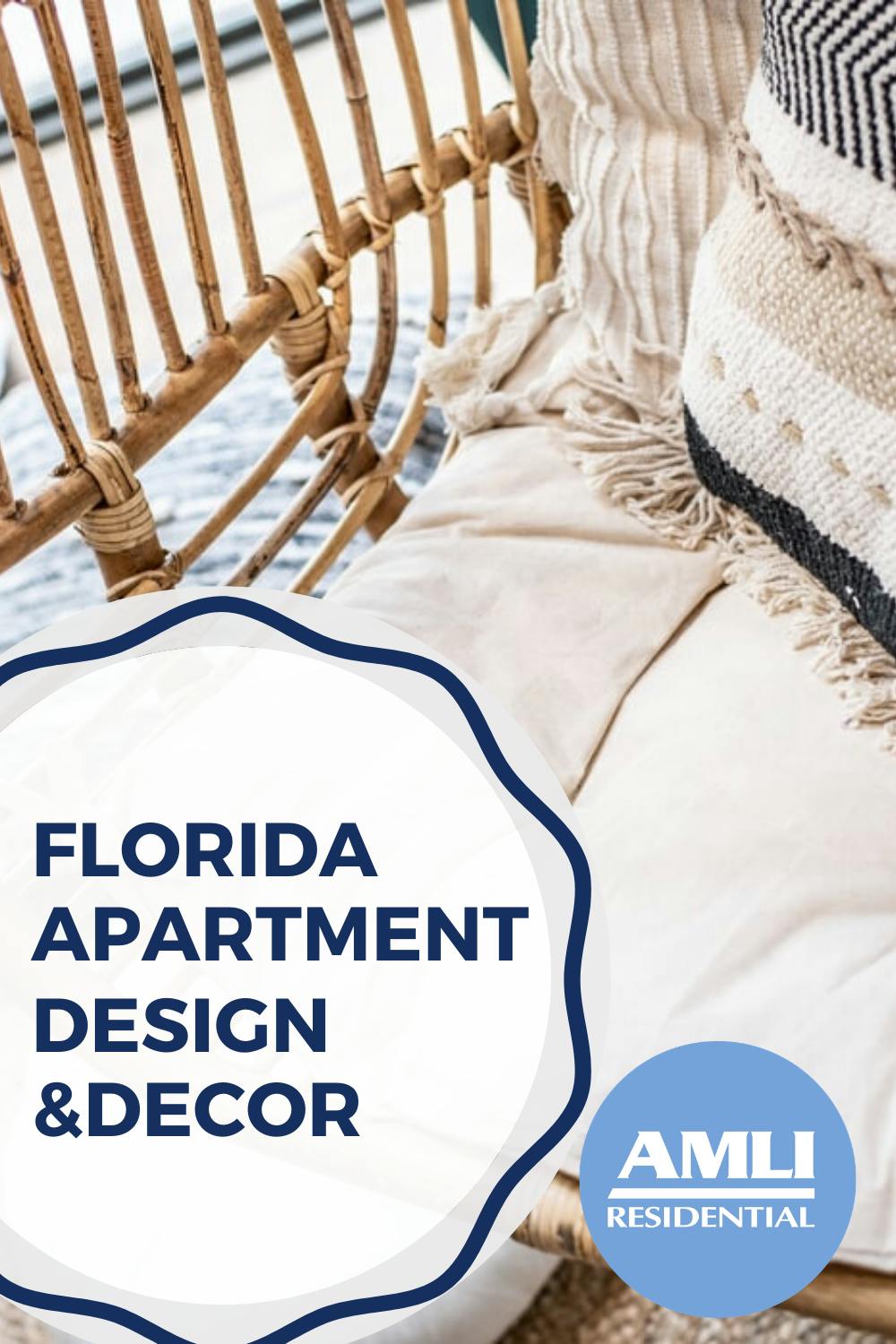 Florida apartment decor and inspiration
Sunlight
We're off to a great start, because here's a decor tip that is also 100% free!
Florida is known for its sunny days, so making sure that your apartment is getting as much sunlight as possible is a big step to beach-ifying your apartment. You'll want to go for light, airy and sunny, just like the beach. Check out our article on maximizing the sunlight in your home, and, as an added bonus, you'll save energy in the process.
Furniture with neutral tones and small pops of color
The key to a balmy atmosphere is to have plenty of light neutral colors (think white, cream or very light tan) as the base of your decor. This will make the room seem so much lighter and brighter, and then any pops of color you have will stand out so much more clearly. 
For example, a set of white living room furniture with a few light turquoise cushions can go a long way to creating a balmy atmosphere. A bedroom with white furniture, white bedsheets and a few light gray accents is a great start to a refreshing interior. Throw pillows or light blankets are quick and easy additions to add to any living room or bedroom. 
Turquoise is always a great option for adding pops of color, as it's a very oceanside-color that can be found in any home decor store. A light baby blue is also a great option and, if done right, so is dark navy blue.
Greenery
I've said it before, and I'll say it again: indoor plants are the best thing you could add to an interior. They are beautiful to look at, they purify the air and they even help improve productivity and reduce stress levels! 
A large, leafy palm adds an instant splash of freshness to your home, and it's a great addition to a beachy interior. Small pothos can be scattered anywhere from bookshelves to bathroom sinks, and they are incredibly hardy, even to the most inexperienced plant owner.
Make sure to find indoor plants that will grow in dark apartments, just in case you don't have enough sunlight streaming through. 
Wicker and rope
A beach house isn't a beach house without some wicker and some sailor's rope, right? 
There are plenty of ways to incorporate some wicker into your decor. You could add a wicker rocking chair to your bedroom, add a set of wicker bowls to the coffee table, find wicker table-settings for your dining room, use a wicker basket for laundry or even get a classy wicker rug for your bathroom. You could also do all that and more with some rope furniture, so choose whatever fits in best with your tastes.
Wall decor
When it comes to wall decor, you'll want to find decor that still leaves plenty of white space in the room so that it doesn't feel too cluttered. 
If you want to go big, find a large print or painting that matches those pops of color you've got (or vice-versa). If you want to go small, try and find decor that comes in sets, like a set of botanical sketches, or a set of minimalist paintings. It's all about the balance and continuity when it comes to creating a relaxing interior, so less is usually more in this case.
Surface decor
Surface decor could be anything from the flower vases to the picture frames on your mantle. It's whatever you'd put on, well, a surface.
In keeping with the theme, make sure that your surface decor either matches the neutrals or the pops of color. White picture frames make the pictures pop out more without creating too much clutter, and white flower vases do the same. Candles, which are always a great addition to any home, can be a bold turquoise statement on a table, as well as some great coffee table books. Obviously, you can put whatever you want in your own home, so don't take all this as gospel. Just remember to keep a balance between your decor and your space, and I'm sure you'll create something beautiful!
Pin it!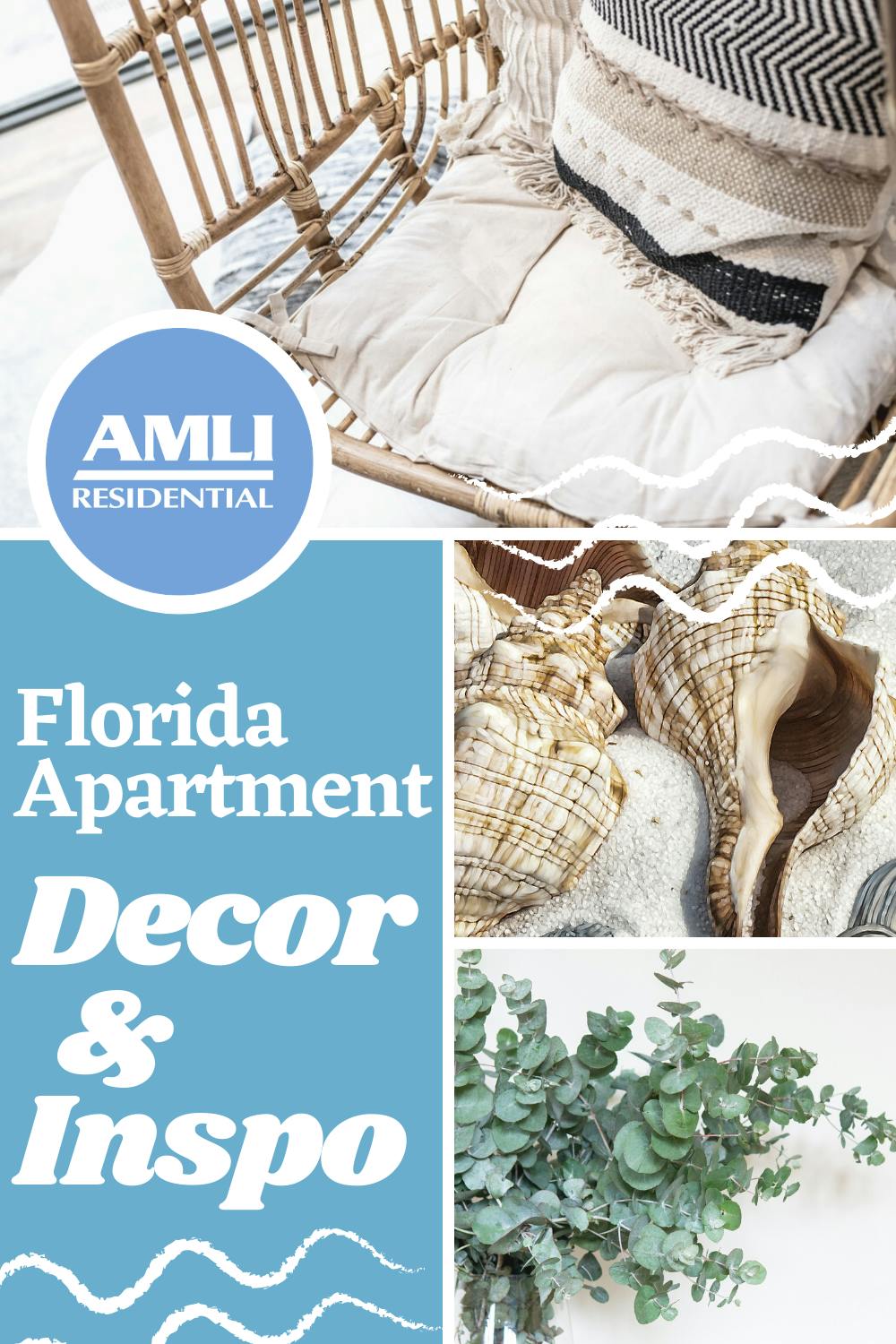 Featured photo courtesy Unsplash/@lnyjulien