Every state has its own unofficial Christmas towns. Georgia has Dahlonega, Washington has Leavenworth, Colorado has Breckenridge and Texas has Grapevine!
One of the newer additions to the AMLI apartment family is smack-bang in the center of this charming Texas town, making our Grapevine apartments for rent some of the most festive apartments in the state!
If you live in our Dallas apartments, then making a trip over to neighboring Grapevine to experience the festive spirit is a great way to spend the holiday season.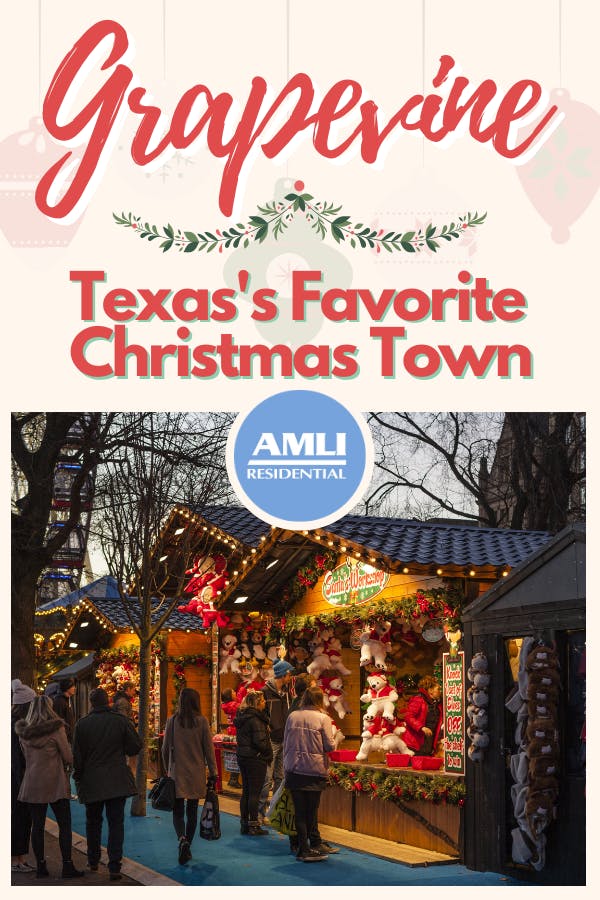 Christmas in Grapevine
Grapevine celebrates the holidays over a period of 40 days from mid-November to early January. This year, it will be from November 23, 2020 to January 10, 2021, giving you plenty of time to attend the carols, light shows and festive performances! 
Of course, public events are being held a little differently this year due to the pandemic. Always make sure to check the Grapevine Parks & Rec website before you visit to see if any last-minute adjustments or changes have been made. If anything, you can always keep this article for next year when things have settled down a little.
Holiday activities in Grapevine, Texas
One of Grapevine's most colorful and festive events is the daily light show displayed on the Grapevine City Hall exterior. Dazzling streams of light and color dance across the arches and columns of the classic building, and for 45 glorious minutes the public can enjoy all the festivity and charm of the holiday season displayed on the downtown hall.
Plus, this event is free for everyone and takes place every night, so don't miss out!
If there's one event that you absolutely cannot miss, it's the inaugural Carol of Lights which kicks off Grapevine's two-month-long Christmas festival. 
Held in the First Baptist Church Grapevine parking lot, the event will feature hot chocolate, take-home activities for kids, Christmas character meetups and a donation bin for a local charity. At sunset, Mayor Tate will address the crowd and kick off the Christmas season by lighting all the holiday lights in the town! It's sure to be a blast.
This event will be a drive-through event this year due to COVID-19, so make sure to sign up for a time slot for your spot in the car line! 
If you thought that Texas was too far south for a polar express, think again! Grapevine's railroad history offers the perfect setting for an authentic Christmas train ride, great for anything from a fun family outing to a romantic date!
The train ride includes more than just a festive ride around town. Riders also receive a special Christmas mug and a tasty hot chocolate recipe written by none other than ol' Santa himself! Plus, what's a Christmas outing without a warm cookie and a photo op with Santa? In addition, all children receive a special silver bell from Mrs. Claus when they stop at the first station (sorry about that, parents, but it's not the holiday season unless bells are being rung in your ears constantly, right?). Finally, the last stop features a special performance by Mrs. Claus, Santa and their merry band of elves. 
Make sure to buy your tickets early, as you can tell that this event is a must-do for any Christmas fanatic!
Grapevine is a town with a rich railroad history, so it's no surprise that many of the town's most popular events take place on trains! 
Grapevine's Christmas Wine trains are 2-hour-long luxurious wine tasting train rides in some of Grapevine's vintage railroad cars. Taste wine and snack on complimentary hors d'oeuvres in a beautifully decorated vintage car, all the while being serenaded by live entertainment. The tickets include two glasses of some of Texas' finest wines, a commemorative wine glass and two hours of uninterrupted fun. The lasting enjoyment and lifetime memories are free of charge.
Many places decorate for the holidays, sure, but the Gaylord Texan really goes all out for Christmas. The hotel and convention center in the heart of Grapevine totally transforms its indoor and outdoor space into a Christmas fantasy land, complete with Christmas trees, light shows, snow tubing, ice skating, photo ops and so much more. 
Make sure to try your hand at decorating gingerbread houses, or walk through the stunning outdoor lights attraction. There are Elf on the Shelf character breakfasts perfect for families, and plenty of fine holiday dining, too. 
The Gaylord's Lone Star Christmas runs from Friday, November 13 to Sunday, January 3, so make sure to plan a trip to Grapevine to check out this massive holiday celebration!
The holiday season is going to be a little different for many of us this year, but that doesn't mean we can't celebrate the festivities of the season without style! Grapevine's Christmas traditions and festivities are open to all, and they are sure to bring that special holiday spirit into your life, whatever you decide to do. 
Happy holidays!
Pin it!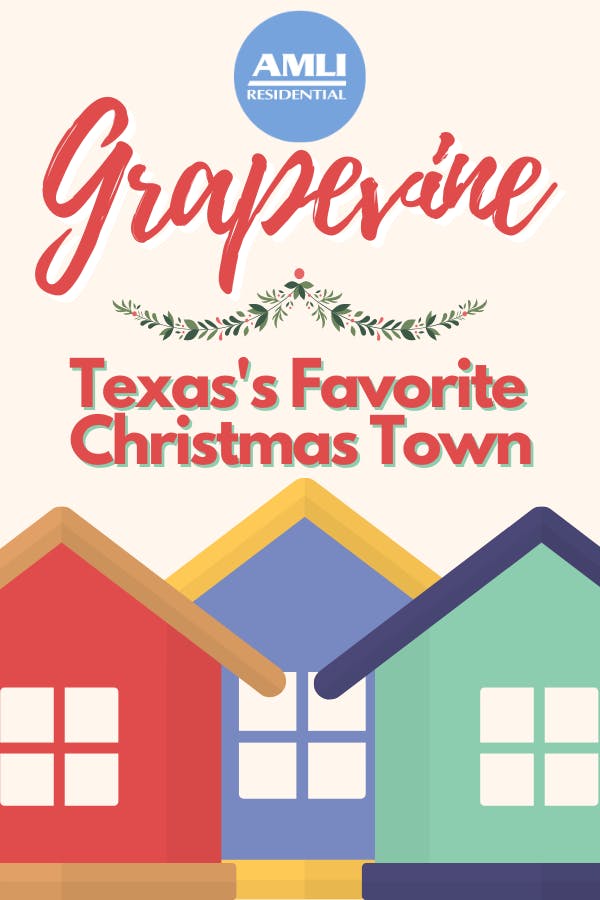 Featured photo courtesy Unsplash/Kovah