The holidays are such a special time of the year. There's such a strong holiday spirit present in everything around us, from the songs we sing to the music we play to the decorations we display and the activities we do. 
There's a reason why so many of us feel so connected to the holiday season. All around the world, people are reminded about the joy of giving, the importance of community and the gratitude for another year gone by.
One way we can truly see the value of the holiday season is by seeing how others celebrate it! There's such a value in seeing how the Christmas spirit spreads across the globe, and it reminds us that there's more that connects all of us than what separates us.
Obviously, we can't go all over the world in a single Christmas season, but we can go to nearby towns and communities to see how our neighbors celebrate! Even visiting a town a few hours away can show you a different piece of humanity and can be a great way to expand your list of holiday festivities!
So, if you live in our luxury Houston apartments, Dallas apartments and Austin apartments, then here are a few towns in Texas that are known for their holiday spirit! Plan a day trip over there for a fun and festive outing that's sure to add to your Christmas cheer!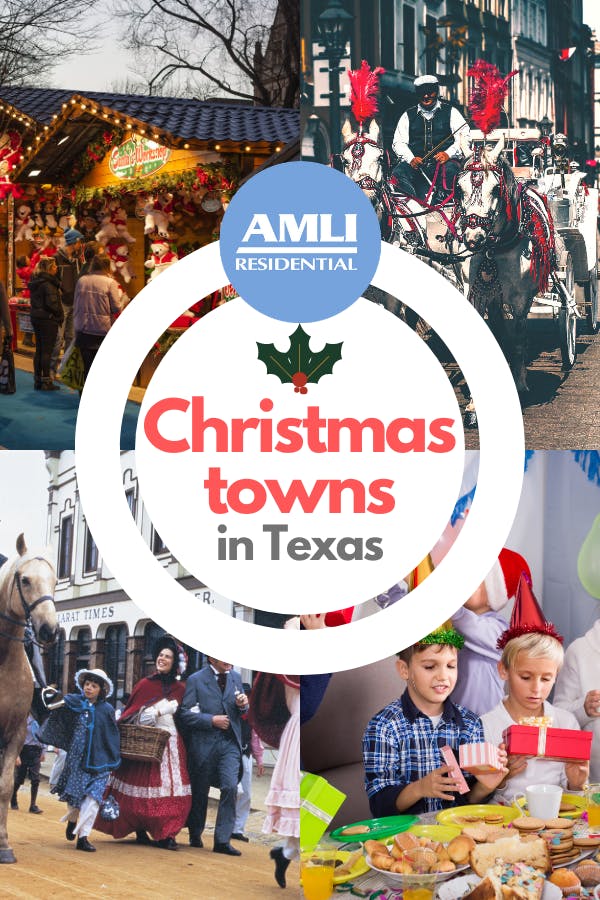 Christmas towns near Dallas
Distance: 30 minutes
Winter wonderlands can exist in Texas, and McKinney is a perfect example of that! Each year, the town square transforms into a gorgeous wintery paradise, complete with a children's Christmas train ride, a Yuletide art market, hot-chocolate-fueled story times, festive carousels and more!
Distance: 25 minutes
We love Grapevine so much that we decided to make it home, sweet home at our Grapevine apartments! And we love all the Christmassy events that have made this town Texas' Christmas Capital! 
Distance: 2 hours, 30 minutes
Another old-fashioned Christmas town is little ol' Jefferson, Texas. This quaint town features Christmas parades, tree-lightings, carol-singing and old-fashioned costumes. It's also worth taking the time to drive past all the fabulous houses in the neighborhoods, most of which are decorated to the brim with festive decorations. 
Christmas towns near Austin
Distance: 1 hour, 30 minutes
If you're looking for a more low-key cozy Christmas feel, then Fredericksburg is the place to go. This town's Texas Hill Country Christmas is complete with a month-long Tenenbaum Ball, giant hand-carved wooden Christmas pyramid, an ice skating rink and an entire town's worth of festively-decorated retail stores! It's the type of Christmas town you might see in a Hallmark movie, which makes it the perfect place to be this holiday season.
Wimberly
Distance: 50 minutes
For a more outdoorsy Christmas celebration, head over to Wimberly for their popular Trail of Lights display. The eight-acre plot of land features thousands of dazzling lights and displays along beautifully-groomed trails, perfect for a holiday stroll or a breath of fresh air. At the end of the trail is a crackling yule log and plenty of marshmallows to roast, making this festive trail the ideal spot for holiday romantics, family fun or a night out with friends!
(Note: Although the 2020 Trail of Lights event has been cancelled, keep this in mind for your next holiday season!)
Distance: 1 hour, 40 minutes
Waco's Christmas festivities include a two-week-long Christmas at the Silos extravaganza and a month-long Waco Wonderland. The festivities feature holiday art markets, Christmas carols, snow tubing, train rides, a petting zoo and even a festive Ferris wheel! 
San Antonio
Distance: 1 hour, 16 minutes
Combine Santa Claus, Christmas decorations and a gondola parade and you've got a San Antonio Riverwalk Christmas!
Winding through downtown San Antonio, below the roads and bridges of regular traffic, the Riverwalk is the ideal pedestrian outing for any time of year. At Christmas time, however, the tree-lined river, the twinkling lights reflecting on the water and the live music make for an Christmas experience you aren't likely to forget! 
Christmas towns near Houston
Richmond
Distance: 40 minutes
Celebrate Christmas in the rustic Richmond way at the town's historical Campfire Christmas event. This immersive experience at the George Ranch Historical Park allows guests to experience Christmas in three different periods of time: an 1860s housewarming ball, songs and stories with cowboys around a campfire and a cozy Christmas eve set in 1945! 
Not only do you get to catch a glimpse of what life was like way back in the "olden days," but it's a great way to remind us that the Christmas spirit has been bringing people of all kinds together for centuries.
The historical park also features a Christmas in the Park festival held each Saturday. The festival dives into the holiday customs, decorations and stories from the 1830s to the 1930s, complete with traditional food, snacks, drinks and stories read by Santa himself!
If that's not the Christmas spirit, then we don't know what that is!
College Station
Distance: 1 hour, 30 minutes
Transport yourself to the North Pole at College Station's fully-fledged Christmas town, Santa's Wonderland. The pop-up village is complete with snow, outdoor movie screens playing holiday films, Mr. and Mrs. Claus and enough lights and music to make even the Grinch feel all warm and fuzzy inside. 
Distance: 55 minutes
Nearby Galveston has plenty to offer to those seeking some holiday festivities. One event that stands out year after year is the Moody Gardens' Holiday in the Gardens. The festival, which runs from Saturday, November 21 to Saturday, January 2, features seven major attractions. There's an Arctic Slide, holiday 3D and 4D movies, train rides through beautifully-lit gardens, a four-story-tall Christmas tree made of lights, warm and gooey fireside S'mores and a mile-long Festival of Lights.
Next time you're looking to share in your neighbors' holiday cheer, head over to one of these Texas Christmas towns for a slice of holiday spirit! You're guaranteed to find something you like, and the memories are always worth it.
Enjoy!
Pin it!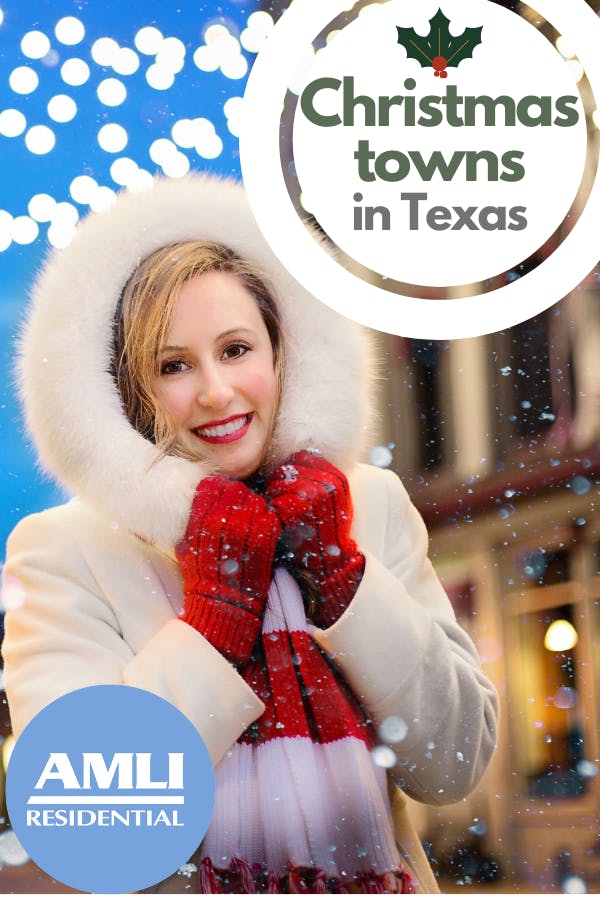 Featured photo courtesy Pixabay/chriswanders