Climbing walls are all the rage right now. They offer a form of fitness and exercise that is very different to other sports, and there is a technical and strategic aspect to the climbing courses.
One could even go so far as to say that climbing walls rock!
*Ba-dum, tsssss*
Rock-climbing gyms offer courses for every level of experience from first-timer to hardcore climber. Most gyms have top-rope climbing courses and bouldering courses, and each gym and course is completely unique.
Top-rope climbing is just what it sounds like. A climbing rope is threaded through a loop at the top of the rock-climbing wall, then each end is attached to a climber and a belayer. The belayer acts as the counterweight for the climber, allowing the climber to ascend the wall without fear of falling. If the climber gets tired or needs a boost, the belayer can lean back and let their weight support the climber, allowing the climber to swing from the rope for a while.
Bouldering courses are generally not as high as top-rope courses, as climbers do not use ropes to climb. Standard bouldering walls are usually about 15 feet high and are mostly angled away from the wall and toward the center of the room. The sharper angle forces climbers to use more dexterity to reach the top of the wall, as there are no ropes to catch or support them if they fall.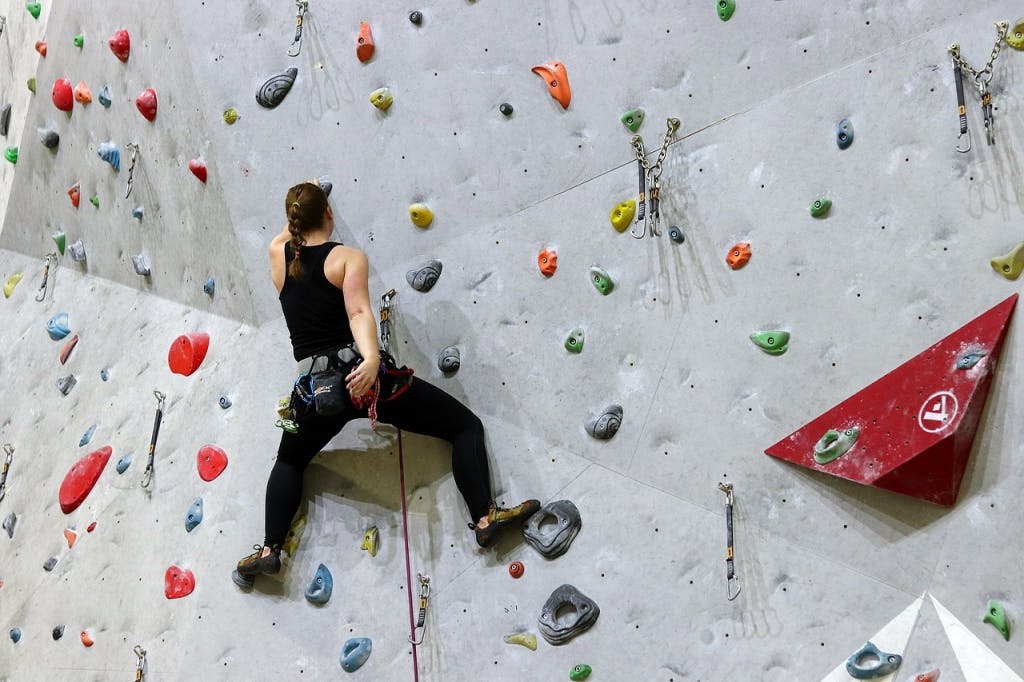 All top-rope climbing courses are a Class 5 route, where Classes 1-4 signify routes that can be walked or scrambled without climbing equipment and protective gear. Within Class 5 there are sub-categories, or grades, that denote how difficult the route is, with 5.1 being the easiest and 5.15 being the hardest. Grades 5.1-5.7 are typically considered easy, 5.8-5.10 is intermediate, 5.11-5.12 is hard and 5.13-5.15 is reserved for the truly elite.
Bouldering uses a similar system called the V-scale, where routes get ranked from V0 (easiest) to V16 (difficult). These rankings don't take into account how dangerous the course it, as each bouldering location is different. Rather, it focuses solely on the route's difficulty level.
Climbing gyms create routes and label them using the aforementioned scales. Each route consists of handholds and footholds of a certain color so the climber can see which holds are part of the route. For example, the 5.4 route may consist of orange-colored holds, while the 5.10 may consist of white holds. There are usually two routes per top-rope, but each gym is so different that it is impossible to say exactly how each is set up.
Chicago doesn't have many natural outdoor bouldering or climbing locations, but there are plenty of indoor ones from which to choose instead! So, now that you know a little more about how rock walls work, why not give these ones a go and see how you like it?
Climbing gyms in Chicago
Rates:
First climb is free
Day pass: $25
10-visit pass: $225
Gear rental: $11
Monthly membership: $125/month
Annual membership: $1,250
Rates:
Day pass: $19
10-visit pass: $170
Gear rental: $10
One-month membership: $158
Monthly membership: $79
Annual membership: $869
Rates:
Day pass: &18
10-visit pass: $135
Gear rental: $12
Monthly membership: $65
Annual membership: $650
Rates:
First climb is free
Day pass: $35 (for nonmembers)
Some gyms are climbing-only gyms, and some have climbing walls in addition to other services. If you are committed to climbing regularly, then a membership to a climbing gym might suit you best. Other fitness centers that contain a climbing wall will not have as broad a variety of routes as a climbing gym, but they are useful for the casual climber.
Brooklyn Boulders, Vertical Endeavors and First Ascent are all climbing gyms. The three Chicago Athletic Club locations are fitness centers that also contain climbing walls. Climbing is not the main focus here, however.
No matter where you go climbing, you will have to fill out a waiver before you can start to climb. Although climbing gyms are extremely safe and strictly maintained, climbing itself is a risky sport that not many people are used to. Thy gym you decide to attend might also show you a short instructional video beforehand to explain the dos and don'ts of climbing.
If you're a newbie, don't worry about the pros intimidating you. Climbing is about having fun and reaching personal goals, not about competing with others. And, if you're already a whiz at climbing, then what are you waiting for?
Go send those routes and have fun climbing in Chicago!
Pin it!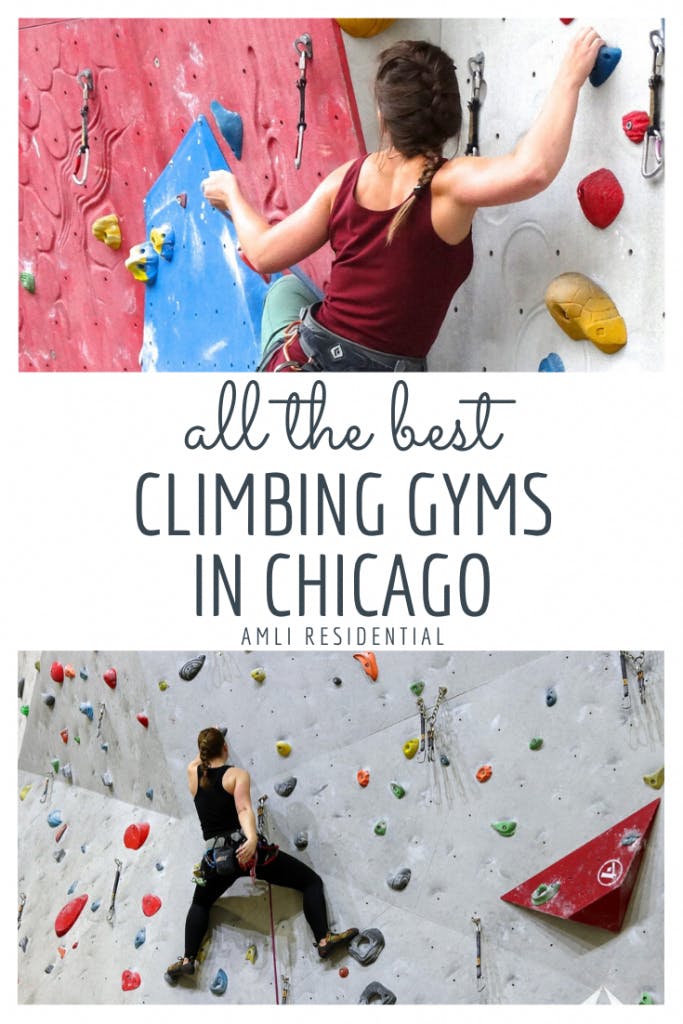 Feature photo courtesy Pixabay/422737
Second photo courtesy Pixabay/7163893