We can all agree that this year has been a little, well, disappointing in terms of fun summer activities. Parks have been closed, vacations have been cancelled and many outdoor activities have been postponed until the world goes back to normal. 
If you had planned on taking your family camping this summer but have had to cancel your plans, don't feel like your summer is going to go to waste! You may not be able to go outdoors to the campsite you've been wanting to visit, but there are still ways you can give kids a camping experience without ever leaving your apartment!
Here at AMLI, we've already spent a good deal of time researching some great camping spots around our apartment communities. We've found camping spots around Denver, Houston and Fort Lauderdale, and we've even given tips on how to be an eco-friendly camper. Now, we're here to help you host your own family-friendly camping trip without ever leaving your home.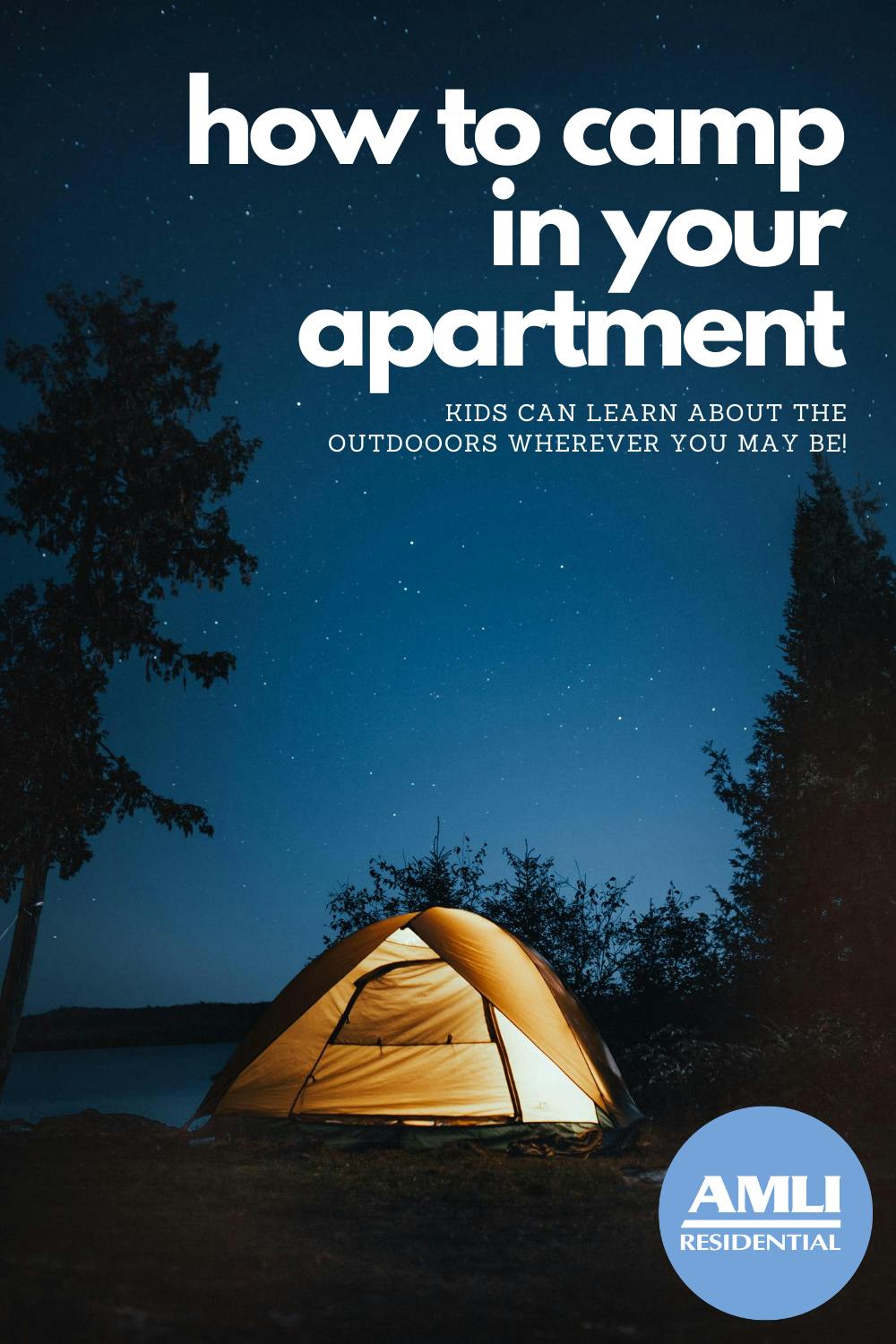 How to camp in your apartment
Set up a tent
Clear out a space in your living room, bedroom or dining room where you can comfortably set up a tent. If you can't set up a tent, then build a tent using blankets, chairs, tables and other furniture! It doesn't have to be perfect, but having some sort of tent will make the experience seem that much more exciting!
Decorate!
This is the fun part! Use your camping supplies, like sleeping bags, lanterns or chairs to really complete the look and feel of a campsite. Find a small projector that can project the stars onto your ceiling, switch the lights off for that night-time effect or light some candles to imitate the flickers of a campfire. Go wild (literally and figuratively)!
Make camping food
Nothing quite compares to a meal cooked over a fire, but there are some decent substitutes. You can make some great s'mores in the microwave, munch on trail mix, sip on a canteen of soup or make some hot dogs to eat in your tent. You could even adapt this list of fun snacks for a camping-themed party in the future!
Play nature sounds
Use a speaker to play some soft nature sounds in the background all night long. It adds to the overall ambiance, and it's also a great opportunity to learn about different nature sounds. Play sounds from different environments, like the desert, the rainforest, the savanna and the swamps, and see if your kids can identify the sounds that are unique to each. Plus, who doesn't get the best sleep when being serenaded by cicadas?
Learn about the outdoors
You may not be able to go out on a nature walk through the woods, but that doesn't mean you can't teach your kids some valuable lessons about the outdoors. Listen to animal noises to identify the sounds that birds, animals and frogs can make. Make leaf rubbings with different sized leaves. Teach your kids about fire safety, camping essentials, leave no trace principles and the importance of protecting the outdoors. Whatever ages your kids are, there is always a way you can incorporate learning activities into your "camping" trip. 
Commit to the unplugged life
Camping trips are about getting away from the "real world," so keep that theme going as you host your at-home camping trip. Limit screen time, switch off the lights and try not to scroll through your phones too much. You can obviously do your camping trip however you like, but spending time away from the screens and distractions of regular life will make the whole experience a little more authentic and special.
Play camping games
What do you do for fun when you're camping? Personally, I bring my Exploding Kittens card game whenever I go camping, as well as a regular deck of cards. Set up a lantern in the tent, play some fireside sounds, grab a s'more and spend some time bonding around the figurative campfire with some games! 
Do some nature-themed arts and crafts
Arts and crafts are a great way to learn about the outdoors and pass the time. This list right here has over 50 different nature crafts that you can incorporate into your camping experience, and most of the supplies are things you won't have to hunt for in the woods. After all, Hobby Lobby is a wilderness in itself. 
Collect some sticks outside to make a mobile, create ornaments, build log cabins or turn into some paint brushes. Pieces of wood are incredibly versatile and can be used to paint on, to create animals or to practice working with different textures. You can do all sorts of crafts with some rocks or pebbles, like painting rock pets, creating small creatures or making jewelry.
Final thoughts
There is no right or wrong way to make a camping experience for your kids. You can do it however you want! We've just given you some ideas on how you can make it a memorable, fun and educational experience. 
Enjoy!
Pin it!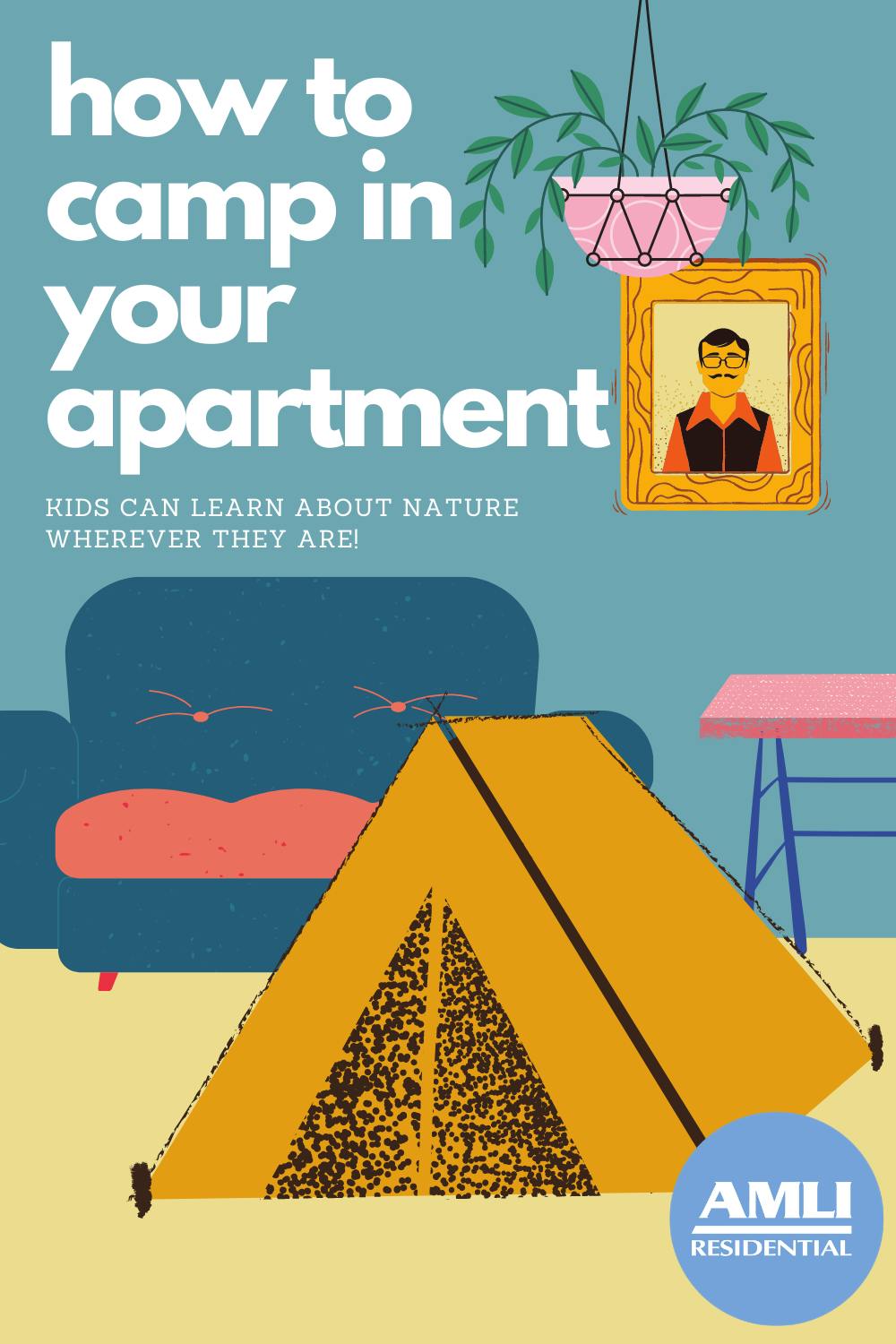 Featured photo courtesy Pixabay/Free-Photos