We all need a good, long vacation every now and then. A few weeks on the beach or a month of backpacking is a great way to shake things up, if we get the chance to do them. 
Coming home from these long vacations can leave us tired and exhausted, so having a plan of action can help us transition into normal life a little easier.  
How to come home relaxed from an extended holiday
Prepare for your return before you even leave
Whether your vacation spanned a week, a month or even just a weekend, coming home after some well-deserved time off can be a source of great stress for many. Dragging luggage through your front door and surveying your apartment covered in pre-departure chaos is no fun way to end a holiday, nor is finally getting phone service and receiving three dozen work emails from people desperately trying to get in contact.
One of the best things you can do for your future self is to prepare for your return before you leave. 
Arrange for someone to water your indoor plants and bring in mail, if needed.
Empty your fridge of perishable items, and stock up on some non-perishable foods and snacks for when you get back.
Empty your laundry basket and do your laundry.
Pay any bills in advance, if you can. 
Set up out-of-office replies on your email and voicemail.
Take out any trash or recycling.
Tidy up as much as you can.
Trust us, coming home to an apartment that's clean, organized and doesn't smell like trash is WAY better than coming home to a million emails, rotten fruit and a lack of toilet paper. Your future self will be eternally grateful.
Make yourself a to-do list
There's always stuff to do when you come home from a vacation — that's just how life works, unfortunately. But just because there are things to be done, it doesn't mean it has to completely crush your post-holiday high. 
Make a list of everything you have to do within the next day or few days of your return. This might be overwhelming and stressful as you write it out, but having it all on paper means you don't have to keep track of it in your head. 
Assign your tasks based on priority or on availability. Don't try to fit too much into each day if you can help it. Rather, space the tasks out so that you can accomplish your daily goals without feeling burnt out on your first day back. Take each day one at a time, and before you know it, you will be on your way back into your productive daily life!
Fuel your body
Vacations, while fun, can be extremely tiring. Sleep schedules are different, you're moving around a lot more, you might be in a different time zone, the weather is different, you're eating different food or drinking different beverages. You may not feel it while you're gone, but coming home to your same-old same-old routine gives your body a chance to realize "oh, crap, I'm exhausted." 
Like a sugar crash after a sugar rush, the post-vacation slump can hit us hard and fast. And while there's no instant fix that will make it all better, there are plenty of things you can do to help your body recover.
Drink water. Lots of water. Your body will recover faster if it's properly hydrated.
Eat your greens, veggies and fruits. Replete your body's cache of nutrients, vitamins and minerals that may have been lost on holiday.
Skip the alcohol. Whether your vacation included alcohol or not, avoiding the substance will allow your body to sleep better, metabolize more efficiently and generally recuperate faster.
Give yourself an adjustment period
A day or two to relax between arriving home and starting work can make a world of difference in your overall mood, energy and recovery. Plus, it gives you some wiggle room to work with if your travel plans go awry.
Take an extra day off work or arrive home on Friday, giving yourself the weekend to recover. Use that time to catch up on sleep, overcome your jetlag, go on a long walk, unpack your suitcases and do some grocery shopping. This time is for you to rest, but it's also a time to get your mindset back into your regularly scheduled programming. Don't let Monday sneak up on you without taking advantage of the rest!
Find something to look forward to
Hopefully, your vacation was amazing and everything you could have hoped and dreamed for. That's the goal, right?
But man, it is hard to go back to work and everyday life after such a wonderful experience. It's like the Monday blues, but the Monday blues times a thousand. 
Post-vacation endorphins can leave us feeling down and unmotivated, so find something to keep your happy holiday energy going through the workweek. 
Go to a restaurant you like.
Go on a date.
Treat yourself to a spa day or other form of self-care.
Make plans with friends.
Plan your next vacation.
Get some exercise.
Buy concert tickets.
Do something – anything – that you truly love to do!
Having something to look forward to can make the transition into normal life a little easier to bear, especially after an extended vacation. 
Go easy on yourself!
Honestly, vacations can be both absolutely amazing and absolutely exhausting at the same time. Go easy on yourself and give yourself time to recover from it, and don't feel guilty about being tired!
And whatever you learn from returning from one vacation, use that knowledge to make your next return an even smoother one!  
Bon voyage!
Pin it!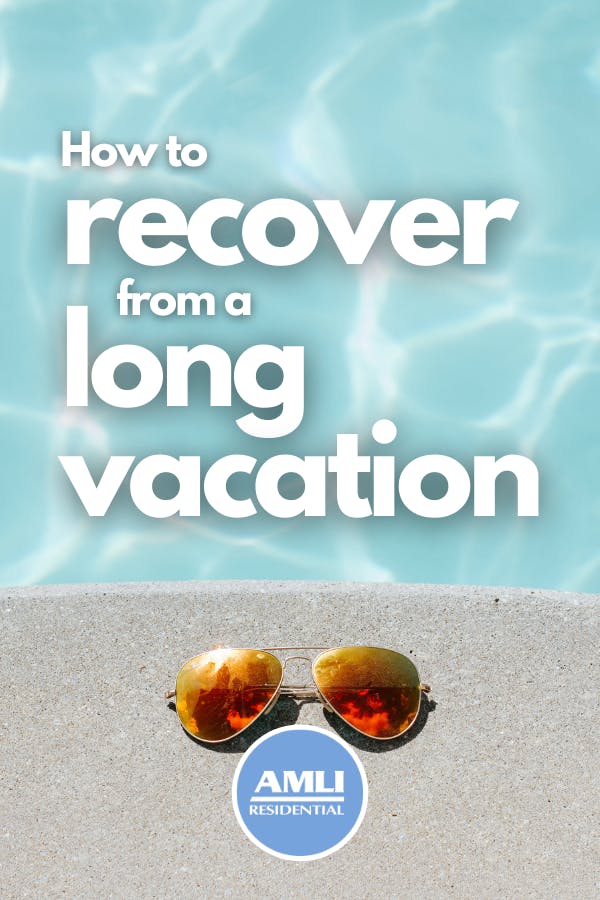 Featured photo courtesy Pixabay/12019