There's been a lot of buzz lately about the Denver skyline's soaring potential. If Greenwich Realty Capital's bid for Six Fifty 17 is approved, Denver will acquire its first "supertall" building in 2021. At 1,000 feet tall, Six Fifty 17 would rise 286 feet above Denver's current recordholder, Republic Plaza. Six Fifty 17 would transform the Mile-High City's skyline, but it would not be Denver's first attention-grabbing 21st-century building. Here are six magnificent recent additions to the downtown cityscape, including one that's still under construction.
1144 Fifteenth is still a few months from opening its doors. But the Hines project recently reached its full height of 603 feet and is definitely taking shape. The 40-story Pickard Chilton building, evocative of the mountains surrounding the Mile-High City, has already made its mark on Denver's skyline. The building's 13-story base consists primarily of retail and restaurant space. The lower levels also house a state-of-the-art gym and 880-space parking garage. The top 27 floors, clad in high-performance glass and an aluminum curtain wall, boast 657,400 square feet of premium office space. 1144 Fifteenth, located on 15th Street between Arapahoe and Lawrence streets, is slated to open in January 2018.
CU Denver Student Commons Building
The CU Denver Auraria campus has seen a flurry of innovative construction over the past five years. The most impressive addition is probably the Student Commons Building at 1201 Larimer Street, completed in 2014. Designed by architect Anderson Mason Dale, this neo-Modernist structure connects downtown Denver to the heart of campus. Glass and light-colored stone play prominently into its aesthetic. But the 21st-century building also contains plenty of the dark brick that unifies buildings on the Auraria campus. This new CU Denver jewel connects downtown Denver to the heart of campus.
The Denver Art Museum (DAM) is another institution with a campus near downtown Denver that's seen a rush of recent development. DAM's 50,000-square-foot Administration Building, completed in 2014, is DAM's latest update. The 1226 Bannock Street structure exudes the minimalist style for which architect Jeff Sheppard of Roth Sheppard is known. Due to its unique location and orientation, the strikingly geometric 21st-century building has three primary elevations. The Admin Building won't be DAM's hottest architectural update for much longer. On November 19, the museum's gray-glass-tile-clad Gio Ponti Building will close for a 50 million renovation.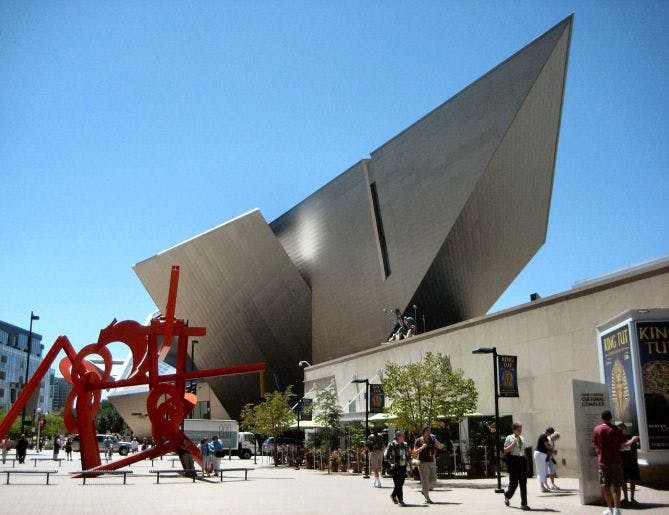 The other DAM structure on our list is the Frederic C. Hamilton Building, located at 100 W. 14th Avenue Parkway. Former DAM director Lewis Sharp wanted to increase the museum's display space, and commissioned world-famous architect Daniel Libeskind to help. The resulting 146,000-square-foot building, distinguished by its sharp angles and titanium-clad exterior, was completed in 2006. In 2007, it received a Presidential Award of Excellence from the American Institute of Steel Construction. Since then, the building has housed one impressive art exhibition after another. The Hamilton Building remains one of Denver's most inventive structures, and is central to Sharp's DAM legacy.
This aptly named pedestrian bridge was designed by Steve Chucovich in 2002. 15 years after completion, the cable-stayed Millennium Bridge remains one of Denver's most captivating and futuristic structures. Support cables fan out from a maritime-inspired canted mast, the bridge's central feature. Expansive staircases climb up to the walkway on either side of the Platte Valley railroad tracks at 16th Street. Glass-enclosed elevators, also on either side, make the bridge accessible to all. The Denver Millennium Bridge is a 10-minute walk from AMLI Riverfront Park.
David Tryba of RNL Denver is responsible for designing the architectural beauty at 201 West Colfax Avenue. The Webb Building, completed in 2002, was constructed to consolidate city and county jobs previously scattered around Denver. In the process, the Mile-High City gained a stunning 15-story mass of glass, stone, and metal. The Webb Municipal Office Building is a 20-minute walk from AMLI Park Avenue's LoDo apartments.