There aren't many things we can know with absolute certainty in this weird and wonderful world, but there are a few facts that remain set in stone.
The sky is blue. Mountains are cool. Bob Ross is precious. Rabbits are perfect. And, of course, California makes great wine. 
Here are some of the most popular white wines grown in California that you can find all over the country and all over the world! If you've tried these types of wines in California, though, you'll never want to try it from anywhere else again. After all, why would we want to leave our Southern California apartments anyway?
California's best types of white wine varieties
Chardonnay
Wine regions: North Coast, Central Coast, South Coast
The crisp, sweet wine is the number one most-planted variety of wine in California, beating out the other 109 varietals made in the state. Over 95,000 acres of California's viticulture regions are dedicated to making Chardonnay, which is impressive considering there is a total of around 895,000 acres of wine vineyards in the state. 
You're more likely to find chardonnay in the North and Central Coast regions, as the warmer weather allows farmers to keep the fruit on the vines for longer, resulting in a sweeter and more fruity flavor. Since that sweet, smooth flavor is what makes a chardonnay, well, a chardonnay, the further north you go, the better the wine will likely be. 
A California chardonnay is usually defined by subtle notes of apple, pear, honeycomb and praline, making it a great pairing with nuts, popcorn, fish and shellfish!
Riesling
Wine regions: Central Coast
California produces around 90% of the nation's wine, but there's still the other 10% out there that creates a decent amount of competition for certain California wines. And, as it turns out, rieslings are one of the varieties that have to compete. 
Only 4,000 acres of Californian vineyards are dedicated to rieslings, a stark contrast to the 95,000 acres belonging to chardonnay alone. Washington and Oregon both have excellent riesling exports, but California's riesling stands alone in its light and complex flavor profile. Thanks to its more southern location, riesling grapes can grow rounder and more juicy than their northern counterparts, making for a tart, citrusy taste with hints of sweet florals.
Sauvignon blanc
Wine regions: Central Coast, North Coast
Sauv blancs are the driest white wine grown in California, though they are by no means less desirable. This dry wine has hints of fig, green olive, lemon verbena and juniper berries to carry its subtle sweetness through the tartness, making for a robust flavor that's still smooth and soft on the tongue.
Dry wines are made with grapes that stay cool enough for the acidity to mellow out but not disappear, and the North Coast is an ideal spot for these types of grape-growing methods to thrive. That being said, though, Central Coast sauv blancs are still excellent choices, as they often have a little extra sweetness to balance out the dry flavor.
Semillon
Wine regions: South Coast, Central Coast, North Coast
Semillons are a lesser-known varietal of white wine, but they're well worth their weight! 
While most white wines are characterized by their crisp, tart flavors that leave a clear and fresh taste, semillons have a unique caramel flavor that sits on one's tongue long after the first sip. These wines start with a fruity, light flavor before evolving into a heavier taste that leaves an almost waxy-like residue on the tongue. This unique mouth-feel is what sets a semillon apart as a somehow perfect middle ground between the more buttery chardonnay and the tart sauvignon blancs. 
California semillons have a more caramel-like aftertaste than most others, thanks to the winemakers aging their wines in oak barrels for extra flavor. 
Viognier
Wine regions: North Coast
Viogniers are made with a type of grape that has very thin skin, making the cooler regions of Northern California a more effective growing area than the much hotter south.
There are two things that a thin grape skin can do for a wine. First, it introduces less tannins into the wine, making for a less acidic and bitter edge to the drink. Second, it means that grapes can't be grown in hot temperatures, which means grapes end up being a little more on the tart side. This unique combination makes for a tart wine that has very little bitterness — a flavor combination that's made this varietal surge in popularity in more recent years. 
White zinfandel
Wine regions: South Coast, North Coast, Central Coast
This wine is what thrust California onto the world stage of wine, and it's one of the most widespread varieties grown in the state. From the heat of the South Coast to the cooler mountains in the north, you're likely to find white zinfandel wineries in each and every region in between!
White zinfandels aren't white at all, of course — they're really a rosé, which is made by fermenting red grapes with their skins for a short, brief period until the wine reaches the desired color. These hardy grapes can thrive in a wide range of climates, though, so the main difference in flavors comes from the ways the grapes are grown.
Take the South Coast, for example. The weather here is blazing hot and dry, and grapes that grow here are able to produce more sugar. These zinfandels are sweeter and have fruitier notes, thanks to all the natural sugars in them. In the higher elevations to the north — such as in the Sierra Nevada foothills — warm days turn into cooler nights, making for grapes that hold equal amounts of sweetness and acidity. There's no right or wrong — they are just different!
So, if you're a purveyor of fine wines or a fan of wine tastings, make your next trip to your local winery one to remember by trying some of these California white wines that will truly knock your socks off!
Cheers!
Pin it!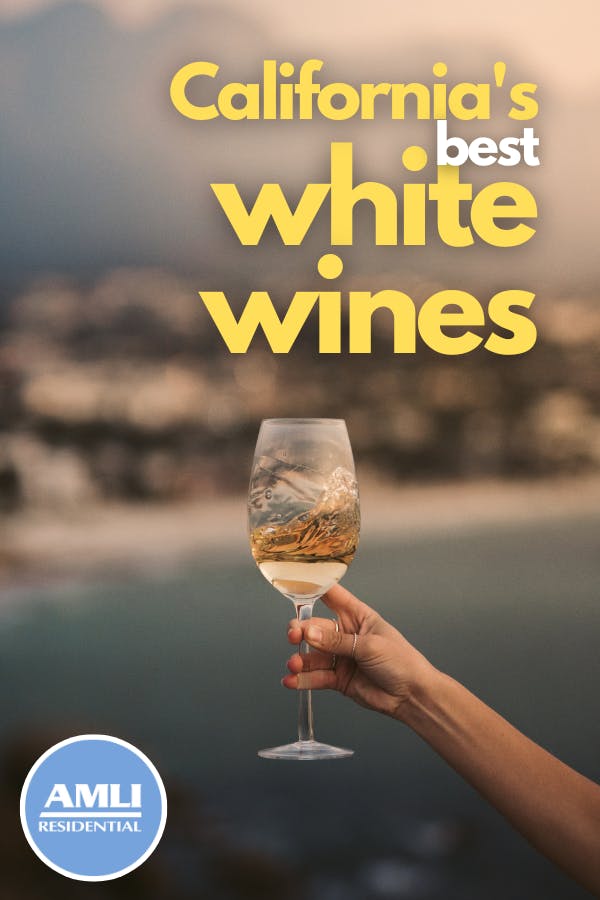 Featured photo courtesy Pixabay/stevepb