One of the best things about Denver is that it is so close to the Rocky Mountains. Although Denver itself may not be a mountain town, it's so close to the mountains that the city has become a haven for mountaineers, campers and hikers alike. 
It's amazing to have such a massive mountain range right near your doorstep, but how much do you know about the towering mountains next door? If you've ever seen a peak and thought, "I wonder what mountain that is," you're not alone! Here's a list of some of the most prominent peaks around Denver and, most importantly, how you can go about finding them.
Resources for finding Denver mountain peaks
The mountain peaks you can see from Denver change depending on where you stand. Even moving a few hundred yards can potentially block a peak from view, so you're not going to see the same peaks from everywhere in the city.
However, there are a few mountains that will stick out more than others and are more likely to be visible from most places in the city.
The name is pretty self-explanatory! Go to PeakFinder.org and type in your location. In this simulation, I just typed in "Denver" and the website gave me all the visible peaks one could see from the city!
This website is a little trickier to use, but you have a lot more information available if you spend a little extra time looking through the features. CalTopo uses topographic maps (the maps with the contour lines!) to generate the peaks, so many backcountry hikers use this for mapping out their trips. 
Hey, what's that? Well, that website is an excellent resource for finding information on the peaks you're looking at. You can see maps of the horizon and from overhead, and all the visible mountain peaks are marked so you can get to them easily! 
Here's an example of what peaks can be seen from our luxury Broomfield apartments!
Major peaks visible from Denver
The section of the Rocky Mountains that is nearest to Denver is called the Front Range. The most prominent mountains close to Denver are Pikes Peak to the southwest, Mount Evans directly to the west and Longs Peak northwest of the city. Mount Bierstadt and Torreys Peak are both fairly prominent, as well, and Grays Peak is the highest peak in the Front Range. Grays Peak, Mount Evans, Longs Peak and Pikes Peak are all over fourteen thousand feet above sea level!
If you can use the peak finder resources to spot those major peaks, then you will have no problem figuring out what the neighboring peaks are!
Great places to see the Rocky Mountains in Denver
If your Denver luxury apartment doesn't have some wicked mountain views, we've got you covered!
Here are a few spots where you can go to take in the Denver's best mountain views:
Now that you have the resources to identify all the mountains around you, let's test out the tools! We picked AMLI Littleton Village to use as points of reference to test our peak-finding tools, and boy oh boy, did we get some great results! Check out the links below to see exactly how we found these mountain peaks. Then, after you've checked them out, try using these tools for yourself from wherever you might be.
Mountain peaks you can see near FlatIron Crossing
If you're facing west from our apartments near FlatIron Crossing, you may find that most of your view to the south is obscured by a small hill. No worries, though! There's plenty to see to the west and northwest! Here are a few that you might be able to see, starting from the southern end of the Rockies and moving north (left to right, if you're facing west). These don't include the peaks further than 16 miles away.
Use this handy dandy map if you want a really in-depth explanation of all the mountain peaks you can see (or search the map for more views). You can click on the ridges you're looking at and get the exact name, elevation and distance of the mountain you're looking at!
Our Littleton apartments have a great view of the Rockies to the south and west. If you look northwest, you can even spot the Red Rocks Amphitheatre in Morrison!
Here are some of the other mountains you can spot!
Here's a panorama of all the mountains you can see from Littleton VIllage, and here's a specific panorama of the peaks you can see from our Littleton luxury apartments!
Whether you're in Broomfield, Centennial, Downtown Denver or Glendale, you can find out exactly what mountains you're looking at using these handy tools! If you know of any great spots to view the mountains in Denver, go ahead and try using these peak-finder applications. You will be mountain savvy in no time!
Enjoy!
Pin it!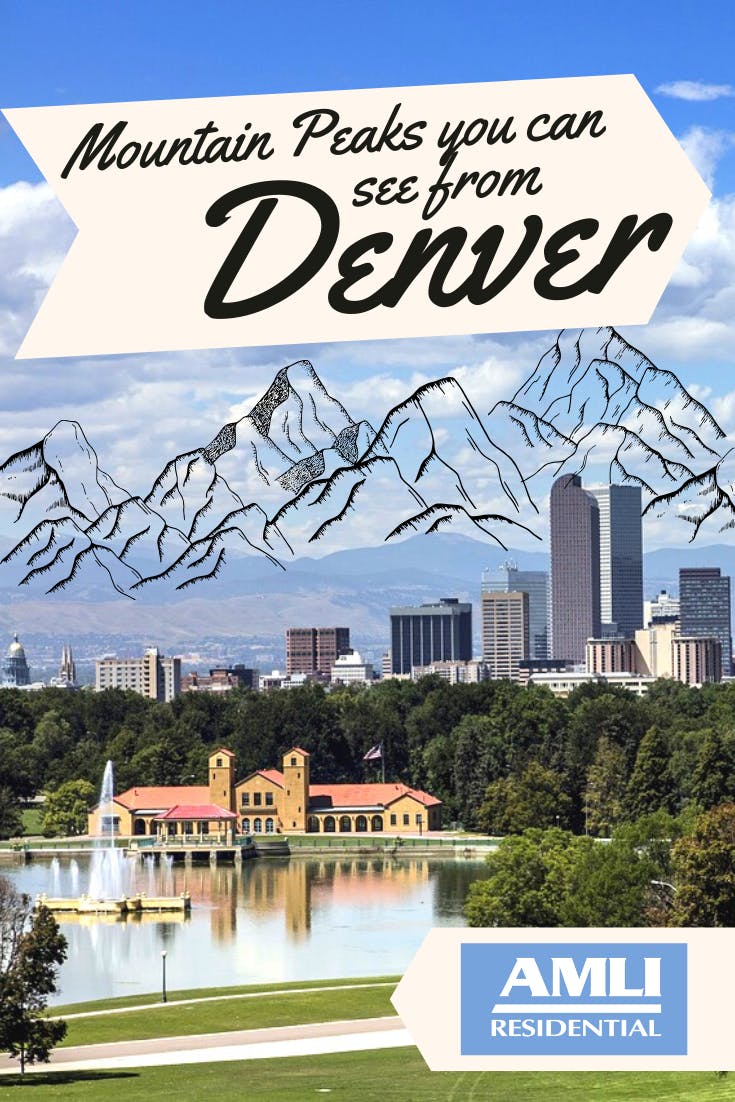 Featured photo courtesy Pixabay/272447