The outdoors have always been the ultimate playground for children. We all have memories of running around in the sunshine, playing with toys on the grass or building forts in and among the trees. Children have played outdoors since the dawn of humankind, so it's no wonder that nature offers some of the best environments for learning.
It's shown that children of all ages benefit greatly from being outside regularly. Fresh air and natural scenery can decrease stress and encourage imaginative play, and when children have a chance to learn outdoors they can become more motivated to retain information. And lucky for you all in our Southern California apartments, there's plenty of sunshine to go around!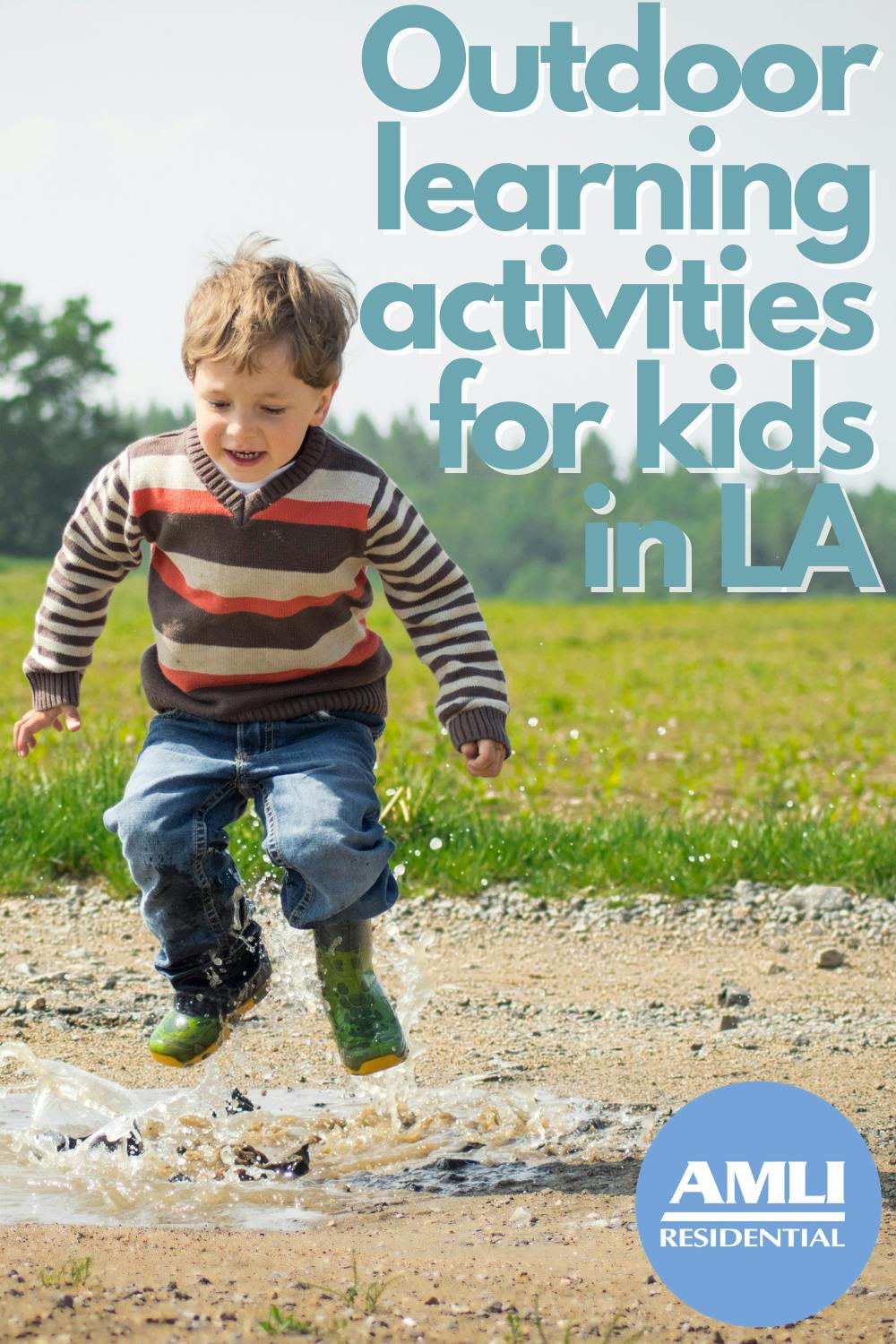 Benefits of learning and playing outdoors
A change in scenery boosts enthusiasm to learn
When it comes to children, think about the amount of time they spend inside. An hour or two outdoors can be a welcome change of routine if they are spending most of their time inside, and the change in scenery can renew their motivation and boost their concentration. The fresh air, exciting scenery and exploratory activities can help kids become more enthusiastic to learn, especially if they're usually in the classroom. 
The outdoors strengthen emotional wellbeing
Consistent exposure to the outdoors can help with mental and emotional development in the long run, too. When children have an increased enthusiasm to learn, they retain more information and also feel more confident in themselves as they complete tasks. Improvements in self-confidence, independence, creativity and problem-solving are linked to regular time spent outdoors. Strengthening cognitive health is known to balance mood and emotions in both adults and children. Fresh air, sunshine and physical exercise can do wonders for not only the wellbeing of the body, but also of the mind. 
Consistent time outdoors helps boost physiological development
We can't always expect children to make healthy lifestyle choices, like choosing to play tag instead of watching a movie on the sofa. When we create intentional outdoor time, we are giving children the opportunity to choose activities that help with physical development! Plus, being outdoors inspires imaginative play and exploration, which is great for their physical health and wellbeing!
Learning about the outdoors develops an eco-friendly mindset
It's never too early to care about the environment! When children spend more time learning about the Earth in hands-on ways, nature becomes a more prominent feature in their lives. A love for nature leads to a love for the planet, and Lord knows the Earth needs a little more love nowadays.
Outdoor learning activities for kids, and where to do them around LA
Birding
Learning about birds is not only a fun zoology lesson, but it's also an easy way to get outside and apply the knowledge kids learn.
When children go outside to find birds, they are using their eyesight and hearing to identify certain sounds, colors and shapes. Birdwatching activities can be adapted for anyone from toddlers to teenagers, so it's a wonderfully versatile subject that you can do with your kids. 
Start by doing some backyard bird watching, as that will pique interest. If you have younger kids, work with them to spot birds in the trees or to listen for bird songs, while older kids can identify different species and sounds. Move onto bird watching excursions in your local park, and if your kids are old enough, incorporate a bird scavenger hunt!
If you're looking for some good bird watching spots in Los Angeles, you're in luck! The Los Angeles County Arboretum and Botanic Garden in Santa Anita has plenty of wild birds, as well as peacocks and common backyard birds. Macarthur Park Lake is a haven for migrating birds and waterfowl like geese, ducks, herons and seagulls.
Shadow pictures
All you need for this activity is some paper, pencils, toys and sunshine!
This fun and simple tracing activity teaches children about sunlight and shadow, and it helps develop fine motor skills and coordination in a fun and creative way! 
Shadow drawings are done by placing an object on a flat surface and tracing the shadow that the object makes. Use blocks and toy animals to customize the shadow's shape however you like! If you're in a park or on the beach, use seashells, acorns, pine cones or other small tokens you might find on your adventures. 
This is an activity you can do anywhere, so find a park near you and enjoy that sunshine!
Scavenger hunt
A scavenger hunt is a perfect way to really customize your activity and learning outcomes. Are your kids learning about colors and shapes? Create a list of colorful objects to find. Do you want to teach them about size and texture? Ask them to find something pointy, something smooth, something soft or something rough. A scavenger hunt is endlessly customizable, so go crazy! 
Here's a great comprehensive list of how to structure your outdoor scavenger hunt to fit your child's learning needs.
Griffith Park is an excellent place to go for a scavenger hunt because of its expansive system of trails, picnic areas and exhibits. Plus, it's just a few minutes from our apartments for rent in Glendale!
Alphabet/letter/color hunt
If you're looking for a fun way to teach some basic lessons like colors, letters or numbers, set up a treasure hunt in your backyard or nearby park! Print or cut out some large letters, for example, and place them in the grass, in a hedge or beside trees. Then assist your child in hunting for the letters in order to either spell their names, the alphabet or simple words. The simple act of adding physical movement and an outdoor component to this simple lesson can stimulate children's brains and help them retain the information in new ways. 
Here are some other fun ABC games you can play outside!
Next time virtual learning starts to wear you down, take the opportunity to get some fresh air and do some outdoor learning! The change in scenery will make a huge difference, and you'll all get some much-needed time in nature. 
Have fun!
Pin it!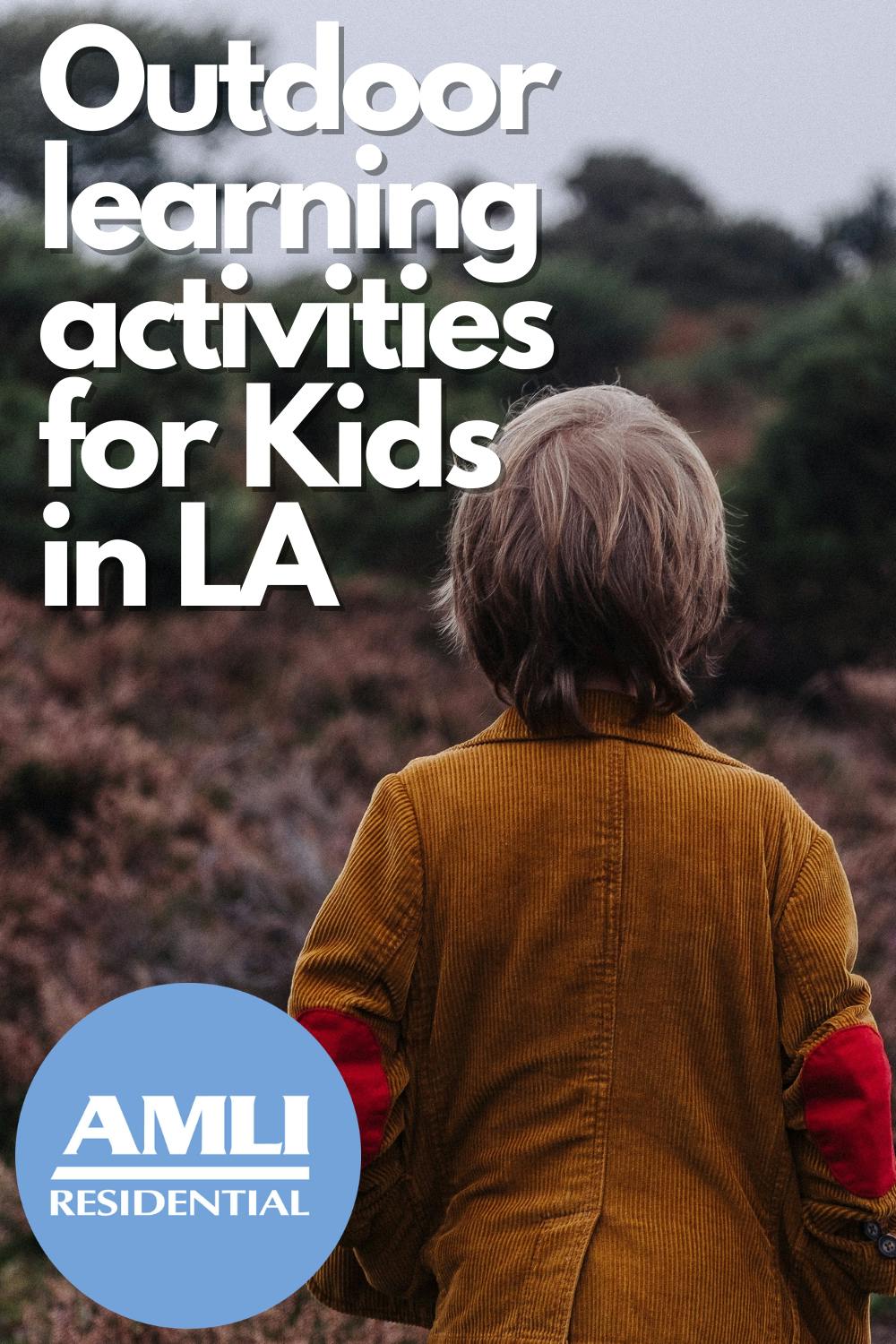 Featured photo courtesy Pixabay/SchoolPRPro