One of the best things about living in Dallas is that there is so much to see and do. You've got some great museums, some amazing parks and plenty of art and culture to keep you entertained for an entire lifetime! It's no wonder so many people have picked our centrally-located luxury Dallas apartments as a home-base, because being so close to all this activity is one of the best ways to experience everything the city has to offer.
In addition to being close to some great city sightseeing, the city is also within just a few hours' drive of some amazing state parks and natural wonders. 
So next time you're wanting to get out of the city for a bit and explore the state around you, head to some of these outdoorsy destinations to get your adventurous nature fix. They're close enough that you could go away for a whole weekend or maybe just a day. Either way, they're definitely worth a day trip from Dallas!
Side note, we're measuring all these distances from our luxury Addison apartments, as they're in a pretty central location and are not too far from Downtown Dallas. If you're in our surrounding Dallas apartments, the distance will probably only change by a few miles and minutes!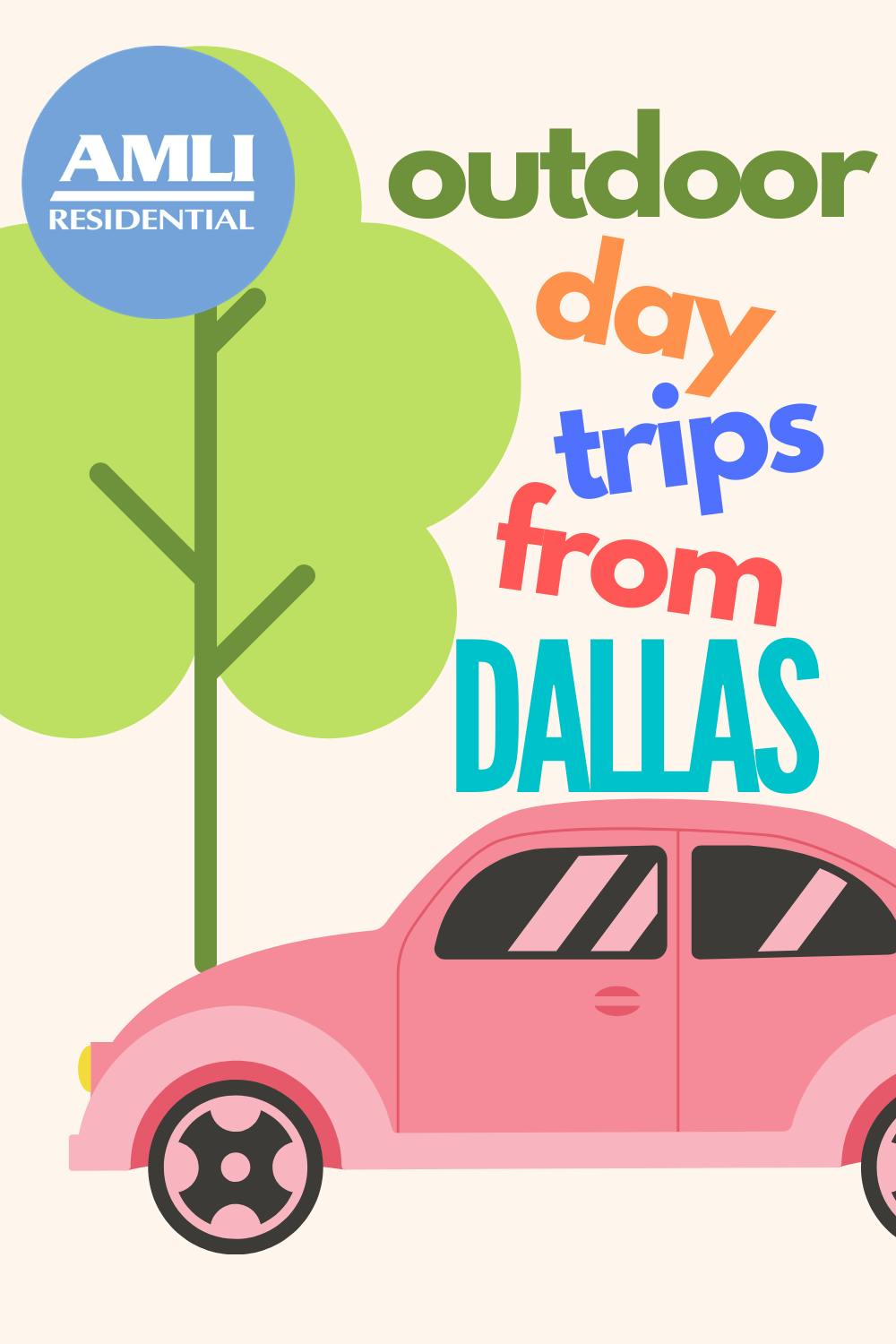 Outdoor day trip destinations from Dallas
Sherwood Shores, Texas
Distance: 74 miles
Time: 1 hr, 20 minutes
Spanning over 90,000 surface acres of water and 580 miles of shoreline, Lake Texoma is the perfect place to do all the fishing, hiking, camping and bike riding you could ever dream of! Aptly named for the states that the lake borders (Texas and Oklahoma), the lake is a popular destination for nearly six million visitors each year who come to enjoy the equestrian trails, sandy beaches and calm waters. Plus, while you're there, don't forget to take a picture with the Welcome to Texas sign on the Sherwood Shores-Willis Bridge!
Davis, Oklahoma
Distance: 120 miles
Time: 1 hour, 48 minutes
Hop over the Oklahoma border via Interstate 35, and you'll soon find yourself at Oklahoma State's largest waterfall! 
Honey Creek rambles through the Arbuckle Mountains and pours out into a natural swimming pool below the 77-foot Turner Falls drop. Visitors to the park can swim in the natural pools, hike through the caves and forests and even visit a 90-year-old castle built in the heart of the woods! 
Davis, Oklahoma
Distance: 123 miles
Time: 1 hour, 52 minutes
Make your trip to Davis, Oklahoma a weekend getaway with another fun sightseeing adventure! Upriver from Turner Falls and right along Honey Creek is a 200-acre wilderness park featuring safari-style enclosures and free-roaming animals. Arbuckle Wilderness Park houses animals from five different continents in habitats like their own, offering visitors a unique wildlife viewing experience from within their own vehicles. 
Karnack, Texas
Distance: 176 miles
Time: 2 hours, 40 minutes
Just 32 miles west of Shreveport, Louisiana along the Texas border is Caddo Lake State Park, one of the only natural lakes in Texas. Experience a lake trip like you never have before as you kayak under massive cypress trees draped in Spanish moss, or spend the night camping in the historic cabins along the quiet waters. The bayous are filled with over 70 species of fish, so bring your fishing rod and spend a perfect afternoon or weekend enjoying the lush,  peaceful scenery.
Nacogdoches, Texas
Distance: 191 miles
Time: 3 hours, 3 minutes
For the more adventure-seeking travelers, try out a day of zip-lining fun at Zip Nac in Nacogdoches! Learn how to zip from tree to tree and platform to platform, all while catching a bird's-eye-view of eastern Texas' beautiful landscapes. Plus, they do birthday parties and field trips for up to 10 participants! 
Broken Bow, Oklahoma
Distance: 178 miles
Time: 3 hours, 6 minutes
If you're looking for a truly relaxing getaway, then Beavers Bend State Park is the place to go. Surrounded by dense forests and nestled on the shores of a crystal-clear lake, Beavers Bend State Park offers a unique hiking, kayaking, fishing and water skiing experience that has been beloved by locals for decades. Head over in trout season to get some catches in, or maybe meander alongside the gurgling creeks for some secluded one-on-one time with mother nature. 
Fredericksburg, Texas
Distance: 248 miles
Time: 4 hours, 9 minutes
Jutting up sharply against the mostly flat surrounding land is the United State's largest isolated rock hill made from pink granite. The reddish stone, which is usually only found deep in the Earth's crust, dates back to the middle Precambrian age a cool one thousand million years ago. So, no big deal, but the massive ancient rock you can hike, camp and explore is probably the oldest piece of Earth you'll ever step foot on in your life. 
Be sure to catch the sunset or sunrise as the warm light hits the red mountain. It's a view you aren't likely to forget!
Next time you've got some family in town, you're planning a weekend getaway or if you just want a change in scenery, visit some of these great destinations around Dallas. You're sure to enjoy the trip, and we'll always be here waiting to welcome you home to our very favorite city!
Enjoy!
Pin it!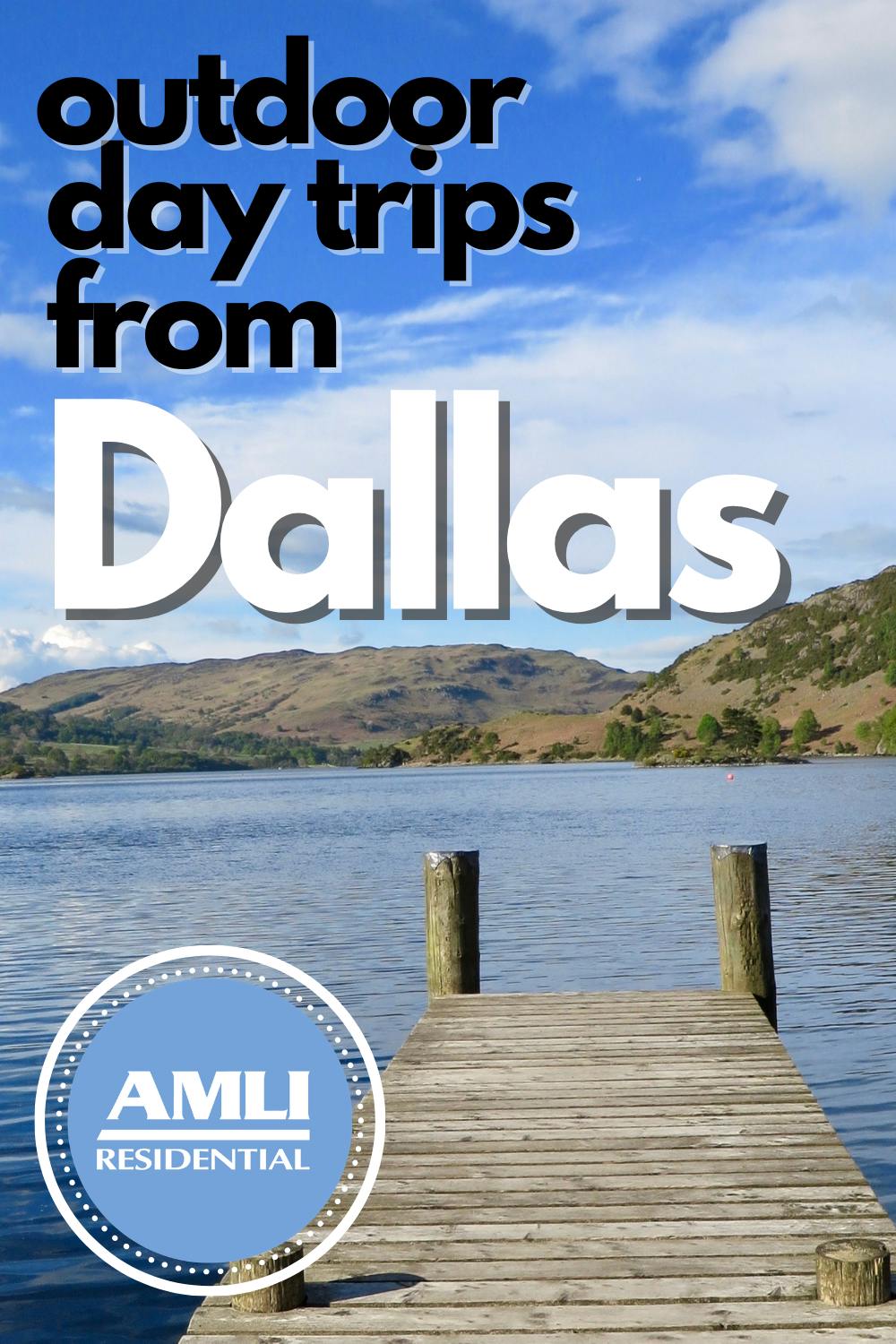 Featured photo courtesy Pixabay/GeorgeB2