It comes as no surprise to you, I'm sure, that Austin is considered by many to be the live music capital of the world. Countless musical figures have made their start in Austin, and the city continues to nurture both famous and upcoming artists who wish to grow their following. 
Every genre from rock to blues to country to jazz has a place in Austin. You may have been to a concert at one of Austin's 200+ music venues, so you know that music and live music is the lifeblood that flows through the city. You never know which of the hundreds of new artists roaming the city will be the next big deal, and that's one of the many reasons why Austin is such an attractive place for musicians both young and old.
Just a few of the many famous names to come out of Austin's live music scene are Janis Joplin, Willie Nelson, Shakey Graves, W.C. Clark and the Dixie Chicks. Undoubtedly, though, when you search online for great musicians to come out of Austin, nearly every source you find will mention the unparalleled blues guitarist Stevie Ray Vaughan.
Stevie Ray Vaughan was born in Dallas on October 3, 1954. Stevie had an ear for music, as did his older brother, Jimmie, and both of them had an affinity for the guitar. Stevie admired his older brother's guitar skills, and he began to play guitar when he was only 10 years old, practicing on a plastic toy guitar his family bought from Sears. 
Stevie played in various bands and at music clubs throughout high school. He never learned to read sheet music, but through constant practice and exposing himself to all sorts of genres, Stevie grew to play the blues rather exceptionally. He found it hard to stay motivated in high school and was not interested in the arts program at Southern Methodist University, so in 1972 he dropped out of high school and moved to Austin. 
Stevie began his musical career in Austin couch surfing at friends' houses and collecting beer bottles and cans for money. He spent his free time playing gigs with various bands and trying to establish a following. 
In 1975, Stevie formed a band called Triple Threat with a few other musicians. In 1978, the band was renamed as Double Trouble. Vaughan was on lead vocals and guitar, and within a few years the band became one of Austin's most popular acts. 
Double Trouble delivered a bluesy-rock sound that was quite new in the music scene at the time. The band was instrumental in popularizing the blues by incorporating elements like jazz, soul and ballads into the music. The group became so famous that Mick Jagger, lead singer for the Rolling Stones, invited the band to play at a private party in New York City in 1982. 
Double Trouble's first international performance was at the Montreux Blues & Jazz Festival in Switzerland in July 1982, where they were the only unsigned act in the performance. Their presence was not warmly welcomed by the audience, however, as they weren't known too well outside of the United States. Two people, though, were very impressed with the band's performance: David Bowie and Jackson Browne.
Bowie invited Stevie to play on his new album "Let's Dance," while Browne offered the group free use of his recording studio in Los Angeles. With some newfound popularity and a space to work on their own music, Double Trouble released their first album, "Texas Flood," in November 1982. 
The album's success caught the eye of the nation and the world. Soon, Double Trouble was being featured on networks all over the country, and Stevie Ray Vaughan became the leading figure of the blues revival of the 1980s. The blues were no longer a generic genre: there was now blues rock, electric blues and Texas blues, to name a few. The genre had exploded, and Stevie was blazing the way for blues musicians all over the world.
The band's second album, "Couldn't Stand the Weather," debuted in 1984 and quickly rose to No. 31 on the charts. The album's success, which included it going gold in 1985, added to Stevie's personal success as a musician, and he was recognized as Entertainer of the Year and Blues Instrumentalist of the Year by the National Blues Foundation in 1984. The band released their next two albums "Soul to Soul" and "Live Alive" in 1985 and 1986, respectively.
Struggles
Despite the fame and success, Stevie Ray Vaughan's personal life was spiraling. The group relied heavily on cocaine to get through the immense pressure and schedule of their tours and work. Vaughan's father died suddenly from asbestosis complications in August 1986, after which Stevie immediately had to fly to a concert in Montreal. His relationship with wife Lenora Darlene Bailey was crumbling, and he had major issues battling alcohol and substance abuse throughout. 
A month later, during a tour in Europe, Stevie collapsed and was hospitalized for extreme dehydration. He checked himself into rehab for a month and a half not long after that and avoided the public for nearly a year following. When he left rehab, he was fully recovered.
In 1988, Vaughan rejoined Double Trouble and the complete group began playing again, and in 1989 they released their fourth album, "In Step," to the world. In 1990, Stevie and his brother, Jimmie, recorded an album called "Family Style."
Death
Double Trouble played a large concert in East Troy, Wisconsin on August 26, 1990. After the concert ended, Vaughan and three other musicians in Eric Clapton's touring entourage boarded a helicopter headed to Chicago's Midway International Airport. Vaughan, the three musicians and the pilot took off at 12:50 a.m., but they never made it to the airport.
The helicopter crashed into a hilly field just three-fifths of a mile after takeoff, killing all four passengers and the pilot. According to the National Transportation Safety Board and the local weather forecast, the heavy fog and low visibility were key factors in the helicopter's crash, as well as the fact that the pilot was not helicopter qualified.
Legacy
In 2015, Stevie Ray Vaughan and his Double Trouble bandmates were inducted into the Rock and Roll Hall of Fame. Even today, nearly thirty years after his death, Stevie Ray Vaughan is considered to be one of the pillars of blues and blues rock. 
If you're in our Austin apartments, just know that you live in a city that has nurtured and fostered one of the greatest musicians of the century. Support the young artists and musicians that live in Austin, for you never know who could be the next big deal!
Pin it!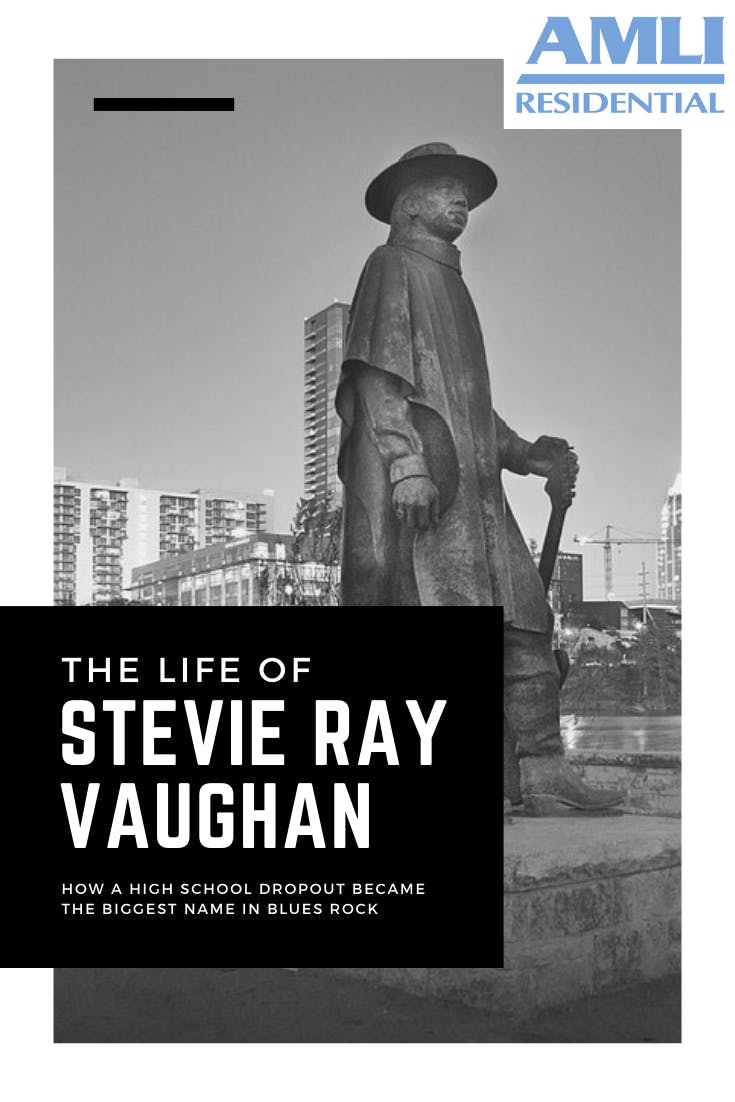 "Stevie Ray Vaughan Statue in Austin" by Katie Haugland Bowen is licensed under CC BY 2.0