Howdy! Ever been to a rodeo? 
If you live anywhere in the Southwest United States, especially in Texas, then chances are you've been in, near or around more than a few rodeos in your time. 
In fact, you might have even said "this ain't my first rodeo" completely unironically, which is probably the coolest thing ever. 
Anyways, here's a really brief history of the rodeo which, as it turns out, is full of culture, heritage and meaning!
A brief history of the rodeo
Origins of the rodeo 
The origin of American rodeos began with the very origins of cattle drives, ranches and cowboys themselves, back in the post-Civil War era American Southwest and Northwest Mexico. So, in order to understand the rodeo sport, we have to understand the world in which it emerged from.
The word rodeo itself is derived from the Spanish word for "round up" — rodeo. It was first used in the context of cattle herding when riders would encircle and corral their livestock.
Cattle herding has been around for as long as people have owned domestic livestock, and certainly the vaqueros (early cowboys of Mexico) had been mastering it for centuries by the time European ranchers ever stepped foot in Texas. These vaqueros were hired hands — usually independent contractors — who were tasked with caring for and managing the massive herds of livestock owned by wealthy Spanish ranchers in Mexico and Central America. They were laborers who could travel from ranch to ranch if they ever wanted to change employers, but their main job was to keep the cattle fed, watered and safe from predators out on the open ranch, often by using their own horses, ropes and equipment to keep them in line. 
Now, one can imagine that there were plenty of informal competitions out there on those vast, open ranches with nothing but the tools on their belt to entertain the lonely vaqueros — bets of who could toss their reata most accurately, who could ride their mount most deftly, who could corral cattle the quickest, et cetera, et cetera. There are few records of these competitions — after all, who keeps detailed records of losing bets? — but the traditions, skills and pastimes of these skilled vaqueros soon spread to the United States. 
The early 19th century saw the steady growth of ranches in the American Southwest, and by the 1850s whole families of the renowned vaqueros were being hired to work on Texas ranches. 
In fact, by the time the vaqueros had been hired onto Texas ranches and were teaching cowboys how to ride, rope and range like them (they even taught them how to make fajitas!), there was more than enough competition between the vaqueros and cowboys to keep them busy. This new culture was the birthplace of the American cowboy and, as a result, the rodeo sport.
The first recorded rodeo in the United States
Now, stories say that the first recorded rodeo occurred on July 4, 1883 in Pecos, Texas, a small frontier town just west of the Monahans Sand Dunes in West Texas. It was there that cattle driver Trav Windham and cattle roper Morg Livingston got into an argument about who was the better ranch hand, and the two decided that a public competition was the best way to put the matter to rest. 
As a disclaimer, though, it's important to note that there were almost certainly competitions of the same sort all over the American West and Mexico for years beforehand. This one, however, was the first widely-known competition to offer prize money, making this Pecos rodeo the earliest one that historians know of to have a cash prize. 
Anyways. Onward. 
Because it was a public holiday, many of Windham and Livingston's fellow ranch workers were able to come and watch the event — with many of them joining the competition themselves. Townspeople also attended, and blue ribbons were hastily acquired to serve as medals for the winners. A whopping $40 was awarded to Trav Windham for winning the roping contest, settling his argument with Morg Livingston once and for all.
Take that, Morg. Imagine losing so hard you are immortalized as the first loser of an entire sport. Oof. 
Modern development of rodeo
It took a while for rodeo to develop as a sport. In the decade before and after the turn of the 20th century, those early years of rodeo consisted mostly of spectator events and entertainment events alongside Wild West Shows, which also featured famous figures like Annie Oakley and Buffalo Bill showcasing their frontier skills. 
The culture around rodeos had been, up to that point, run by the local communities that would rally to put together a show. Rules, eligibility, prizes and events changed from place to place, and there was so little consistency that there would be, at any one time several crowned "World Champions" holding the title in the same year.
All that began to change when a group of wealthy Canadian businessmen hired a well-known roper to plan and produce a large, multi-day rodeo in Calgary, Alberta. Roper Guy Weadick was certainly up to the task, and in 1912 the first Calgary Stampede took place, featuring famous cowboys, qualified officials, popular events and, of course, a set of well-established rules, standards and eligibility to be followed. The stampede was a huge success, and Weadick went on to produce the Winnipeg Stampede in 1913 and the New York Stampede of 1916. The Calgary Stampede is still one of the largest rodeos in the world!
This shift to a corporation-managed rodeo changed the way in which rodeos were hosted, what they featured and how they were run, and the audience expanded to include previously untapped markets in urban areas like New York City, Boston, Chicago and Philadelphia. The sport evolved further when associations for rules, standards and riders began forming in the late 1920s. 
Rodeos grew in popularity as more cities hosted them, more events were showcased and more people were able to participate. Cowboys associations popped up to protect the safety and welfare of the cowboys participating in the events, and to ensure corrupt rodeo officials couldn't steal their earnings. The very first National Finals Rodeo was held in Dallas in 1959, and the N.F.R. has continued to be the premier rodeo competition in the entire sport today!
Rodeo today
No surprise there!
Rodeo looks quite a bit different today than it did at that first competition on the banks of the Pecos River so long ago. Yet, at the same time, the skills, camaraderie and general camaraderie has remained steady among those who have always enjoyed partaking in the very lifeblood of the American Southwest's diverse, multicultural heritage. 
If you live in or near our Dallas apartments, then head to a rodeo next time one's in town, like the annual rodeo at the Texas State Fair! It's a great piece of culture and history that started right here in Texas, and it's well worth a visit!
Enjoy!
Pin it!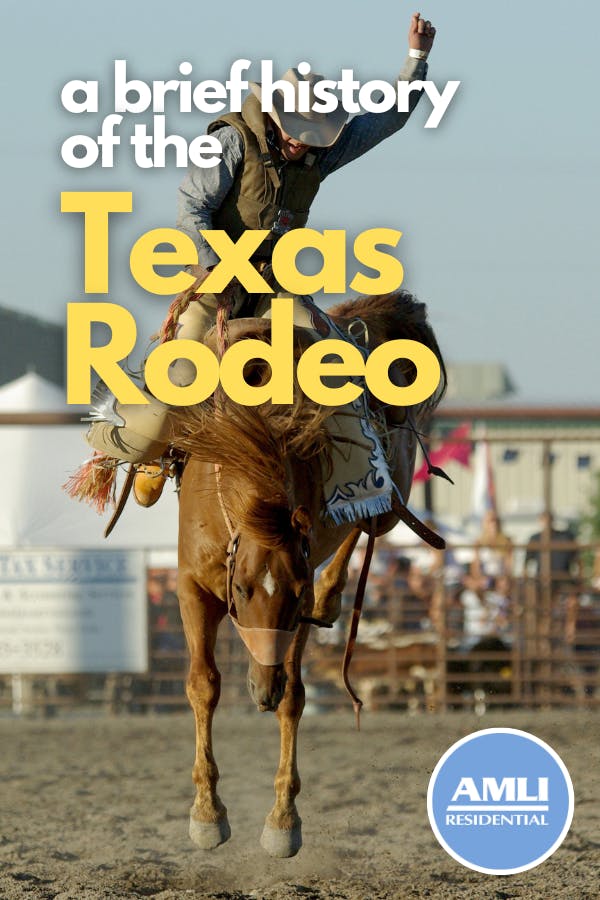 Featured photo courtesy Pixabay/clarnecealford