When we think of grand geologic formations, the rolling hills and plains of Texas may not be the first places that pop into our minds. 
But it turns out that there are some pretty amazing natural wonders hidden in the Texas landscape, with everything from caves to canyons to billion-year-old granite and more!
Here are some destinations you can visit if you're looking for some truly remarkable geologic features here in Texas!
Cool geologic features in Texas
Caprock Canyons State Park and Trailway is the third-largest state park in Texas and, as such, provides an excellent opportunity to experience Texas in its most natural and ancient forms. 
The Caprock Canyons are on the very eastern edge of the Llano Estacado, a massive mesa — or tableland — that covers much of Northwest Texas and eastern New Mexico. Mesas are characterized as an isolated hill or elevation with a flat top and surrounded by steep cliffs on all sides, a shape similar to that of a table with a tablecloth. The Caprock Canyons State Park gouges into the sides of this massive escarpment, giving visitors a peek into the very insides of this ancient geologic formation that was created long before humans ever set foot in the region.
How cool!
Jutting almost 500 feet above the flat plains of Fredericksburg, Texas is a magnificent piece of pink granite unlike any other in the country. 
Pink Granite is one of the earth's oldest substances, dating back to the Precambrian era formation period a cool one billion years ago. It's normally buried under layer upon layers of other rock and sediment from relatively newer formations, but the pink granite here is visible thanks to a wild amount of erosion that washed away all the limestone layers above it back when Texas was located under a shallow sea. 
Which means that if you visit this unique piece of Texas's landscape, you'll be setting foot on some of the oldest rock you'll ever see in your lifetime!
The Hamilton Pool Preserve is a gorgeous swimming grotto complete with waterfalls, lush foliage and impressive rock formations. 
This unique swimming hole used to be a massive underground river, until severe erosion collapsed the roof of this subterranean tunnel and created the open, cave-like area we see today. Visitors here can see stalactites that formed back when the river was still underground, as well as the limestone-covered interior of the cave walls. 
Thousands of years ago, an underground river ran through what is now Longhorn Caverns in Burnet County, slowly washing away limestone deposits nestled in the much tougher sedimentary formations. Though the river has long since receded, the remaining sedimentary walls, columns and outcroppings remain in place as a remarkable visual of the ancient river's powerful forces of erosion.
We may not think of sand dunes as geologic masterpieces, but these dusty, grainy hills are fascinating pieces of Texas's complex geologic history. 
We already mentioned the towering Llano Estacado and its location in the northwestern portion of Texas, and how erosion created the gorgeous ravines we see in the Caprock Canyon region today. But the Llano Estacado also is the reason we have the Monahans sand dunes, too, though they were created only a mere 20 thousand years ago. 
Back in the late Pleistocene era, around 25,000-16,000 years ago, there was a period of drought and arid conditions in the Central-Southwest area of the United States. A lack of moisture and erosion-preventing foliage meant that loose sands and silts were picked up by even the slightest breezes and could be transported hundreds of miles. Winds that blew south and southeast transported this sand into west Texas, where the towering cliffs of the Llano Estacado abruptly stopped their passage. Over time, the sand collected, forming the sand dunes we see today!
If you visit these sand dunes, be sure to check them out at sunrise or sunset, as the high quartz content in the sands catch the sunlight beautifully and give the dunes a golden, shimmering effect!
Tucked away in the heart of the Texas Panhandle is The Palo Duro Canyon, a massive ravine featuring gorgeous geological features and stunning scenery in the midst of flat Texas farmlands.
This 120-mile-long ravine is the second largest canyon on the continent and showcases over 250 million years' worth of geologic history in its canyon walls and formations. It averages a 6-mile width and an 85-foot depth, but this sprawling river-carved canyon can reach up to 20 miles wide and 800 feet deep in many places!
If you visit the canyon, be sure to check out the famous lighthouse rock, a piece of eroded rock that bears a tower-like shape and displays gorgeous layers of Permian and Triassic strata!
Whether you live in our luxury Dallas apartments or in the middle of Texas' rolling plains, next time you're looking for some up-close and astounding glimpses of local geology and natural wonders, look no further than this list of cool geologic features around Texas! 
Enjoy!
Pin it!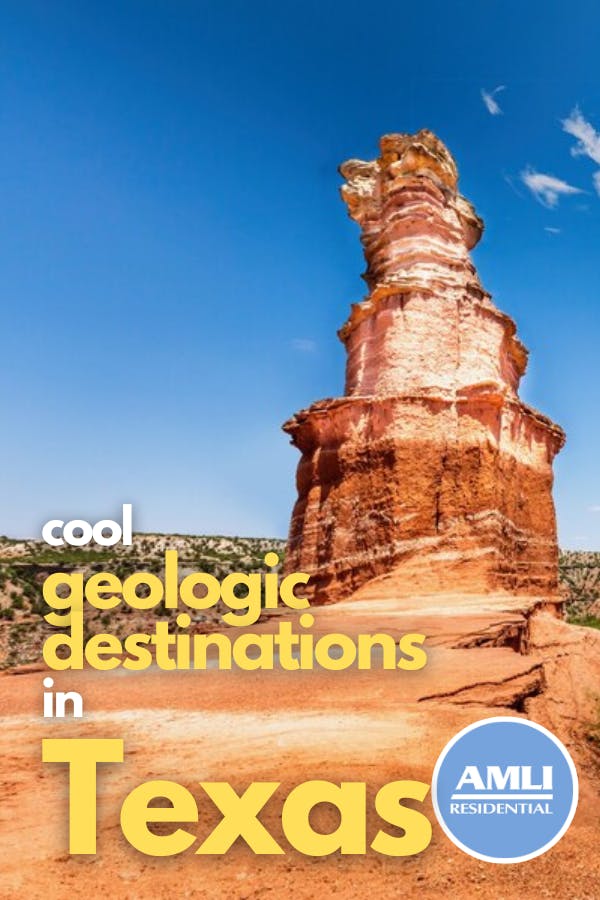 Featured photo courtesy Pixabay/ravik777