Every city has its thing when it comes to food. Chicago has deep-dish pizza and the Chicago-style hot dog. New York City has its bagels, and Philadelphia has its Philly cheesesteak. 
Surprisingly, Seattle also has a dish that's unique to the area. No, it's not coffee or crab or chocolate, although all of those are indeed popular dishes in the city. It's something just unique enough to make it worth writing about, but not so mind-blowingly delicious enough for it to spread to the rest of the country. 
It's a hot dog. But, not just just any type of hot dog: a hot dog slathered with cream cheese.
If you're like me, when you first heard of a cream cheese hot dog, you probably made a face akin to something teetering between unadulterated disgust and piqued curiosity. Yes, it does sound a little strange, but the Seattle-style hot dog has captured the hearts and minds of Seattleites for decades already, so maybe there's something to this local curiosity. 
If you live in our luxury Seattle apartments or luxury apartments in Bellevue, then you're about to get a taste (literally!) of a food that is totally unique to your home area and nowhere else!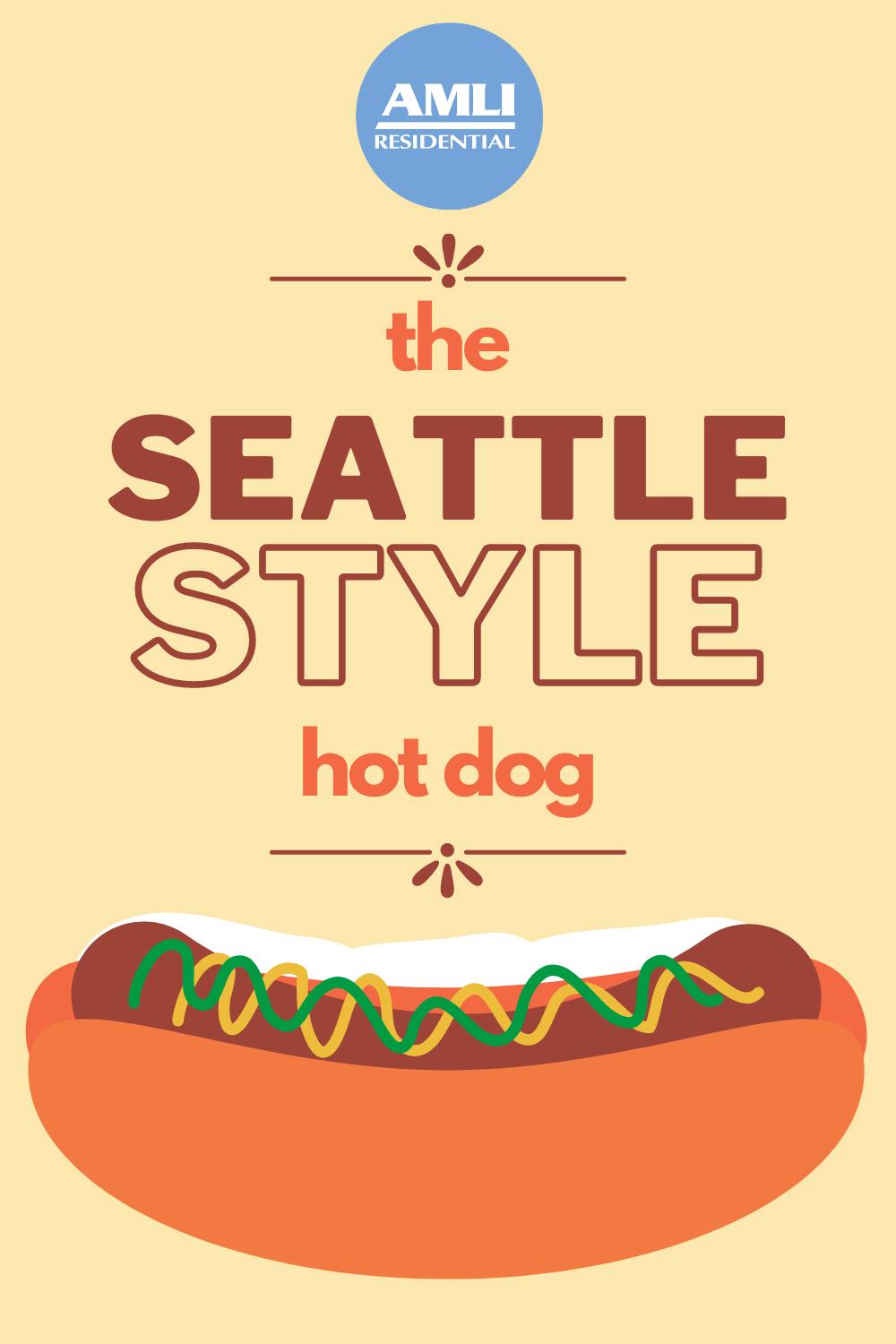 Origin of the Seattle-style hot dog 
If Seattle had a street food, it would probably be the Seattle-style hot dog — a Seattle Dog, as most call it. It's not very well known, though, and you could probably live in the area for some time without ever hearing about this culinary treat. However, it does have its rightful place in Seattle street food history, so it's always worth the try!
The story begins not-so-long ago in the late 1980s and early 1990s in Pioneer Square. Bagel hot dogs were becoming pretty popular as game day or late night meals that could be eaten on-the-go, and Pioneer Square was just the place to find a food stand that would sell one. 
These street food bagels weren't the kind you'd usually buy at the grocery store or on a street in New York City. Traditional bagels are boiled before being baked, which gives the crust a soft, shiny and chewy texture. The bagels being served in Seattle were not boiled and were instead just baked, sometimes with some onions rolled into the dough. These unboiled bagels, also known as bialys, had a crispier texture and a depressed center rather than a hole.
Bialy sticks were a common item in most food stands around Pioneer Square in the 1980s. The stick was made from the exact same dough in the exact same way as a traditional round bialy, but the dough was just shaped into a long roll. Bagel vendors sold these rolls slathered with cream cheese and other various toppings, so it was just a matter of time before someone decided to add a hot dog into the mix.
And, in fact, that's exactly what happened in 1989 and in 1993. Two bagel vendors decided to mix it up a little by putting a hot dog onto their cream cheese-covered bagels, and thus the Seattle Dog was born.
Hadley Longe, an Ohio native, arrived in Seattle in 1988 and promptly began working at a bagel stand in Pioneer Square called Bagel Express. This was right around the time when the Kingdome was hosting the Final Four, so visitors and fans were all about looking for the classic game day food: hot dogs. According to Longe, so many customers began asking for hot dogs that he decided he would try incorporating a hot dog into his bialy and cream cheese meal. This combination of bagel-esque dough and hot dog sausage was the first time the bagel dog came into existence. 
Another side to the story is that of Otmane Bezzaz. Bezzaz came to Seattle in 1993 from New York City where he worked selling bagels. His food stand in Pioneer Square sold both hot dogs and cream cheese bagels, and one day Bezzaz did a little experiment. He started putting cream cheese on the hot dog buns, and soon customers were queuing up for his tasty dogs. 
It seems as though Longe was the first to put a hot dog sausage into a cream cheese bagel and Bezzaz was the first to put cream cheese into a hot dog bun. Since then, however, the cream cheese hot dog has taken off as the stuff of local legend, and cream cheese is offered at nearly every hot dog stand you come in contact with in the Seattle area.
What's in a Seattle-style hot dog?
It's not hard to build your own Seattle Dog. It's really just the addition of cream cheese that makes Seattle's hot dogs unique, but there are a few tried-and-true combinations that you can try out for authenticity's sake. 
A Polish sausage is generally the best type of sausage to add to the dog because its juiciness contrasts well with the cool cream cheese. Oftentimes, the sausage is cut in half lengthwise for more even cooking. Sauteed onions are the most popular choice of topping, but you can add  other ingredients like jalapeños, peppers, sauerkraut or scallions, too. Finally a healthy drizzle of spicy brown mustard, sriracha or barbecue sauce is added to finish the hot dog off. Ketchup isn't necessarily a no-no like it is for the Chicago-style hot dog, but it's not as common of a condiment. 
How to make a Seattle Dog
It's not too tricky to make your own Seattle-style hot dog. It's really the addition of the cream cheese that makes it special. But, if you're looking for a recipe that will stay as true to the original as you can get, then check out this recipe for Seattle Dogs here!
Whether you're a staunch believer in cream cheese hot dogs or are a little wary of the whole thing, we hope that you get a kick out of knowing that your city is home to its very own hot dog-shaped piece of history. What's better than that?
Enjoy!
Pin it!
Featured photo courtesy Pixabay/fernandovillalobos