If you live anywhere near our luxury Atlanta apartments, then you'll be pleased to know that there is a wealth of quiet and peaceful solitude just hours from the bustling Center of Atlanta.
The Chattahoochee-Oconee National Forest is nestled along the northern border of Georgia and is a popular destination for hikers, bikers, campers and more every year. Here's a little bit about this beautiful national forest and, of course, some of the things you can do on this gorgeous piece of federal land.
About the Chattahoochee-Oconee National Forest
The Chattahoochee-Oconee National Forest is one of Georgia's two national forests, spanning nearly 867,000 acres across 26 counties in the state. Within these sweeping forests and quiet hills are a wealth of outdoor recreational opportunities ranging from camping to fishing to hiking, hunting and more.
This national forest dates back to the late 1800s and early 1900s, back when the mountains of North Georgia were primarily used for logging, gold mining, hunting and grazing. Because of widespread and unregulated use of the land, it became clear that continued overuse would result in not only dwindling forests and damaged waterways, but even the extinction of local fauna and flora in the area.
This prompted the Forest Service to purchase around 31,000 acres of land in 1911 for federal use. Most of this land consisted of abandoned farms and homesteads, and the forest service bought all of it for a whopping $7 per acre.
Yeah, talk about inflation!
Anyway, those first few thousand acres were originally part of the Nantahala National Forest and the Cherokee National Forest in North Carolina and Tennessee, respectively, and it was only in 1936 that the Georgia portion of the forest was officially established as the Chattahoochee National Forest. Two decades later, President Dwight D Eisenhower established the 96,000-acre Oconee National Forest right next to the existing Chattahoochee National Forest. The two forests were merged soon after, giving us the vast and expansive national forest that we have today!
Today, there are over 850 miles of recreation trails weaving through the forest, offering a wealth of opportunity for nature lovers to enjoy this piece of Georgia's natural scenery.
Activities you can do in the Chattahoochee-Oconee forest
Hunting
Visitors looking to hunt within the boundaries of the Chattahoochee-Oconee National Forest are bound to the rules and regulations set by the Georgia Department of Natural Resources. This means you will need to follow hunting seasons, bag limits and other hunting rules established by the state, even though you are on federal land.
Fishing
There are over 2,200 miles of streams and rivers running through the National Forest, as well as a fair amount of lake acreage (lakereage?). Over 1,367 miles of those rivers are trout streams that are annually stocked with over 500,000 catchable trout, meaning fishing is a must-do activity here in the Chattahoochee-Oconee National Forest! 
Hiking 
Whether you're looking for a day hike or a multi-day backpacking route, there's certainly more than enough to choose from here in the national forest, including the nationally renowned Appalachian Trail. There are over 850 miles of trails weaving through the forest, so make sure that you bring a map to keep you on the right one. Also, keep an eye out for black bears!
Camping
The Chattahoochee-Oconee National Forest offers a variety of camping opportunities ranging from cabin rentals and RV camping to group camping, campground camping and dispersed camping. Some developed campgrounds require reservations through the Recreation.gov website, while dispersed camping is generally regulated on a first-come-first-serve basis.
Water activities
Whether you're looking for a swim in a creek or a paddle down the river, the Chattahoochee-Oconee National Forest is a great place to pursue all your water-based activities. There are also white water rafting opportunities along certain rivers, although it's highly recommended that you utilize one of the many commercial rafting companies offering trips, rather than attempt one yourself. 
Driving around
The Chattahoochee-Oconee National Forest transforms with every season, showcasing bright greens and colorful flowers in the spring and summer months before transitioning to stunning reds and golds in the fall. Take advantage of these unique seasons by driving along the 1,600 miles of scenic roads winding through forest, including the Ridge and Valley Scenic Byway, the Russell-Brasstown National Scenic Byway and the Cohutta-Chattahoochee Scenic Byway.
So, whether you're looking for a day hike and an afternoon by the lake, a multi-day backwoods hunting trip or even a quiet weekend to yourself watching the native birds, there is certainly something for you to enjoy here in the Chattahoochee-Oconee National Forest. Be sure to check the weather before you head anywhere, as well as road and trail conditions around winter. You can even stop at one of the ranger stations before you head into the park to chat with a ranger who, of course, can give you information on where to go and what to do.
And finally, be sure to leave this beautiful piece of Georgia land better than you found it. The forest was founded in order to protect the animals and plants who call it home, so let's continue to keep that mission alive through our generations and into the next.
Have fun!
Pin it!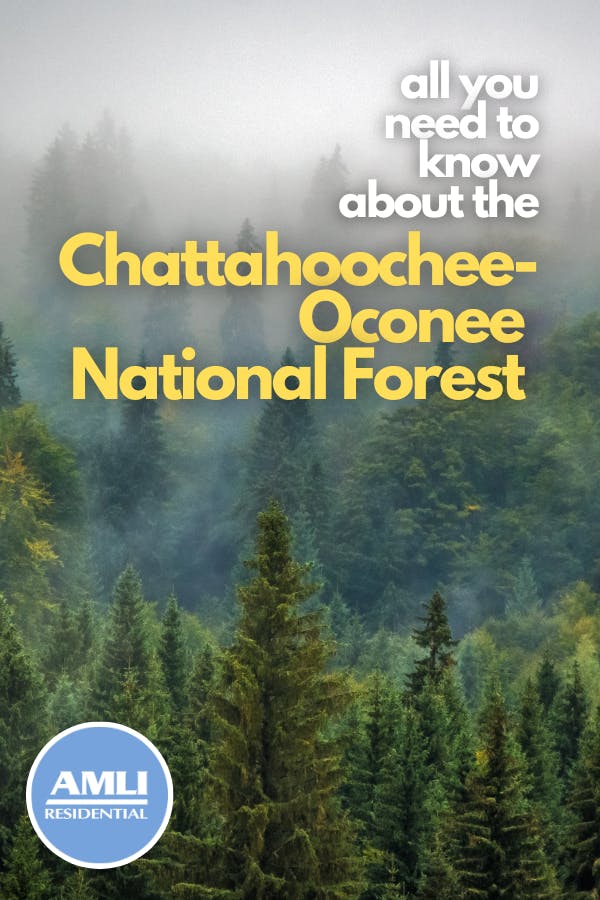 Featured photo courtesy Pixabay/paulbr75