February is rolling in, love is in the air and AMLI has got your monthly itinerary covered. So, grab your pen and planner and start making things happen. Here's a list of what to do around AMLI's apartments for this month!
Featuring music from Bob Marley, make your way out to the Synchronicity Theatre, where you can learn the tale of Ziggy, an island boy learning to overcome his fear of evil spirits and tropical storms so he can step outside, enjoy the sun and learn that "every little thing, gonna be alright." Tickets start at 1, be sure to snag yours before they sell out!
For 0, be sure to register for the Heart Paperweight Class, where you will learn the ins and outs of glass blowing safety, as well as the tools, technique and time that goes into creating these glass pieces. With no experience needed, follow the step by step process with the class instructor, and make your very own glass heart!
You can be certain that anything with the word "beer" in the title, is likely to be a really, really good time. Live music, games, and over 150 beer and wine samples to choose from make the Atlanta Winter Brew Fest an event that will be hard to miss. This event is strictly 21+ and will be held rain or shine. Luckily, its taking place on a Saturday—giving you the entire day Sunday to recover.
One of the largest Brazilian Carnivals in the area, get your party mode on and come celebrate at Emo's, with doors opening at 8pm and the party starting at 9pm. With music, dancing, and plenty of drinking, this is sure to be a night you don't forget! Unless that is, you drink too much (happens to the best of us).
The 28th Ascension Seton Austin Marathon, Half Marathon, and 5k will be bringing more than 20,000 people to fill the streets of Austin on February 17th, making it the 25th largest marathon in the USA since its first race in 1992. Runners travel from near and far to complete this race, with participants registering from more than 25 countries and all 50 states! After you cross the finish line, enjoy live entertainment and a beer garden, to make up for all those calories you just burned.
Loved by both tourists and locals alike, the annual Austin Oyster Festival provides you with oysters any way you want 'em, as well as providing you with an endless supply of bloody marys and cocktails to pair with your seafood. Enjoy live entertainment and eat until you feel like you can't eat anymore. And then? Have a few more oysters.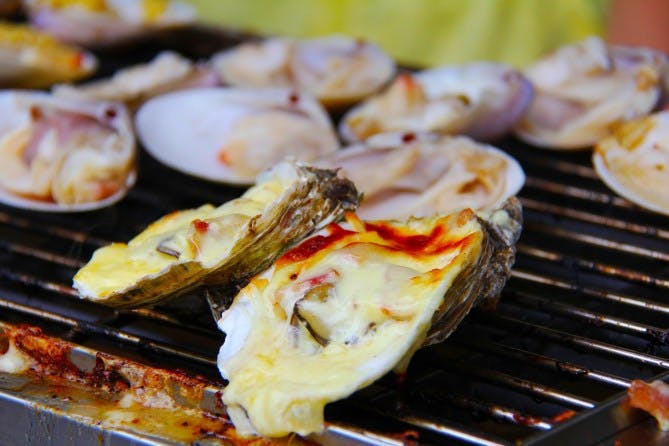 With over 400 restaurants competing in this year's Restaurant Week, grab a bite to eat with loved ones at your favorite restaurant, or take a walk on the wild side and try out something new! Meal options are reasonably priced, with all brunch and lunch options set at 4, while dinner options will be set at either 6 or 8. But remember to make reservations, places are filling up quickly!
Beer, live music, and food trucks. Need we say more? This event is 21+, be sure to bring your ID!
Ready to burn some rubber? Be sure to come on down to the Chicago Motorcycle Show & Swap Meet! Fill your day with beer, bikes, food and more. And if you're up for a little friendly competition, be sure to enter into the bike show with cash prizes up to ,000! Day passes are set at 2 and weekend passes are 5. You don't want to miss this!
A 21+ event, The Morning After Dallas Observer Brunch Fest features some of the best bites from local brunch hot spots, as well as drink samples and live music to keep you brunchin' all day long. This rain or shine event has general admission tickets starting at 0, providing you with unlimited brunch and cocktail samples, as well as three drink tickets.
Taking place at the Sokol Activity Center, the 13th annual Ennis Czech Festival will include, food, dancing and plenty of music to keep the party going all night long. If you want to kick things up a notch, be sure to show up in your best dressed and participate in the costume parade!
If you're in the mood for good drinks and even better food, be sure to go ahead and snag your ticket for this years Cochon555 event, located at the Four Seasons Resort and Club Dallas. This culinary competition brings out the best of the best and gives chefs one week to prepare a 200-pound pig any way they like. Competitors are judged on technique, flavor and utilization. Proceeds of this event will benefit Piggy Bank, a farm in Missouri dedicated to assisting family farms and those in the wake of natural disasters. Tickets for this event don't come cheap and start at 30. Interested? Be sure to grab your ticket here!
Interested in acoustic music? Then come on out to the Center Stage in Evergreen from 7:30pm to 9:30pm and enjoy the acoustic vocals and guitar of Michael Mandrell and Benjy Wertheimer. Tickets are only 0-5, grab one now!
Presented by Denver University, enjoy unique winter activities such as breakfast at midnight, a chili cook-off, skiing, snowboarding and more! With something for everyone, this is a great opportunity to connect with the DU community.
Taking place at Sugar Land Town Square, join the American Cancer Society for a free and family-friendly event to learn all about health and wellness and cancer prevention and detection. This is a free event, so be sure to come down and learn about healthy living.
From 11am to 2pm, enjoy a wide selection of delectable beef and beer pairings in preparation for the Super Bowl. Tickets are 0 and include tastings from the pitmasters, beer and a pint glass to take home for a keepsake. Our advice? Get there sooner than later, so you can be sure to try all of the items that are offered!
Bring your tiny Texans and come on down to the Children's Museum of Houston for its first ever Baby Day! Your little ones are sure to love this fun-filled day, with activities including baby toga, music class, adult learning classes and more. Adult tickets are 2 and and infants under 1 year old are free!
With tickets starting at only 5, enjoy samples for various merchants in downtown Sumner. Your ticket will also grant you access to a wine journal, walking map, and a commemorative wine glass. It will be a day to remember, so be sure to grab your ticket today!
Known as Wintergrass, this music festival brings plenty of live acts to the stage for you to listen to and get your groove on. Performers include Della Mae, Sons of the Pioneers, Blue Highway, The Hillbenders and many more! Tickets for the entire weekend are 55, or you have the option to buy day passes.
With over 21,000 participants from past years, the Huntington Beach Surf City Marathon is a great way to get out and enjoy the beautiful weather of California before the Super Bowl begins. With smaller distance running options available, this event is sure to sell out. Be sure to register now!
Enjoy the drive and make your way over to Long Beach, where you will have the joy of listening to some of the best jams and names in reggae out there. Performances include J Boog, Iration, Atmosphere, Sublime, Dirty Heads, Slightly Stoopid and so much more! Tickets start at 5 and go up from there.
If you wake up on a Sunday morning in the mood for live music and good eats, make your way over to Esplanade Park for the Sunday Jazz Brunch! From 10am to 2pm, lay your blanket out, bring a few chairs and enjoy local jazz artists. When you're ready to stretch your legs out, walk around to see what local merchants and restaurants have to offer.
With over 4,000 participants last year, this year's marathon is anticipating an even larger turnout! If you're interested in registering for this event and running with the ocean breeze, click here. Charities benefitting from this year's race include Special Olympics Florida and Debbie's Dream Foundation, a non-profit raising awareness for stomach cancer and funding for research.
For only , come on down to the Riverwalk Chili Cookoff and eat as much chili as your heart desires! A family-friendly event, enjoy live music, vendors and activities for everyone. Interested in being one of the many chefs at this year's event? Sign up and put your chili making skills to the test!
Want to stay up to date with more articles like this? Be sure to follow the AMLI blog!