Austin is a city of great breweries and even greater beer. In fact, our lovely city is ranked among the top ten cities for beer drinkers in the United States! 
Living in craft-beer central can be a little overwhelming, though, for those of us not super familiar with the many, many kinds of beer out there for use to choose from. Store shelves are crammed with a hundred different beers from a hundred different breweries in a hundred different varieties, making it understandably intimidating for a beer-ginner (hah!) to sort through the chaos.
To get you started (and to refresh our own memories, honestly), we're going to dive into a crash course of the world of beer, its varieties, its terminology and what the heck we're going to order next time we go out!
Austin's best beers and breweries 
Before we get started, there are two terms that you'll need to know to help identify key beer characteristics: ABV and IBU.
ABV: the "alcohol by volume" measurement that determines how much alcohol is in your beer. Most beers hover in the 3-7% range but can go as high as 13%, while wine is usually around 8-14% and liquor is about 15-50%. 
IBU: the "international bitterness unit" that seeks to determine the bitterness of a beer. The range is anywhere from 0 to over 100, but even the most bitter of beers can have the bitterness masked by flavors and textures. While it's not as exact a measurement as ABV, it's still a worthwhile factor to determine the overall flavor of a beer.
Now, let's get into the good stuff! 
Amber
ABV: 4.4-6.1%
IBU: 18-45 
Flavor: caramel, toast
Ambers have a fair amount of malt in them, though the flavor is usually balanced with an aromatic flavor like orange or other citruses.
Best place to find ambers in Austin: Live Oak Brewing Company
Blonde
ABV: 3.8-5.5%
IBU: 15-25
Flavor: fruit, malt
Blonde ales, also known as golden ales, are a little drier than ambers and have less aromatics to balance out the malty flavor. 
Best place to find blonde beer in Austin: Hi Sign
Bock
ABV: 6.3-9.5%
IBU: 15-38
Flavor: malt
Bocks are heavy beers that are usually fermented for longer in order to produce the thick, silky-smooth mouthfeel that characterize the drink. 
Best place to find bocks in Austin: The Brewtorium
Brown ale
ABV: 3.6-4.4%
IBU: 18-35
Flavor: chocolate, caramel
Brown may not be a flavor, sure, but most brown ales carry the distinctive brown color that usually contains sweet, malty flavors across a wide range of strengths.  
Best place to find it in Austin: Real Ale Brewing Co. 
IPA
ABV: 5.1-10.6%
IBU: 50-70
Flavor: hops, pine, citrus
You either love it or hate it, and that's the way it just is, you know? 
Most India pale ales are fairly bitter, and the wide range of varieties include anything from hazy, fruit IPAs to stronger imperial IPAs. They contain higher levels of hops than most because they were first brewed to survive long ship voyages across the oceans.
Best place to find IPAs in Austin: Pinthouse Brewing
Kolsch
ABV: 4.4-5.2%
IBU: 20-30
Flavor: fruit, crisp
Authentic Kolsch beers come from the Cologne region in Germany, but the style is popular among breweries all over the country! The crisp, light drink resembles a mixture of both lager and ale flavors that's become popular with those looking for a light, flavorful beverage. 
Best place to find Kolsch in Austin: St. Elmo Brewing Co. 
Pale lager
ABV: 4.1-5.1%
IBU: 5-19
Flavor: crisp, light
Pale lagers are likely the most common varieties of beer in the United States as they are easy to drink and have a fairly mild flavor (think Bud Light and Miller Lite). 
Best place to find it in Austin: Oddwood Brewing
Pale ale 
ABV: 4.4-5.4%
IBU: 30-50
Flavor: hops, citrus
Not to be confused with pale lagers, pale ales have a much stronger hoppy, malty taste than its lager counterpart. With these base flavors, though, additional aromatic flavors like citrus and pine can shine through the profile. 
Best place to find it in Austin: Austin Beerworks
Pilsner
ABV: 4.1-5.3%
IBU: 25-50
Flavor: sweet and malty
The perfect balance of sweet malts and strong hops, pilsners provide beer drinkers with all the strength of hops without the sharp bitterness punctuating most lagers. 
Best place to find pilsners in Austin: Family Business Beer Co. 
Porter
ABV: 4.4-6%
IBU: 20-30
Flavor: chocolate, caramel
Porters and stouts both feature that strong, dark, malty flavor profile, though porters are generally a little sweeter than stouts. 
Best place to find porters in Austin: (512) Brewing Company
Sour
ABV: 2–9%
IBU: 0–30
Flavor: sour, fruity, acidic, tart
As the name implies, sours employ a strong, acidic taste that usually pairs well with fruity flavors like peach, raspberry, apricot and blackberry. The natural citric acid in fruit adds an extra layer of sour to the drink. 
Best place to find sours in Austin: Blue Owl Brewing
Stout
ABV: 3.2–12%
IBU: 15–80
Flavor: coffee, malt, chocolate
Though arguably the darkest and most intimidating of all beers, stouts vary greatly in strength, smoothness, flavor and even ABV levels! Many stouts also contain notes of milky, creamy textures, such as oatmeal stout and milk stout. 
Best place to find stouts in Austin: The ABGB
Wheat
ABV: 2.8-5.6%
IBU: 10-35
Flavor: light, hoppy, fruity
Belgian beers fall into this category of light, crisp beers that often feature citrus notes and strong wheat flavors. Some of the best examples of popular wheat beers are the Belgian White varieties from Shock Top and Blue Moon.
Best place to find wheat beers in Austin: Celis Brewery
Next time you're itching for some truly-tasty craft beer, these Austin breweries and brewpubs around our Austin apartments are certain to have just what you're looking for. After all, there's no bad beer in Austin!
Pin it!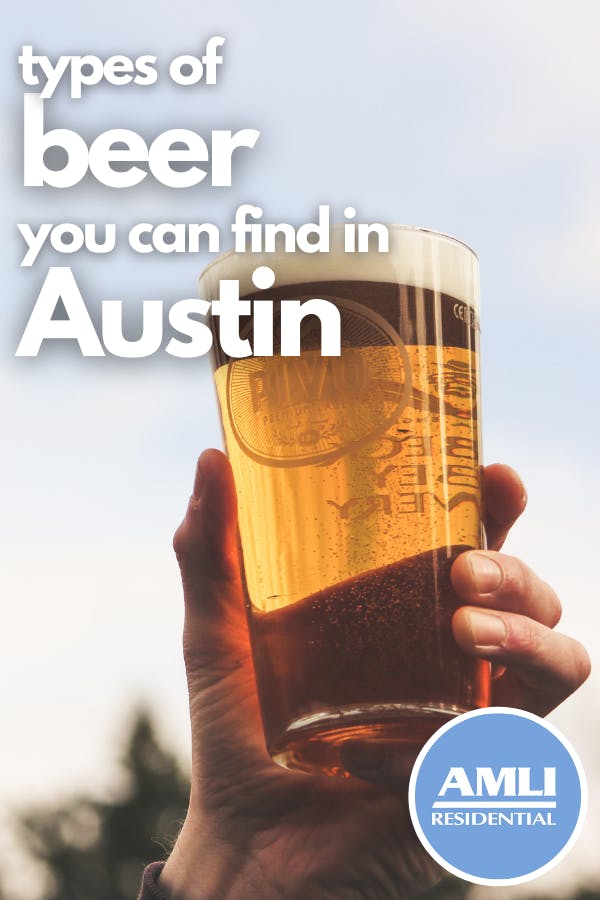 Featured photo courtesy Pixabay/MabelAmber