What's your go-to warm beverage?
There's a good chance it's either tea, coffee or hot chocolate, the three most popular warm beverages consumed around the world. And, depending on where you're from or where you're enjoying them, you may prepare them in different ways!
Just like coffee is enjoyed differently around the world, hot chocolate is also prepared and enjoyed differently in many countries all over the globe. Here are a few international variations on the classic hot chocolate recipe we all know and love, as well as how you can make them yourself.
13 international hot chocolate variations
Austrian heiße schokolade wiener art
Austria's capital, Vienna, is to thank for this ultra-thick, uber-creamy hot chocolate that's certainly not for the faint of heart. 
To make Viennese hot chocolate, melt bittersweet chocolate — or anything up to 60–70% cocoa content — into hot milk and mix in a large egg yolk, giving it a shiny, creamy texture that's perfect for the chocolate lovers out there. Plus, you can spike it with a teaspoon or two (or three!) of Austrian rum for an extra sweet treat!
Argentinian el submarino
This aptly named Argentinian hot chocolate is made by dunking a piece of chocolate into a glass of hot milk — hence the "submarine" in the title. 
The beauty of this sweet treat is that you can add any kind of chocolate you like. Bitter, sweet, milky, dark, spicy, you name it! Just dunk that bad boy and watch your hot milk turn nice and chocolatey.
Belgian hot chocolate
If there's anything Belgians know how to make, it's chocolate.
And beer. And fries. And Belgian food more generally. 
So actually, there's a lot that Belgians do really well, but let's focus on the chocolate for now. 
Belgian hot chocolate is simple in nature, but the quality of the ingredients certainly bring the recipe to a whole new level of magnifique. Using the finest squares of bittersweet and semisweet chocolate and adding the slightest hints of cinnamon and salt, you'll never go back to another hot chocolate again! 
Canadian maple cocoa
How do you add a Canadian twist to hot cocoa, you ask? With a bit of maple syrup, of course!
Take any hot chocolate recipe you like and substitute any sugar for some high-quality maple syrup and a dash of cinnamon. You'll still get the sugary sweetness, but it will have that distinct hint of warm, syrupy goodness that you can't find anywhere else but in good Canadian syrup. 
Chinese rock salt and cheese hot chocolate
Rock salt tea is a popular beverage in China, and the flavors extend well to a creamy, decadent hot chocolate.
Don't knock it 'till you try it! The cheese in this recipe is cream cheese, and the blend of salt, creamy cheese and bitter chocolate is a match made in chocolatey heaven!
Colombian chocolate santafereño
Another cheesy hot chocolate take is this Colombian hot chocolate recipe, which uses cubes of cheese atop a mug of luscious chocolate to create a warm, gooey beverage. Cheese curds, halloumi cheeses or Wisconsin cheeses are best, as they soften up just enough to absorb the chocolatey flavor without dissolving completely into the drink. 
Just like Swedish coffee is served with sturdy cheese for extra saltiness and flavor, this Colombian hot chocolate gains a rich, salty flavor from the soft cheese that is popular in cafes all over the country. 
Dutch warme chocolademelk
With cinnamon, cocoa powder, dark chocolate and brandy flavoring the warm milk, this Dutch hot chocolate recipe is a go-to for any cozy winter day.
French chocolat chaud
If there's only one phrase you learn on your trip to Paris, let it be this one: un chocolat chaud s'il vous plait. Meaning, of course, "one hot chocolate please." 
Pronounced "sho-ko-la show," this Parisian hot chocolate is quite possibly the most literal of all hot chocolate interpretations. Order this at a café, and you'll receive one cup of thick, hot, luscious melted chocolate. The simple recipe contains just milk, chocolate and brown sugar, but cooking the mixture slowly and on low heat creates an angelically smooth beverage that's closer to a cup of chocolate sauce than a cozy drink. 
Honestly, it's the best
Filipino tsokolate
Made by dissolving a tablet of cocoa powder in hot water and frothing the mixture with some warm milk, this Filipino hot chocolate recipe is a popular addition at many Filipino breakfast tables. It's just sweet enough to enjoy on its own and is great for dipping warm bread and pastries!
https://www.instagram.com/p/CGRa8awHz_W/
Hungarian forró csokoládé
Add a little bit of spice to your hot chocolate regimen with this Hungarian hot chocolate recipe, which includes a dash of white pepper, turbinado sugar, paprika and ground cloves!
Chai hot chocolate
This Indian hot chocolate is bursting with warm spices and aromatics, making this creamy drink an absolute must-try for the chocolate lovers out there. Add green cardamom, ground cinnamon, ginger and cloves to your base hot chocolate recipe — using melted chocolate or cocoa powder — and adjust the flavors to your liking. 
For the more adventurous, add a dash of chili powder for a spicy kick with each warm sip!
Italian cioccolata caldo
This decadent Italian hot chocolate recipe uses a bit of cornstarch to add a creamy, thick texture to the drink, making it a perfect sweet treat to pair with pastries, cakes, biscotti or a nice panettone. 
Mexican hot chocolate
Finally, the recipe that started it all! 
The ancient Maya were the first to create hot chocolate way back in the 5th century B.C., where they mixed chili peppers with vanilla, ground cocoa beans and hot water together until frothy. Though these early Mexican and Central American peoples served the drink cold, the drink became the basis of what we know today as hot chocolate, and the rest, as they say, is history!
This Mexican hot chocolate recipe is not the exact same as the OG hot cocoa recipe (there isn't a well documented record of the specifics), but it uses many of the same ingredients, techniques and flavors that were present in those early hot chocolate drinks. 
Give these a go next time you're looking to elevate your hot cocoa game!
Pin it!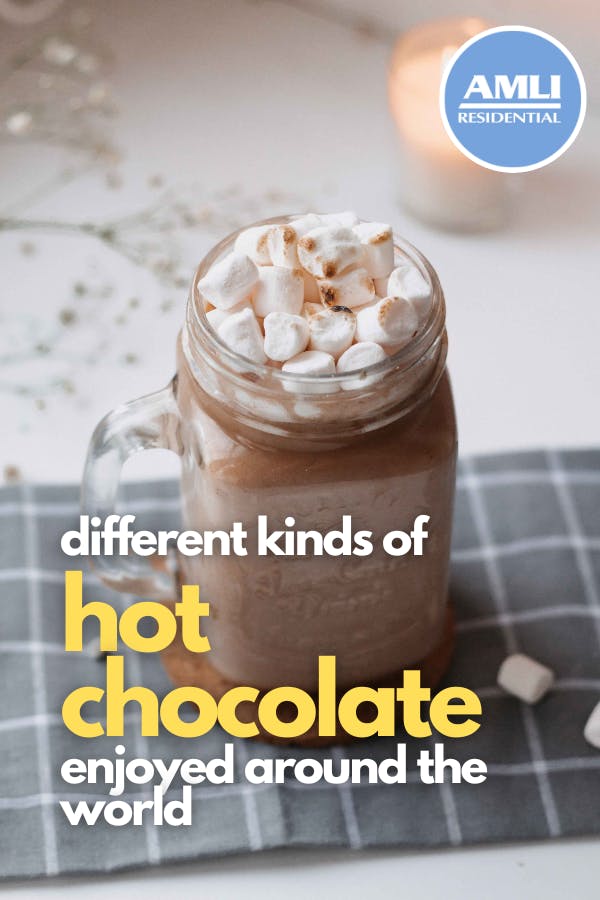 Featured photo courtesy Pixabay/JillWellington