If you look at a map of Denver, you'll see a large swath of land that seems to stick out like a sore thumb among the concrete gray of metropolitan Denver. 
Between the Denver International Airport and Downtown Denver is a massive chunk of green space measuring upwards of 15,000 acres. This is the Rocky Mountain Arsenal National Refuge, and it's an absolute gem that Denver residents are lucky to have so close by!
Here's a little about the refuge, as well as what you can do there!
What to do at the Rocky Mountain Arsenal National Refuge
History of the Rocky Mountain Arsenal National Refuge
The Rocky Mountain Arsenal National Refuge is a near-16,000 acre piece of protected wild land that is home to hundreds (330, to be exact!) of species of fauna and flora that call Colorado home. It's scenic, idyllic and a popular destination for wildlife enthusiasts, birdwatchers, hikers and nature lovers alike — and it's just 20 minutes from Downtown Denver!
Back in 1942, the U.S Army built the Rocky Mountain Arsenal in order to supply and manufacture chemical weapons following the attack of Pearl Harbor in 1941. The arsenal manufactured a variety of chemical weapons and pesticides during its operation in World War II and through the Cold War, raising concerns about the environmental impact among local residents. In 1986, a nest of bald eagles was discovered on the property, which caused the National Wildlife Federation to begin working on transitioning the arsenal into a wildlife refuge. 
In 1992, Congress passed the Rocky Mountain Arsenal National Wildlife Refuge Act (RMANWR Act) which established the land as a National Wildlife Refuge and handed over the clean land to be handled by the U.S. Fish and Wildlife Service. 
Today, visitors can enjoy the vast natural scenery that has been protected and cultivated since the arsenal's closure. Here are some of the cool things you can do in the Rocky Mountain Arsenal National Wildlife Refuge!
What can you do in the Rocky Mountain Arsenal National Refuge?
Take an auto tour
What better way to experience Colorado's most natural flora and fauna than by taking a drive through the heart of it?
Driving through a nature reserve gives you a unique glimpse into the natural world before humans interfered. Rather than having animals in zoo pens with constructed natural environments, you get to see what Colorado looked like in all its glory at its most natural.
The 11-mile paved drive through the Rocky Mountain Arsenal National Refuge gives visitors up to an hour of solitude and game viewing time from the comfort of their own cars. Drive slowly so that you have a chance to spot bison, birds, snakes and other Colorado creatures living their very best lives in their natural environment.
Go hiking, biking, snowshoeing or cross-country skiing
There are 20 miles of hiking, snowshoeing and cross-country skiing trails winding through the National Refuge. These trails will lead you through natural grasslands, shaded woodlands and biodiverse wetlands that are all home to a host of birds and animals to spot along the way. Biking trails are limited to designated routes but share a large portion of trail space with the hiking trails weaving through the park. 
Stay aware of your surroundings when hiking these rural trails, as bison and other animals are still wandering around!
Attend a ranger-led program
Check out the event calendar for the Rocky Mountain Arsenal National Refuge to find out when the next ranger-led programs are being held. 
These interactive and educational programs, offered by the knowledgeable rangers at the refuge, are first-come-first-serve and cover a wide range of topics applicable to all ages. Attend a lecture about the difference between horns vs. antlers, bring your kids for a class on making paint brushes out of natural items, learn about fishing practices and conservation programs, take some time to volunteer on a trail beautification walk or check in on the two ferrets housed in the visitor center. Whatever your interests are and whatever age range you're looking for, you're sure to learn something fascinating at one of the many ranger-led programs here. 
Go birding or wildlife-watching
The Rocky Mountain Arsenal National Refuge is the perfect place to view animals and birds in their natural habitat. 
Over 280 species of birds call this refuge home, and the 20 miles of quiet refuge trails are the perfect place to spot them. Bring a pair of binoculars and set up by a pond, in a prairie, under a tree or on a park bench to await one of the many fascinating bird species that will undoubtedly fly by to say hello.
Each season of the year will bring about new wildlife sighting opportunities, so be sure to visit at a few different times of the year to really get the full experience. Springtime will bring about bison calves and deer fawns, while the warmer months are perfect for spotting reptiles and amphibians. Fall and winter, of course, are great months to watch for natural predators hunting for their winter meals. 
Try your hand at archery
The Rocky Mountain Arsenal National Wildlife Refuge has ten archery lanes with distances ranging from 10 to 60 yards, as well as an empty lane for visitors bringing their own targets. The archery range is open from sunrise to sunset during refuge hours, and is first-come-first-serve to any visitor and is free to use. 
Visitors must bring their own bow and arrows and must fill out the registration card at the registration box before entering. For those looking to try out archery for the first time, there are a handful of drop-in archery classes hosted by the refuge, so be sure to check the event calendar for those!
Go fishing
Visitors are allowed to fish at Lake Mary and Lake Ladora during park hours during catch and release season. There is a daily fee of $3 per person 16 years and older, and anglers must have a valid Colorado Fishing License in order to participate. 
Fishing here is certainly a treat, as the Refuge is known to be one of the best warm-water fisheries in Colorado. If you're patient enough, you might be lucky to catch some of the bluegill, largemouth bass and northern pike swimming around in the lakes!
Take nothing but pictures
We all know the saying: "take nothing but pictures and leave nothing but footprints." And in this case, it's no different! This wildlife refuge is carefully protected in order to preserve the natural flora and fauna for generations to come, so keeping it as free of human intervention as possible is key to the refuge's success.
Luckily enough, a photo is one of the best souvenirs that you could take from the refuge. With rolling fields of bright wildflowers, a backdrop of  the towering Front Range, herds of bison calves bounding around their mothers and hundreds of birds dominating the skies, there's no shortage of astounding scenery to take in. 
Just, don't get too close to the bison… okay?
So, if you live in or near our luxury Denver apartments, then be sure to check out the Rocky Mountain Arsenal National Refuge on your next free day. You're sure to enjoy it!
Pin it!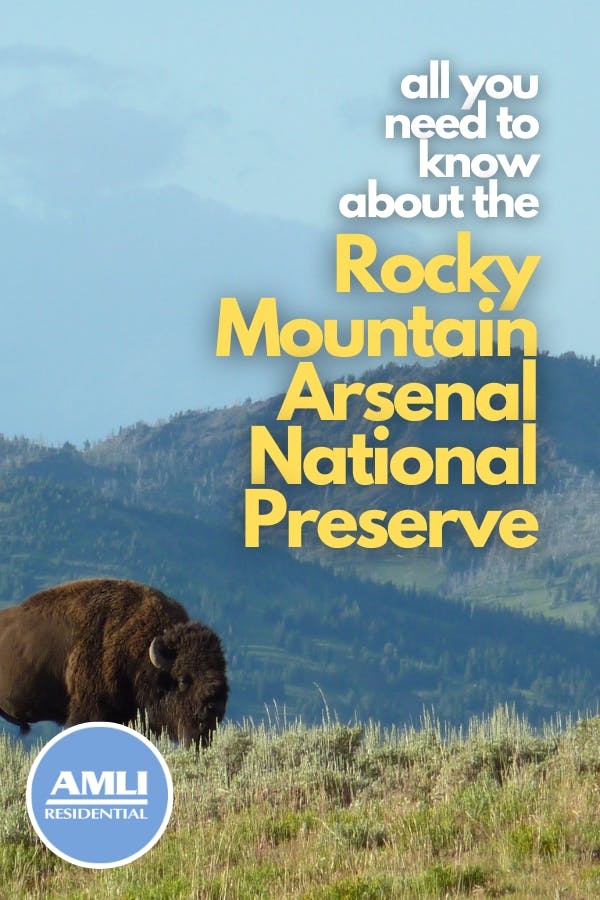 Featured photo courtesy Pixabay/anjte89