Times change quickly, and there's no better place to see that than in the weird laws of our country and states. As new inventions, technology and social conventions come our way, old laws tend to become outdated. Generally, these old laws get updated to follow modern times, but it can be tricky to catch all of them all the time. 
There are dozens of outdated laws that are still technically in effect in Dallas and Texas, but they are rarely, if ever, enforced. They pop up every now and then, but only in humorous articles like these which remind us all why updating our laws is good for all of us.
For example, those of you in our luxury Dallas apartments could never play catch in the street. Although it is a common safety measure, it's actually against the law to throw around a ball in the street.
So, here are some other weird laws in Dallas and Texas that might surprise you that they're still in effect. Plus, we'll throw in a few fun facts that are sure to give you some extra points at your next trivia night!
Weird laws in Dallas
In Dallas, it's illegal for a husband to give his wife a massage. Apparently, the law was passed so that authorities could more effectively police massage parlors operating under suspicious circumstances. The law made no exceptions for couples or massages without the exchange of money, however, so good luck getting that anniversary massage, ladies!
Being kind is a lot harder than it should be in Dallas, because in order to offer food to the homeless you must have approval from the City of Dallas. Before that law came into effect, you had to also provide a bathroom and carry a valid permit. 
As noted above, it's illegal to play catch in the street in Dallas. Sorry, kiddo.
You may not sell water from Gill Well in Reverchon Park, especially if you're advertising it as providing "mythical healing properties."
Scooby Doo could never catch a bad guy in Dallas because booby traps are, unfortunately, outlawed. 
You may not place a fake gun on an ice cream cart or ice-cream truck in Dallas. 
Scholars will be disappointed to know that the entire collection of the Encyclopedia Britannica is banned in Texas. Why, you ask? Because it contains a recipe for making beer at home. 
Better sit down to drink your beer, because it's illegal to take more than three sips of beer while standing. 
In case you were wondering (which I'm sure you were), it's against the law to shoot a buffalo from a hotel's second story.
Criminals are required to give their victims 24 hours notice before committing their crime. The notice must include an explanation of the crime about to be committed.  
Under no circumstances may anyone milk another person's cow. 
The fashion police may actually be real in Texas, as children are not allowed to have unusual haircuts. 
Networking is highly discouraged, according to Texan Penal Code 38.12(a), since it's illegal to talk to somebody about a job.
Fashion police here again: it's illegal to tuck your pants into one boot unless you own ten or more cattle. Who knew? Probably no one. 
Two pigs may not mate on a city's airport property. 
Zyzzyx Road is one of the lowest grossing films, earning only $30 from six moviegoers at its Dallas premiere in 2006. Ouch.
German chocolate cake originated in Dallas when the recipe ran in a local 1957 newspaper. It's not nearly as European as it sounds, as it was actually named after inventor Sam German of Baker's Chocolate Co.
A sweet historical treat is built into the structure of Woodrow Wilson High School. A slice of cake from President Wilson's daughter's wedding is built into the cornerstone!
One of the original copies of the Declaration of Independence, printed on July 4, 1776, is in the Dallas Public Library!
Get in the car, we're going shopping! Dallas has the most retail stores per capita than anywhere else in the world! 
The Dallas Farmers Market is the biggest in the United States! It gets over a million visitors each year.
In case you were wondering just how huge the Dallas/Fort Worth Airport is, try comparing it to the City of New York. The DFW airport is bigger than Manhattan Island!
The largest Jewish population in Texas resides in Dallas.
The parking lot at Dallas/Fort Worth Airport is the tenth-largest parking lot in the world with an 8,100-car capacity. Good luck trying to find your car in that!
Next time your Chicago friends complain about their Windy City, tell them that statistically, wind speeds in Dallas are higher than that of Chicago. At the very least, the fun fact will blow them away (*ba dum, tsss*).
The Texas Star Ferris Wheel was the tallest Ferris wheel in North America until Mexico's Star of Puebla opened in 2013. 
 The "Wilds of Africa" exhibit at the Dallas Zoo was the first zoo exhibit in North America to mix elephants and other animals together.
Almost 260,000 cattle passed through Dallas in the spring of 1888 on their way to being sold. Holy cow!
The Dallas Country Club opened in 1899 and was the second country club to open in the United States. 
Next time you head to trivia night or become an impromptu Dallas tour guide, use these fun facts and silly laws to wow your friends and family with your local knowledge. There's not a whole lot of practical application associated with knowing all these facts, we know, but there's just something fun about knowing a little more about your city, no matter how long you've been there.
Enjoy Dallas!
Pin it!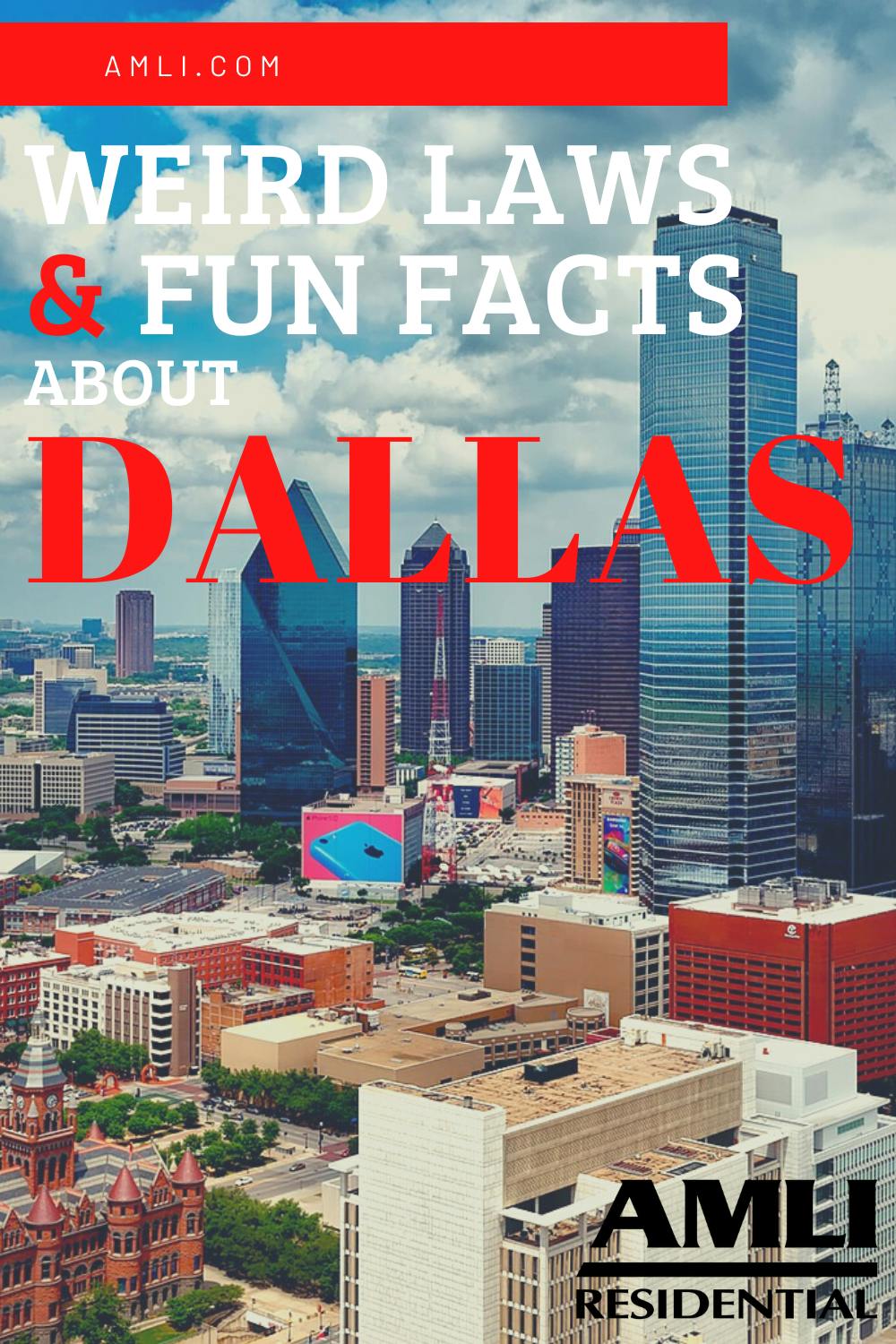 Featured photo courtesy Pixabay/tpsdave