Atlanta is a bustling city filled with people from every corner of the globe. It's a city that's vibrant in its diversity and passionate about cultural expression, a practice visible from the most executive offices to the most residential neighborhoods in town. 
Atlanta is a world-class city with connections to the rest of the globe, and there's no better place to see that than in the many sister city relationships Atlanta holds. The city's 17 thriving relationships with cities around the world has resulted in not only cultural representation for those who now call Atlanta home, but also direct economic benefits to everyone in Atlanta. If you live in our luxury Atlanta apartments, then you'll want to check these out!
Here are Atlanta's sister cities and how these relationships benefit everyone involved!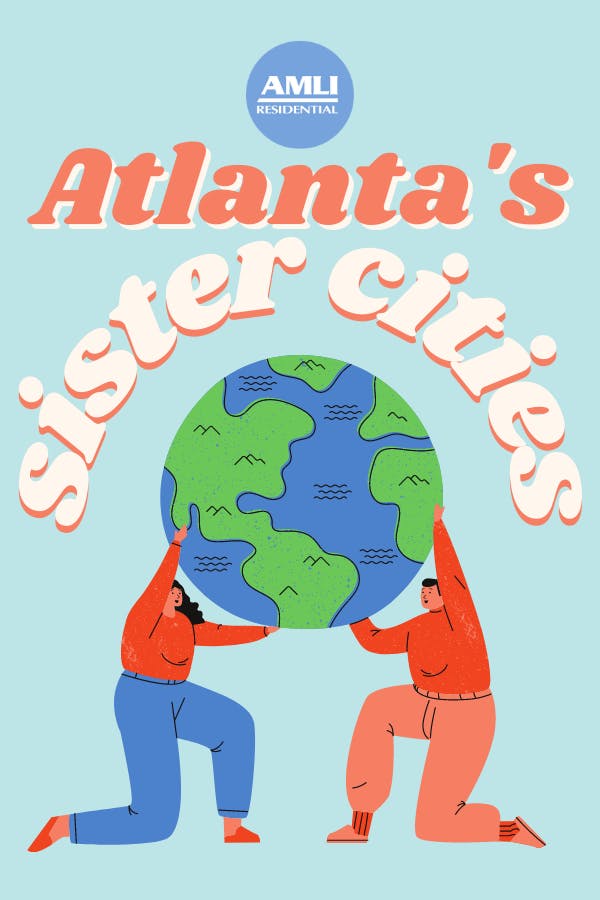 Atlanta's sister cities
Ancient Olympia
Greece
1995
Imagine being partnered with a city straight from the history books!
Ancient Olympia is, of course, where the first Olympic Games were first held way back in 776 B.C., where they were held every four years for nearly 12 centuries! The tradition of the Olympic Games was revived in 1896 in Athens, Greece, and it's been going on ever since!
Atlanta was chosen to host the 1996 Centennial Olympic Games in 1992, and the partnership between the Olympic Games' birth- and centennial-cities was established soon after.
If you visit the Atlanta Botanical Gardens, you can sit under the shade of an olive tree that the Citizens of Olympia gifted to the city in 1992. 
Brussels
Belgium
1983
The partnership between the Belgian capital city and Atlanta began in 1983 when Sabena Belgian World Airlines became the first foreign airline to fly into Atlanta, a route that Delta Airlines now continues. 
The Belgian Consulate serving the East Coast of the United States is located in Atlanta, dutifully serving Belgian citizens in the U.S., and the two cities continue to build strong partnerships in commerce, business and academics. 
Brussels is famous for its Belgian cuisine, which you can learn how to make for yourself here!
Bucharest
Romania
1994
As the legend goes, Bucharest was founded when a shepherd named Bucca attracted locals with his beautiful and joyous flute playing. The resulting settlement was named Bucharest after Bucca, whose name literally means "joy"!
As the capital of Romania, Bucharest has long been a center for industry, education, culture and finance in the region. Representatives from both Atlanta and Bucharest strive to establish and grow trade and investment opportunities with each other. 
Cotonou
Benin
1995
The first democratically-elected president of Benin visited Atlanta in 1995 to establish trade and economic opportunities. Since then, Cotonou and Atlanta have enjoyed a fruitful and educational partnership.
Daegu
South Korea
1981
If you're reading this on a Samsung android, then you should be especially proud of this partnership, as Daegu is the birthplace of Samsung! It's also a major center for art, culture, music, technology and engineering. Basically, Daegu is the place to be for pretty much anything! 
Since the Atlanta-Daegu sister city partnership was first established in 1981, both cities have hosted cultural exchanges, sporting events, educational opportunities and business conferences with each other.
Fukuoka
Japan
2005
The partnership between Fukuoka and Atlanta is built upon the cities' similar services they offer their citizens. Both serve as major transportation hubs, capital cities and host many large corporations. Students from both cities regularly visit the sister city and partake in the local culture and school life.
Lagos
Nigeria
1974
Through a combination of educational ties, trade agreements, airline routes and diplomatic representation, Lagos and Atlanta enjoy an extremely fruitful partnership that has resulted in a strong Nigerian community in Atlanta. 
Montego Bay
Jamaica
1972
In addition to being a major hub for healthcare and tourism, Montego Bay had a great deal to do with the development of the Civil Rights movement in the 1960s. It served as a meeting location for many civil rights leaders to do their planning, brainstorming and discussions. Atlanta and Montego Bay recognize their shared Civil Rights history and offer many educational opportunities for students from both countries. 
Newcastle-upon-Tyne
United Kingdom
1977
Dr. Martin Luther King, Jr. travelled to Newcastle in 1967 to receive an honorary doctorate and to speak on the fight for civil rights. President Carter also visited the city in 1977 with a focus on building a partnership with the city's academic and business resources. Today, Atlanta and Newcastle share university exchange programs, and Newcastle -based companies have based their North American headquarters in Atlanta, creating hundreds of new jobs.
Nuremberg
Germany
1998
Human rights groups in both Nuremberg and Atlanta travel to each other's cities for conferences, conventions, symposiums and tours focusing on the advancement of human rights across the globe.
Port of Spain
Trinidad and Tobago
1987
The partnership between Port of Spain and Atlanta started after trade discussions opened between the two cities in 1986. The sister city relationship today focuses on humanitarian efforts, tourism, trade and commerce, and it allows students from both cities to study international business, medicine and research with each other.
Ra'anana
Israel
2000
The partnership between Ra'anana and Atlanta started with high-school international field trips and has blossomed into a vibrant exchange of culture, music, art, sport and education. The Israeli businesses with locations in Atlanta have contributed over $200 million in investment impact to the city.
Rio de Janeiro
Brazil
1972
Atlanta and Rio de Janeiro share educational resources and cultural exchanges with high-school and university-level students, promoting trade, tourism and business between the two vibrant cities. 
Salcedo
Dominican Republic
1997
Delta Airlines' first direct flight to the Dominican Republic was established thanks to the fruitful partnership between Atlanta and Salcedo. The partnership focuses on cultural exchange and human rights, especially honoring the Dominican women who tirelessly fought for justice and equality in the 1950s and '60s.
Taipei City
Taiwan
1979
The sister city relationship between Taipei and Atlanta promotes business, commerce, education and cultural exchanges between Taiwanese and Southeastern U.S. regions. The two cities often engage in trade and commerce promoting local businesses. 
Tbilisi
Georgia
1987
From one Georgia capital to another, the partnership between Tbilisi and Atlanta is focused on cultural events, educational exchanges, festivals, music and much more in order to promote a well-rounded and healthy global society. 
Toulouse
France
1974
Toulouse is popular for its many universities and institutes, and is also where Atlanta mayor Maynard Jackson spent some of his early years as a child while his mother completed her studies. The two cities have built a partnership promoting student exchanges, medical research and international relations.
How fun!
Pin it!
Featured photo courtesy Pixabay/ericstokley