Texas — and Dallas in particular — has a rich history of cowboys and ranching, out of which came the rodeo. 
From small-town rodeos to the massive one at the State Fair of Texas, you're likely to come across many of the same events, as they all have their roots in what cowboys and vaqueros use every day on ranches and farms all over the American Southwest.
Here are some of the more popular events you'll find at a rodeo!
Popular rodeo events 
Bareback riding
It's just how it sounds, really. A rider with spurs rides a bucking horse, both of which are scored separately for style and performance. Riders must stay on the horse for at least 8 seconds and must keep their spurs in contact above the horse's shoulder. 
It's probably what you think of when you think of rodeo events, and it's also one of the earliest events that started the whole rodeo tradition in the first place! It probably occurred soon after some bored cowboy or vaquero said, "Hey, I bet I could ride that horse longer than you" — and the rest, as they say, is history. 
Barrel racing
Contrary to what it sounds like, contestants aren't actually competing against rolling barrels. Rather, horseback riders must ride around three barrels — without knocking them over — and return to their gate in the shortest time to win the event. 
Bull riding
In this wild, terrifying and fascinating event, brave riders must remain seated on the back of a bucking bull while holding nothing but a rope tied around the bull's middle. Riders earn points out of 100 for style, time and the bull's own performance. 
Bullfighting
The bullfighting event actually started in the bull riding event, where cowboys (known as rodeo clowns in the event) were tasked with protecting the bull riders from getting injured after they fell. Now, bullfighting is its own event altogether, where the rodeo clown has to last a full 60 seconds in the ring while dodging a very angry bull.
Saddle bronc riding
Saddle bronc riding is closely related to bareback riding when it comes to the qualifying time and spur positioning, though it deviates in what the rider can hold on to for leverage. Rather than holding onto a strap like a bareback rider, saddle bronc riders hold onto a rein attached to the horse's halter. With only the rein for leverage, riders must last as long as possible on the bucking bronc to earn a chance at winning the event. 
Steer wrestling
In this event, a team of two must pin a steer on its back on the ground in the shortest amount of time. That's a wrestling match well worth an admissions ticket!
Team roping
Another popular timed event, this one involves a team of two ropers aiming to rope a steer's head and hind feet in the shortest amount of time. The clock stops when the steer is roped, the riders' horses are facing each other and the ropes are pulled taut. 
Calf roping
As the name suggests, this event involves a cowboy roping three legs on a calf in the shortest amount of time. The calf must stay secure on the ground for at least six seconds while the cowboy gets back on his horse in order for the attempt to count. 
This event comes straight from working farms predating rodeo days, as cowboys would (and still do) need to catch new calves for branding, medical attention or corralling. 
Breakaway roping
Breakaway roping is similar to calf roping in some ways, but the aim is rather to rope a calf around the neck. That rope is connected to a string attached to the rider's saddle and, if the rider has roped the calf correctly, the string snaps when the rider stops their horse. Thus, the roped calf breaks away and the clock stops — the fastest breakaway time wins!
Wild cow milking
In this timed event, two cowboys must work together to rope a cow (that's already been let loose in the arena), hold it still and milk at least a few drops' worth into a bottle. 
Maverick branding
This event comes straight from working ranches and farms where teams of cowboys rope and secure a calf (with rules similar to those in the calf roping event) and then brand it with a chalk-covered branding iron. The team that does it in the fastest time wins!
Trailer loading
Eight cowboys on horseback, a herd of steers and two trailers — that's the setup for this busy and competitive event! 
Each team of four cowboys must get at least one of the steers into their respective team's trailer within two minutes. After a certain number of minutes (the time limit is different for each rodeo), the trailer gates are latched and the event is over, regardless of whether or not the teams load a steer. One steer is good, but two is always better, and points are awarded for time, style and number of steers.
As they say, a steer in the trailer is worth two in the arena!
If you live in or near our Dallas apartments, then keep an eye out for any rodeos around the area. Next time you're at the State Fair of Texas (say hi to Big Tex from us!), be sure to check out the rodeo there and see how skilled cowboys, cowgirls and ranch hands have to be to run a working ranch! It's hard work, for sure, and what better way to learn about the life of a cowboy than by watching them work their craft?
Enjoy!
Pin it!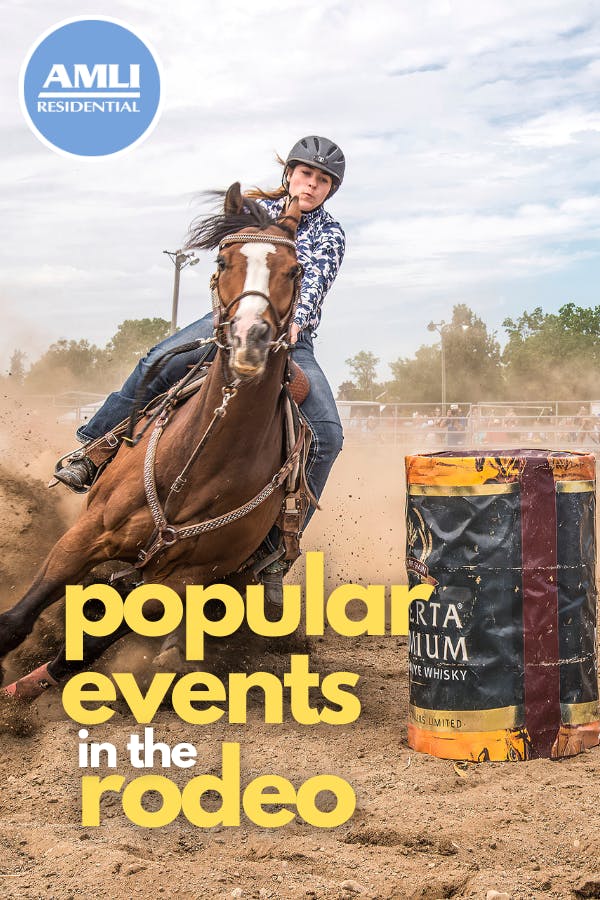 Featured photo courtesy Pixabay/tcdeveloper