One of the best kitchen appliances you can have in your home is a slow cooker. It's true! There's nothing better than having a hot meal cook itself for you while you rest, relax, workout or run errands. 
What even is a slow cooker?
If you've never cooked with a slow cooker before, it's pretty simple and quite self-explanatory. You toss your ingredients in, whether it be for a breakfast casserole, pulled pork or pot roast, and you let the appliance cook it slowly over a few hours. Most slow cookers have two cooking options: "high" cooks the meal over 3-4 hours and "low" cooks it over 7-8 hours. 
Cooking dinner for seven hours seems to be more of a hassle than anything, but it actually comes in handy when you have busy evenings or a packed schedule. Having the ability to schedule a hearty and nutritious meal in the midst of a busy day allows you to make great meals a part of every single day, no matter how crazy your day is.
Just to show you how easy and convenient it is to make a slow cooker meal a part of your everyday apartment life, here are some examples of what you can do to pass the time while your slow cooker cooks your meals for you.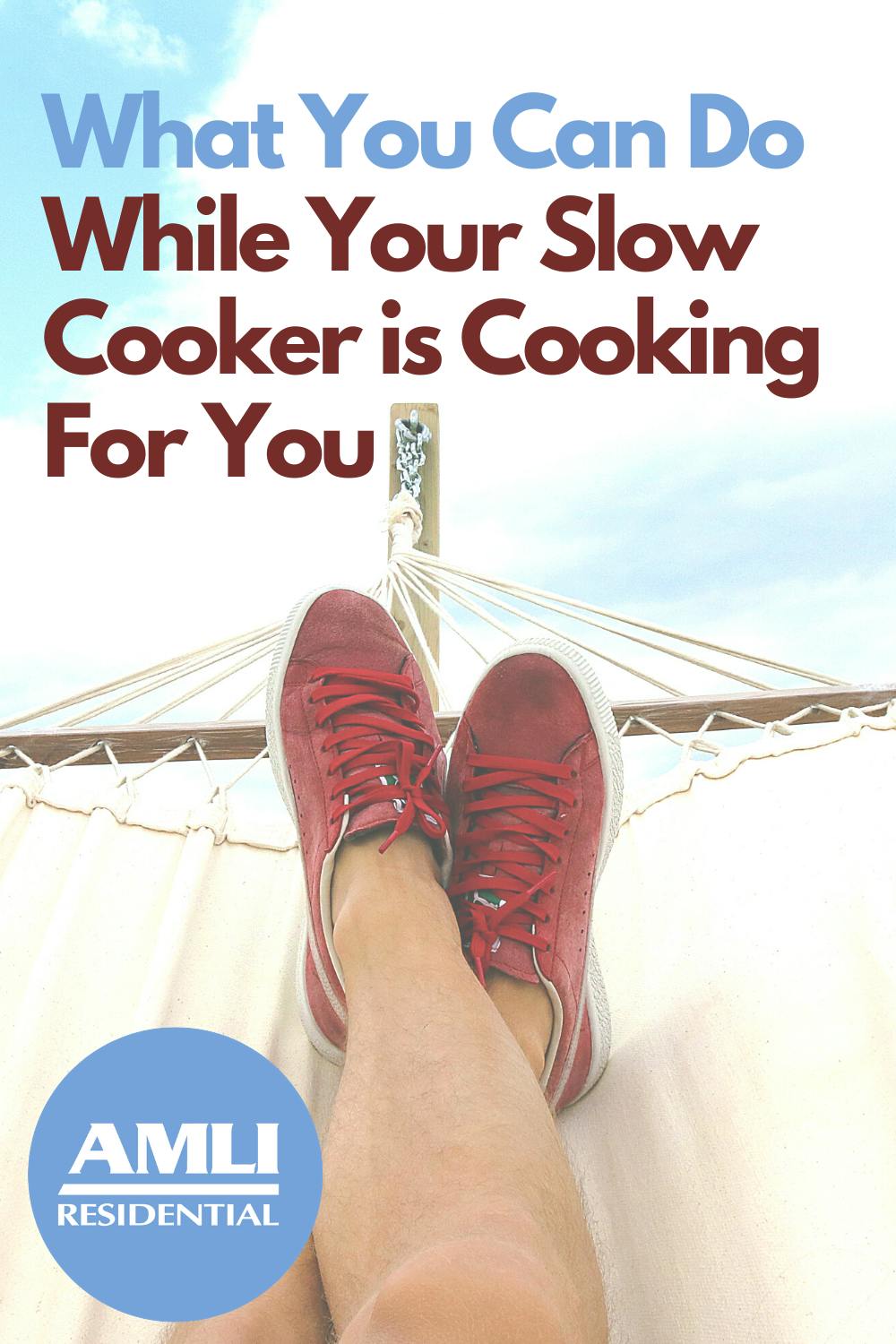 If you ever wondered whether you can watch both movies in "The Amazing Spider-Man" movie franchise in the time it takes to cook dinner, then yes, this will answer your extremely obscure question. 
Sometimes we just need a day to relax or veg out on the couch with a good movie. And what's better than watching a movie with some delicious aromas wafting out from the kitchen? 
Using this recipe for a scrumptious beef pot roast, set your slow cooker to low and prepare to sit back and relax until dinner time. The recipe takes about eight hours to cook, so here are some movie trilogies that you can watch while your slow cooker makes dinner!
"Spider-Man" (2h 1m) + "Spider-Man 2" (2h 15m) + "Spider-Man 3" (2h 36m)
"The Silence of the Lambs" (2h 18m) + "Hannibal" (2h 12m) + "Red Dragon" (2h 4m)
"Mission: Impossible" (1h 50m) + "Mission: Impossible 2" (2h 3m) + "Mission: Impossible: III" (2h 6m)
"The Mighty Ducks" (1h 44m) + "D2: The Mighty Ducks" (1h 47m) + "D3: The Mighty Ducks" (1h 44m)
"Austin Powers: International Man of Mystery" (1h 34m) + "Austin Powers: The Spy Who Shagged Me" (1h 45m)  + "Austin Powers in Goldmember" (1h 38m)
"Star Wars: Episode I - The Phantom Menace" (2h 16m) + "Star Wars: Episode II - Attack of the Clones" (2h 22m) + "Star Wars: Episode III - Revenge of the Sith" (2h 20m)
"The Matrix" (2h 30m) + "The Matrix Reloaded" (2h 18m) + "The Matrix Revolutions" (2h 9m)
If you're looking for other great movie trilogies that make for excellent slow cooker time killers, check out this article.
Grab a few friends and host a crafting party while your slow cooker cooks up a scrumptious pasta meal! Luckily for you, we have a great article with some tips and ideas on how to host your very own craft party in your own apartment.
Start a tradition by adding a yummy slow cooker meal into your cultural or religious schedule. Whether you're heading to church on Sunday, the synagogue on Saturday or the mosque on Friday, there's nothing better than walking back through the door to a great meal that you can share with your family or friends. Of course, you can make any meal a part of your weekly traditions, but this recipe comes with high recommendations.
Sometimes it feels as though having a warm, hearty breakfast and a productive morning routine are mutually exclusive. A cooked meal AND yoga AND a shower? No way, right?
Wrong. This slow cooker oatmeal recipe is as easy as throwing all the ingredients into the pot and switching on the power. You can set the cooker to cook the meal in 2 hours or in 45 minutes, which is plenty of time for a run, some meditation, some coffee or an extra two hours of sleep. 
When I was a full-time student, I regularly spent eight hours on campus with classes, studying, work and meetings. Being a student is hard work, but don't let those freshman 15 sneak up on you when cooking a slow cooker meal is the easiest and most satisfying thing you'll do all day.
Try out this vegan sweet potato curry for a nutritious and tasty meal that will make for a perfect end to any busy day. 
And, while you're at it, check out these other vegan slow cooker recipes for your next yummy vegan meal.
Slow cooker mulled wine & Christmas or Thanksgiving or any other wintry holiday
When you've already got a hundred other recipes cooking on a busy holiday afternoon, it's always great to have a warm pot of mulled wine ready and waiting for you. Plus, the aroma of spicy mulled wine wafting through your apartment is an added bonus!
It takes eight hours to watch an entire season of "The Office." It takes eight hours to repaint a wall. It takes eight hours to complete a shift at work. It takes eight hours to walk 24 miles. It takes eight hours to get a full night's sleep. It takes eight hours to learn a few new songs on the guitar. It takes eight hours to play an entire video game, adopt a new puppy, buy a new car, take a great nap, spring-clean your apartment. It takes… well, you get the picture.
There are so many things you can do in eight hours, so why not let a slow cooker do the cooking and try something new?
Enjoy!
Pin it!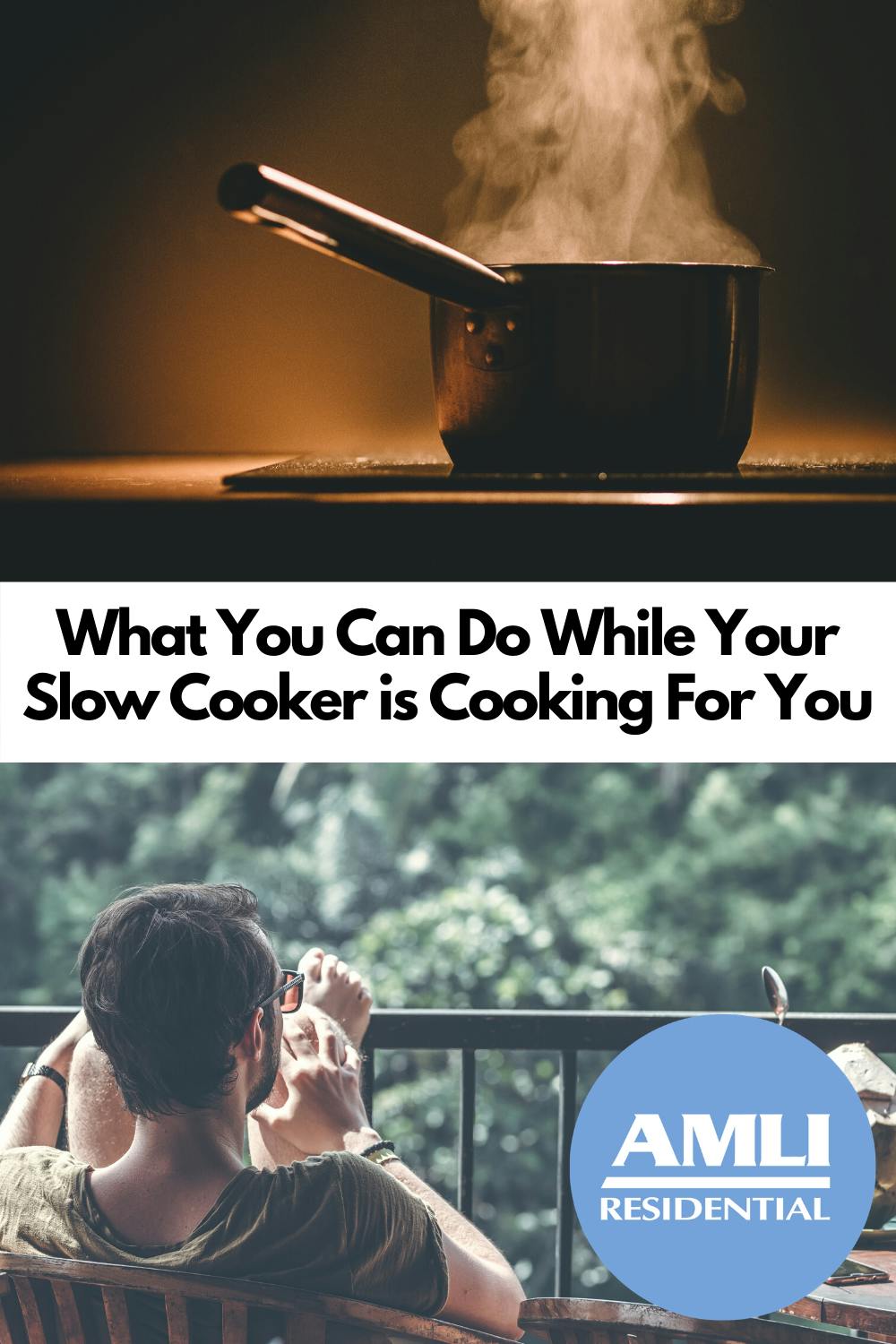 Featured photo courtesy Unsplash/Vladyslav Bahara