You know your neighborhood better than the back of your hand. You might even know your city better than most! You know exactly where the closest Starbucks is, you know where to find the nearest pharmacy, and you even know where to find the best bacon around. 
But what about outside your neighborhood? What about outside your city, your county or your state? The world gets bigger and bigger with every mile away from home, so what is the world like 1,000 miles away from Austin?
We've done some very scientific research (thanks, Google Maps!) and have found some pretty great places that are exactly 1,000 miles away from the Texas Capitol in Austin.
If you live at our downtown Austin apartments, then you're probably closer to the correct measurement than most Austinites, but honestly, there's only a mile or two difference anywhere else. 
So, without further ado, here are some places around the country and around the continent that are exactly 1,000 miles away from Austin, Texas. 
Enjoy!
What's 1,000 miles away from Austin?
North Carolina
Nestled in the Appalachian Mountains just a few miles from the Tennessee border, the small town of Linville lies at the foot of Grandfather Mountain is a great spot for hopping on the Blue Ridge Parkway. Closeby are the Linville Falls, the Linville Caverns and some of the best views of these ancient mountains you can get. The 469-mile long Blue Ridge Parkway weaves along the Appalachian range through Virginia and North Carolina, and driving along that mountainous road (the most scenic byway in the United States) in the autumn is truly one of the most beautiful sights you'll ever see.
Mexico
Chetumal is right on the border of Mexico and Belize on the Yucatán Peninsula. The area is filled with historical and archaeological sites dating back to the Maya civilization, and today the city is known for its trade and retail, especially because of its proximity to Belize.
Guatemala
Naranjo, meaning "orange tree" in Spanish, is the second-largest pre-Colombian Mayan city in Guatemala. There are around 389 buildings in the main area and about 900 additional buildings around the central area. The city was occupied from about 500 B.C. to 950 A.D.. Naranjo's rule and occupation was defined by various conquerors and dynasties, especially during the seventh, eighth and ninth centuries when the city developed much more rapidly. The city was abandoned by the 10th century, although it's unknown what caused the population to leave. Naranjo lay in ruin until it was discovered by explorer Teoberto Maler from Harvard University in  1905.
Naranjo is also just 50 kilometers east of Tikal, the largest pre-Colombian Mayan city. This city served as the capital of one of the most powerful kingdoms in ancient Mayan world. Fun fact: the temples at Tikal also served as the background for the rebel base on Yavin 4 in "Star Wars: A New Hope."
Florida
Daytona Beach's hard-packed sand beaches are perfect for vehicles and motorsports, which, incidentally, led to the city being the headquarters for NASCAR. Daytona Beach's beach (say THAT 10 times fast!) hosted the Daytona Beach Road Course for over 50 years and fifteen land speed records were set at the course in its early days.
Fun fact: NASCAR stands for National Association for Stock Car Auto Racing. 
Utah
If you're looking for some unreal rock formations and some gorgeous scenery, then Zion is the place for you! The park's canyons, mountains, rivers and arches are just 2 ½ hours away from Las Vegas, but they can make visitors feel like they are on a completely different planet.
Established on November 19, 1919, Zion National Park is Utah's first national park. However, the area had been occupied by small groups of Native Americans for nearly 8,000 years previous, such as people from the Puebloan Basketmaker Anasazi.
President William Howard Taft named the area Mukuntuweap National Monument in 1909. In 1918, director of the National Park Service Horace Albright expanded the area and suggested the name be changed to Zion, a term used by the Mormons who settled in the area in the 1860s. 
South Dakota
The rugged, rocky and rural mountains tucked away on the western edge of South Dakota get its name from the Lakota words "paha sapa," meaning "hills that are black." The mountains were considered sacred because of their unusual presence in the flat surrounding prairies, and Native Americans would often retreat to the hills to find peace and clarity. 
If you go to the Black Hills and Badlands area today, you will be able to see a wide range of animals, such as black bears, elk, mule deer, pronghorn antelope, coyotes, cougars and bighorn sheep, as well as much more! 
Canby, Minnesota
That's pretty much it. If you're ever near the border of Minnesota and South Dakota and you're feeling a little snackish, just know that there's a small town with a small Dairy Queen just waiting for you in Canby, Minnesota. 
Not many people can say what is 1,000 miles away from their home, but you can! You can talk about ancient Mayan palaces, Star Wars film locations, gorgeous parks and, well, Dairy Queen and NASCAR, too. 
These places are all exactly 1,000 miles away, but think of all that could be in-between those miles, too. Who knows? Maybe you could be the one to find out what's there, too!
Have fun!
Pin it!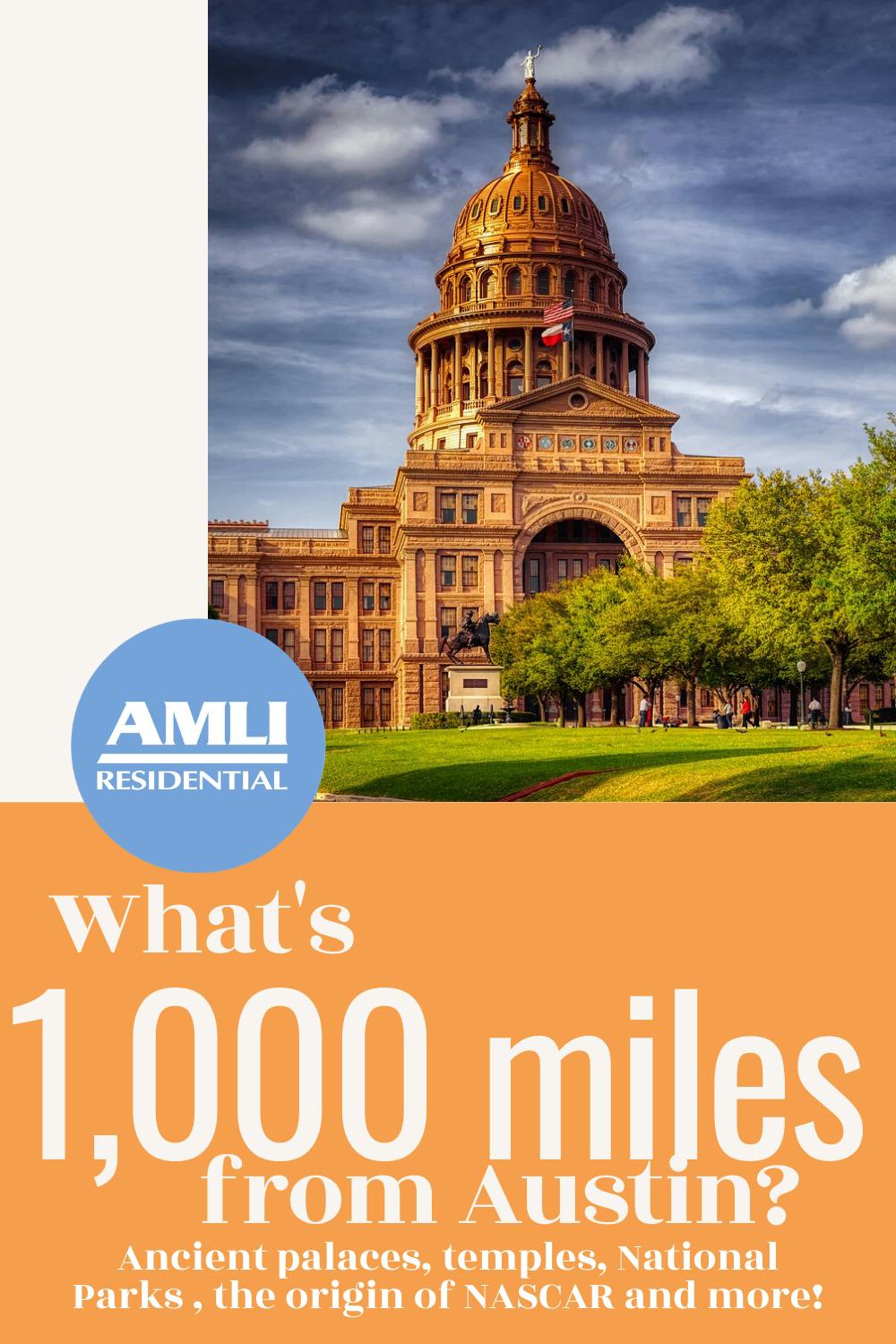 Featured photo courtesy Pixabay/1778011