Looking for a new hobby? Try rockhounding!
If you've never heard of rockhounding, don't worry. Rockhounding isn't a widely known hobby, but it boasts a large community that is spread all across the world. Here in Dallas, it's a popular activity that has garnered plenty of interest, and it's a great way to get outside and learn more about the geologic makeup of the vast Texas landscape. 
Here's a brief introduction to rockhounding, what you can find while doing it and, of course, where to do it around Dallas!
Rockhounding in Dallas
What is rockhounding?
A quick search on the interwebs brings up a simple definition for rockhounding: it's the activity of searching for and collecting rocks, fossils or minerals. Thanks, Dictionary.com. 
Rockhounders — as in, people who rockhound — can be anyone from experienced geologists to amateur fossil-hunters to kids interested in shiny things and everyone in between! They can hunt for rare minerals or for common quartz, or they can look for specific rocks from a specific formation. Or, in some cases, you can even find meteorites from the far reaches of our solar system!
Whatever you're interested in discovering and collecting, there's probably a rockhounding club for it somewhere.
How to get started rockhounding
It doesn't take much to pick up a rock on a hike in your favorite park, but if you're looking for something in particular, then you're going to have to do a little bit of research. 
Find the best rockhounding spots and rocks in your area
As with any kind of foraging and collecting, there are places you can and can't go. The places you can go to rockhound will ultimately end up determining what you will find there, so start with a location and go from there!
You can use the internet, your local Dallas Public Library, a local rock and crystal shop, your local ranger station or even a local rockhounding club to get info on where to go. The Forest Service allows rockhounding on most national forests and grasslands, within certain limitations, so that can be a good start. 
The Rock & Gem Magazine and the American Federation of Mineralogical Societies also maintain lists of rockhounding clubs on their websites, which can point you toward groups already active in your area.
And of course, there are a lot of rocks and minerals in the ground. Without a knowledge of what you're looking for, sifting through a million rocks that all look the same to you will be a pretty boring activity. Know what rocks are local to your area and where they can be found, as well as how to identify them!
Use these resources to find information on clubs, rockhounding spots and local rocks to look for:
The State Bureau of Land Management
Gem and rockhounding books specific to your state
The Dallas Public Library
Local bookstores that carry local guides
Forest service ranger stations 
National Park visitor centers or bookstores
Rockhounding clubs
Go out with a group to a paid site
Many rockhounding spots are on private land that the owners grant access to for a small fee. These spots are your best bet as a beginner, because there's a higher chance of you finding something interesting at a tried-and-true location.
If you can, go to the site with someone who knows what they're doing. They can help you scope out the area, direct you to promising pieces, explain the processes used to find different kinds of rocks and, hopefully, show you how to do it all on your own!
After that, you can try your hand at going to a more secluded site, with or without a knowledgeable friend. 
Head to a museum
Local museums that have exhibits on minerals, fossils and gemstones are great resources for learning more about the region's unique geology. The Perot Museum of Nature and Science in Dallas has some amazing paleontological exhibits, as well as a Gems & Minerals Hall.  
What can you find while rockhounding around Dallas?
The Texas landscape has gone through many changes over Earth's history, all of which have created a fascinating mix of minerals, fossils, gemstones and more in the dusty soil. There's a great variety of collectors' items buried in the gravel, ranging from common quartz to petrified trees and everything in between. 
For one, Texas is one of the only places in the world where you can find blue topaz, though they're mostly nestled in the western reaches of the state along the New Mexico border. Nonetheless, people have still found them in other parts of central and eastern Texas, though they are few-and-far between. 
Here are some other cool rocks, minerals and fossils that have been found by Texas rockhounders!
Gold
Diamonds
Amethyst
Opals
Geodes
Obsidian
Meteorites
Megalodon teeth (!)
Turquoise
Agates
Rose quartz 
Rubies
And much, much more!
Equipment to bring when rockhounding
Rockhounding doesn't mean long lists of expensive gear — it can be as simple as a keychain magnifying glass or as complex as a backpack full of caving equipment. Depending on the level of intensity you're looking to get into on your rockhounding trip, your list of gear may change slightly. 
In general, though, here's a list of helpful gear that most rockhounders have on hand for exploratory trips.
Safety protection: safety goggles, appropriate footwear, work gloves, first aid kit, hard hat, flashlight
Tools: rock hammer/pick, small sieve, cleaning brushes, spray bottle, crackhammer, chisel, pry bar, shovel
Transportation and packaging gear: backpack, bucket, old rags, small boxes
Identification tools: magnet, magnifying glass, field guides, pencil, notepad
Navigation tools: topographic map, compass, GPS
Here's a more comprehensive rockhounding gear list that goes into more detail about each item and why it's important!
Where to go rockhounding near Dallas
The best thing you can do to get information like this is to contact your local rockhounding clubs or to use the resources we listed above to find specific spots.
It's also important to remember that just because finds have been discovered in an area in the past, it doesn't necessarily mean that the land is still open for rockhounding. Land ownership may have changed, regulations may have been set in place or the site may have become hazardous for visitors. Whatever the case may be, it's a rockhounder rule-of-thumb to make sure you're not going anywhere you're not supposed to! 
So, if you live in or near our Dallas apartments, then why not give rockhounding a try next time you're on a hike? You never know if it might become a new favorite interest, and you never know what you might find!
Enjoy!
Pin it!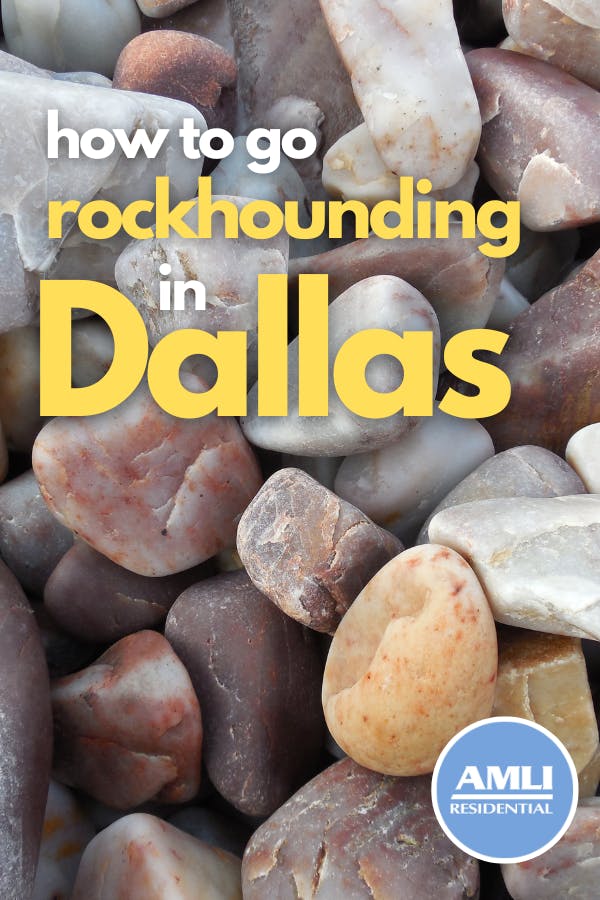 Featured photo courtesy Pixabay/sarajuggernaut