It's almost that time, folks! Starbucks has announced the arrival of its signature Pumpkin Spice Latte, heralding the pending arrival of the coziest season of them all. The leaves will soon be yellowing, the air cooling (that might feel good!) and the days slowly-but-surely getting shorter and shorter.
Fall will be here soon!
Whether you live in the city or outside it, don't miss out on the fall festivities. Hayrides, pumpkin patches, apple orchards and corn mazes are accessible minutes from the city, if you know where to look, that is!
Here are some places not too far from our luxury Chicago apartments where you can find great hayrides, pumpkin patches, apple orchards and all the fall festivities your heart desires!
Where to find hayrides around Chicago
Primrose Farm's Autumn Hayrides
Where: 5N726 Crane Rd, St. Charles, IL 60175
Cost: 1 person - $12; group of 8-12 - $140;, group of 13-20 - $220.
Long regarded as a beloved outing for families all year 'round, Primrose Farm and its tractor-drawn wagon hayrides are a must-do fall activity for those around the Chicago area. 
Though it's about an hour and a half's drive out of the city, the picturesque fields, fresh air and quaint countryside are perfect for an autumn hayride. Tickets, which can be reserved, include the half-hour ride through the family farm, followed by a cozy private campfire with s'more fixings galore! 
For more information on current times and tickets, visit the Primrose Farm website and check out all they have to offer throughout the year!
Sonny Acres Farm's Haunted Hayrides
Where: 29W310 North Ave., West Chicago, IL 60185
Cost: ~$10 per person
For those of you looking for a little extra spookiness in your autumn activities, this haunted hayride is the one for you! 
Accompanying the hayride is an entire fall festival that's perfect for all ages and interests . Munch on fresh funnel cake, pumpkin donuts or homemade caramel apples while wandering the elaborate farm grounds. Let the kids play on the massive pumpkin statues or book a ride on the gentle ponies, horses and camels at the farm. Hot apple cider paired with local food vendors and an entire farm's worth of autumn festivities, and you've got yourself the fall festival you've been looking for!
Stade's Farm and Market - Shades of Autumn Fall Festival 
Where: 3709 Miller Rd, McHenry, IL 60051
Cost: ~ $15 per person
With eight full weekends of fall-festival-fun, the Shades of Autumn Fall Festival is great for visitors of all ages and interests. 
Most notable here, though, is their hayride that takes you straight to their pumpkin patch! The hayride is free with a pumpkin purchase which, conveniently, is just $7 a pop! You can choose your gourd right then and there, picking it off the vine with your very own hands. After that, enjoy the rest of the fall festival, complete with a petting zoo, kids' activities, corn mazes and a farm store full of local wares. 
Where to find pumpkin patches around Chicago
Didier Farms' Pumpkinfest
Where: 16678 Aptakisic Rd, Lincolnshire, IL 60069
Didier Farms is a must-see farm all year 'round. Flowers, fresh fruits and vegetables are staples during the spring and summer months, while fall's Pumpkinfest  brings about your token fall festivities like you've never seen before. 
Pumpkin patches galore ensure that each visitor can acquire their choice gourd, especially at a farm this popular. After that, stop by the petting zoo to visit the animals, or check out the farm store for all things fall and Halloween. There's plenty to do, so make a day out of it!
Bengtson's Pumpkin Farm
Where: 13341 W 151st St, Homer Glen, IL 60491
You'll find all your fall festival fun here at Bengtson's Pumpkin Farm, where families and friends from all over the nation have been entertained by the whimsical and exciting activities. Visit with over two-hundred farm animals that range from pigs to bunnies to llamas to baby goats and more! Take rides on ponies, hayrides, roller coasters and more, or just sit and enjoy the many treats available for sale in the farm store. 
All in all, this is the one-stop-shop for all your fall festival needs! 
Odyssey Fun Farm
Where: 18900 South Oak Park Avenue Across From CarMax on, Prosperi Dr, Tinley Park, IL 60477
There's plenty to do here at Odyssey Fun Farm, so plan on spending at least a few hours exploring all the farm has to offer.
Alongside an exceptional pumpkin patch is a wealth of fun kids' activities. Explore all 15 acres of the elaborate corn maze, watch the pig races, hop on a hayride and shoot the corn cannons over the fields! 
So, there you have it! Enjoy the last days of summer and mark your calendars with the dates and times these fall festivals around Chicago are active, and fill up your fall season with all the fun and festivities you like! 
Have fun!
Pin it!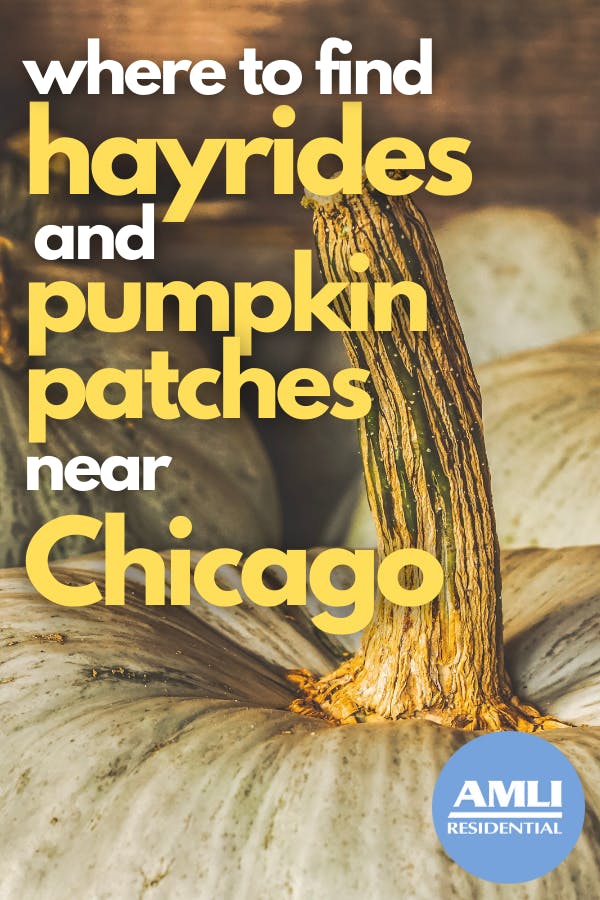 Featured photo courtesy Pixabay/paulbr75