If you've ever meandered through Miami Beach, you've probably noticed the many retro hotels, resorts and storefronts emblazoned with pastel pinks and mint greens. It's a style of architecture that was immensely popular during the 1930s, and it's what made Miami Beach the colorful paradise it is today. 
This style is known as Art Deco, and Miami Beach's cluster of iconic architecture is the largest concentration of this style in the entire United States.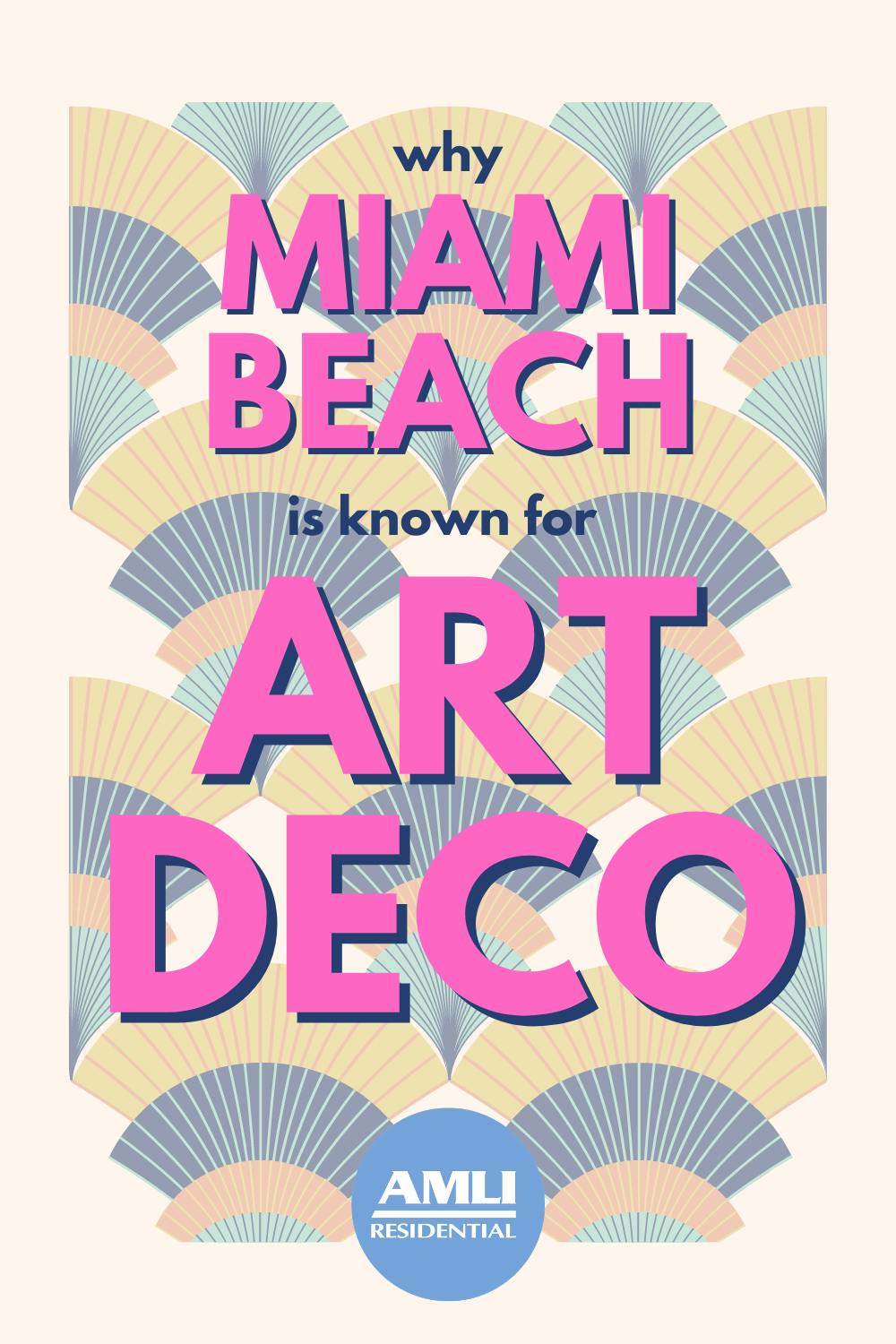 What are architectural styles?
Architecture, like art, has styles and eras all throughout history. Here are some of the famous architecture styles that have shaped cities all over the world.
In 3,050 B.C., Ancient Egyptians were busy at work creating their own styles of palaces, pyramids, temples and tombs. 
In between 850-476 B.C., Classical architects created iconic structures like the Greek Parthenon, the Roman Pantheon and the Colosseum. 
Gothic cathedrals like Notre Dame in France featured flying buttresses, gargoyles and decorative sculpture all throughout the 12th and 15th centuries. 
The elaborate and extravagant style of the Baroque period in the 17th-19th centuries is displayed best in the Palace of Versailles in France.  
Neoclassicism rose in popularity in the early 18th century as society took up a renewed interest in Classical Greek pillars of society, like democracy and philosophy. This is why the United States Capitol Building is designed in the Neoclassical style, and many other state capitols have followed in those same architectural footsteps. 
Since architecture began to change decade-by-decade rather than century-by-century, we have been able to see many styles of architecture pop up and mix in our cities before our very eyes. Miami Beach is where we can see the largest concentration of the Art Deco style, which was popularized for a brief period between 1925 and 1937. 
Let's take a look at what made this style stand out in architectural history!
What is Art Deco?
Art Deco came into existence as artists and architects began to embrace the European artistic styles of Cubism, Expressionism, German Bauhaus and French Art Deco. The Art Decor movement also coincided with major archaeological finds in Luxor, Egypt, where researchers found the untouched tomb of King Tutankhamun. 
The renewed interest in all things ancient and the fascination with modern art's emphasis on shape and color was the perfect combination for Art Deco to emerge in the early 20th century. Architects drew inspiration from patterns and symbolism from ancient civilizations, such as the ziggurat from ancient Mesopotamia, the pyramids from Egypt, bright colors from Mayan and Incan eras and pillars from ancient Greece and Rome. Art Deco also embraced industrialization and looked toward the future, so elements like electricity, machinery and technology were incorporated into many designs. Plenty of geometrical patterns, hard lines and solid materials were represented in Art Deco.
Some of the most famous architectural representations of Art Deco are the Chicago Tribune building in Chicago, and the Chrysler Building and the Rockefeller Center in New York City. 
Where does Miami Beach come in?
Miami Beach as we know it today didn't exist in the early 20th century. In fact, the luxurious paradise of an island was nothing more than a swamp. In terms of tourist attraction, there was none. At least, there wasn't until wealthy entrepreneur Carl Fisher stumbled upon the island while on holiday in 1910. 
Fisher saw the island's potential and bought all 1,600 acres of land along with several other investors. Shortly after, he began work on transforming it into a luxurious getaway for himself and his famous friends. He called his paradise "Miami Beach." 
Fisher intended the island to be a resort and holiday destination from the very beginning. He and agriculturalist John Collins planted an avocado plantation on the island to generate revenue, and they set up a Miami Beach Improvement Company to start turning the tangled mass of mangroves into accessible beaches. 
The first hotel built on Miami Beach was completed in 1915 on 112 Ocean Drive. Brown's Hotel still stands today, just 15 minutes from our apartments near Wynwood! 
It was when the 2 ½-mile bridge connecting the island to the mainland was completed that Miami Beach really started to see a boom in real estate. The island was more accessible now and was attracting wealthy visitors from northern states and the growing population of Miami itself. 
Carl Fisher knew that in order to make Miami Beach seem like a modern, luxurious retreat for the wealthiest clients around, he had to keep up with the times. "The times," as it were, meant Art Deco was the hottest new architectural style around.
Fisher built hotels, restaurants and resorts in the Art Deco style whenever he had the chance. Soon, Miami Beach was filled with Art Deco architecture, especially along Ocean Drive. The resort city grew and flourished, despite being hit hard with both the 1926 Miami hurricane and the Great Depression of the 1930s. But although Miami Beach continued to grow, the popularity of Art Deco architecture slowly began to wane. 
Miami Beach today
Miami Beach's Art Deco Historic District is considered to have the highest concentration of Art Deco architecture in the world today. Its pastel-colored hotels and geometric features paint an idyllic picture of the Floridian paradise, and it continues to drive tourists and vacationers to the area in swarms. The softer edges and shapes of the buildings were made to resemble ships and nautical themes, and the overall color scheme and design was created to be a little more laid back than the harsher style of New York City and Chicago.
If you live in our luxury South Florida apartments, then you are just minutes away from experiencing this unique piece of architectural history for yourself! It's unlike any other place in the world, and you'll never find a better representation of this eclectic style anywhere else. 
Enjoy!
Pin it!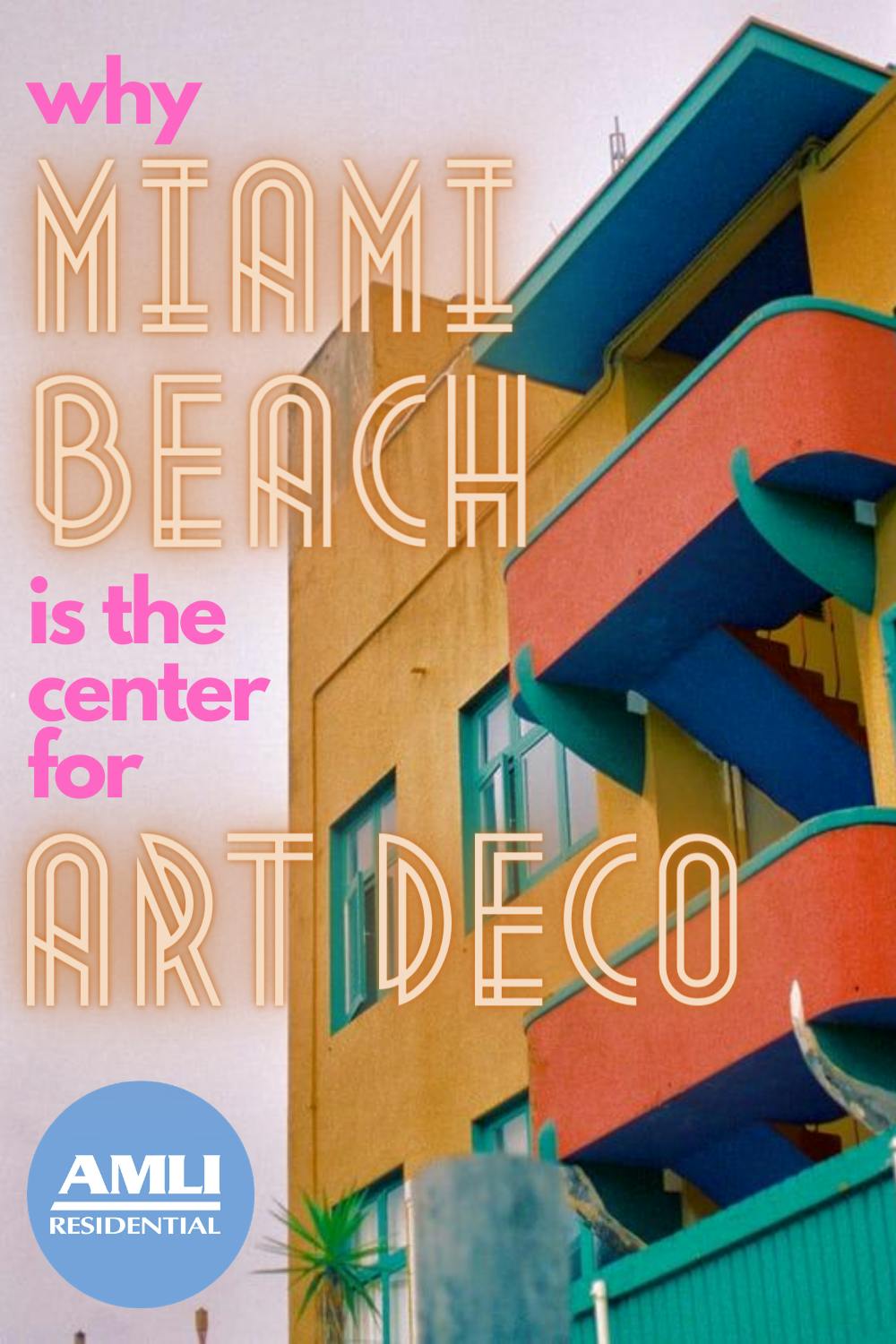 Featured photo courtesy Unsplash/Julien Borean