It's almost fall, folks! That means pumpkin spice latte runs before work, pecan pies and hayrides on the weekends, plus all the u-pick fruits you could want.
Apples are ripe and ready for plucking this time of year, so make sure to get out and collect some of Washington State's finest produce.
What makes Washington ideal for growing apples?
Washington is the top producer of apples in the nation, growing 66% of the United State's supply of the fruit! On average, Washington orchards yield around 100 million boxes of apples annually, which is equivalent to about 12 billion hand-harvested apples and, if laid side-by-side, could circle the planet 29 times!
So yeah, Washington makes a lot of apples.
The secret to our state's great success with these delicious fruits lies in three of Washington's great assets: nutrient-rich soil, plenty of water and an abundance of genuine and hard-working people. 
Nutrient-rich soil
Washington State's agricultural success has a lot to do with the abundance of nutrient-rich soils that create strong and vibrant crops. 
If we take a look at the geology of Washington State, we can see that much of the land east of the Cascade Range had been violently affected by massive ice-age floods. About 20,000 years ago during our last ice-age, a massive glacial lake called Lake Missoula (approximately the size of Lake Huron) burst through its ice dam and let loose a torrent of water into Idaho and Washington. 
Scientists believe that the initial flow rate (i.e. how quickly the water flowed) at the moment the dam burst was around 100 million cubic meters per second. In layman's terms, that's the equivalent of the force of Niagara Falls, multiplied by 35,000. The flow was so immediate, so catastrophic and so powerful that almost half of the entire lake drained in the first day of the dam bursting. 
The absolute power behind this cataclysmic flood meant that much of Central Washington was absolutely scoured, with any loose soil and silt being ripped from the ground and transported along the water flow. Driving east along the U.S. Highway 2 toward Spokane offers the best views of the evidence of this flood, as the carved-away Columbia River Gorge opens up into boulder-dotted fields, all remnants of debris carried hundreds of miles in the floodwaters. 
This flood eventually reached and drained into the Pacific Ocean after a few days, but the landscape left behind was scarred and barren from the torrential floodwaters. Thankfully, though, the floods left behind a perfect environment for agriculture. 
The powerful floodwaters carved away the soil to the hard volcanic rock beneath, all the while depositing loose sand and silt on top of it. Both these soils are well-draining soils that, conveniently, are perfect for growing certain fruits and vegetables like wine grapes, asparagus, cherries and, of course, apples!
Plenty of water
Although central Washington may seem like the last place to call water-wealthy, the Columbia River provides an incredibly valuable water source that keeps crops evenly watered in the well-drained soil. The Columbia also provides vital hydroelectric power to the many farms that dot the river's edge, creating a system of renewable energy and a virtually unlimited source of water. 
Hard-working people
It's fair to say that most of us underestimate the amount of back-breaking work that goes into farming and the overall agricultural industry, and apple farmers in Washington go above and beyond all expectations to deliver the perfect harvest. 
Each and every apple in the state (Each. One.) is hand-picked in order to prevent bruising and damage. That means that there are no harvesters, no machines and no other way to get those delicious apples from tree to plate without a real-life person physically picking it for you. If that's not special, I don't know what is. 
Where to go pick apples near Wenatchee
So, now we know that Washington is the nation's go-to place for apples, which means that narrowing down a good apple-picking place is about as easy as finding the best café in Paris. 
So, let's open it up a little and give you some options. 
Wenatchee is the self-proclaimed Apple Capital of the World, with the first of its apple orchards planted way back in 1872. When the rail system connected Central Washington to Seattle, the industry boomed and the delicious apples that have come to define the state erupted in popularity. 
If you want to pick apples, then, Wenatchee is quite possibly the best place in the world to do it. And the great part about it? It's just a few hours away from our luxury Seattle apartments!
Here is a list of all the apple growers currently in the Wenatchee area. There are plenty to choose from, though, so here are a few you can start with!
With over 150 apple varieties to choose from and 250 fruits in total, this apple orchard in East Wenatchee is an absolute goldmine in terms of u-pick apples. 
This family-run farm has been in the Stutzman family since 1907.
In addition to supplying some choice apples, this farm grows over a million fruit trees of all kinds for everyone from amateur gardeners to commercial orchards.
Apple-picking near Seattle
Tucked away in the orchards of Snohomish, this local farm has a wide variety of veggies all throughout the year. Make sure to grab some of their honeycrisp apples, though, as they are the stars of the show!
In addition to a great selection of crisp apples, this farm also features plenty of fun fall activities! A massive corn maze in the shape of Washington is a fan favorite.
Enjoy!
Pin it!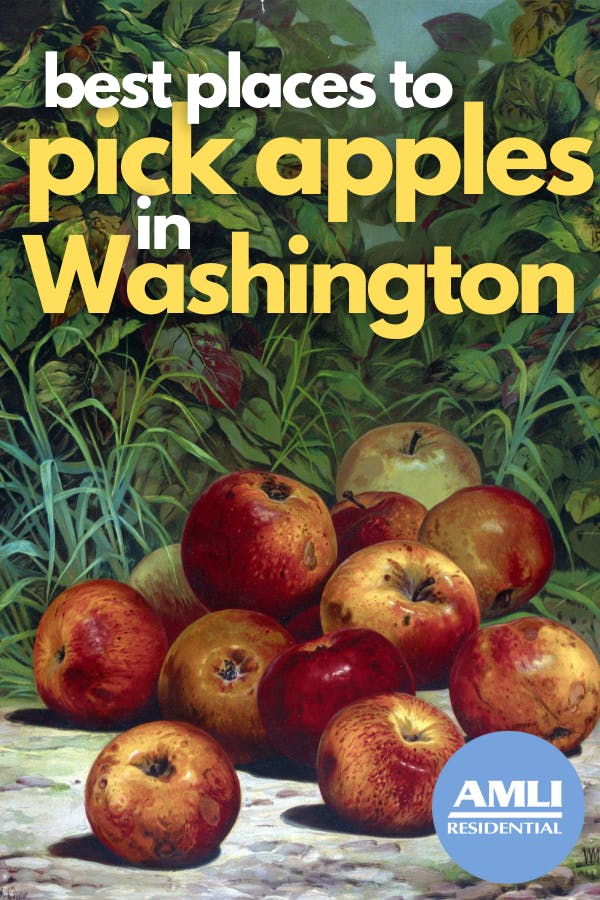 Featured photo courtesy Pixabay/lumix2004