Chicago has long been known one of the premier architectural capitals of the U.S., especially for the Commercial Style that took the 20th century by storm. And it may have all started with a cow knocking over a lamp in a barn.
How did Chicago become known for architecture?
The Great Chicago Fire
Great disasters are often catalysts to great change, and Chicago's sudden boom in population and architecture followed directly on the heels of the 19th-century blaze that burned down most of the city.
The Great Chicago Fire began on October 8, 1871, after a small blaze sparked to life in Mrs. O'Leary's barn on DeKoven Street. The fire's prevailing origin story says that a cow knocked over a lamp, causing most of Chicago to burn down. Talk about udder destruction!
Under normal circumstances, the fire would not have caused the damage that it did, but the presence of above-average wind speeds and an overall blustery day fanned the flames into a brutal blaze that travelled north through the city for 36 hours straight.
Back then, most of the structures in Chicago were built with wood, which is why so much of the city was destroyed. Over 18,000 structures were burned to the ground, displacing nearly 300,000 people and killing 300. 
By the time the blaze had completely calmed down, over 3.5 square miles had been destroyed. This included most of the Near North Side and Downtown Chicago, bringing the steadily growing economy to a screeching halt.
It was vital that the city be rebuilt immediately if Chicago was to return to its industrial strength, and there was no shortage of supporters and benefactors to aid the process. Funds poured in from cities all over the world, and industrious Chicagoans banded together to rebuild the city better than ever before. As a result of this outpouring of support and innovative restructuring, the city of Chicago bounced back within a year of the blaze. 
The First Chicago School of architecture
It was during this phase of reconstruction that architects, engineers and artists banded together to create a better, stronger and more beautiful Chicago. The new architecture that blossomed during this period defined an era of architectural style, and it's where the First Chicago School of architecture truly began to shine.
Following the blaze, a group of architects from all over the nation collaborated on a shared vision and style for a new, modern Chicago. These architects included the likes of Louis Sullivan, Martin Roche, Henry Hobson Richardson, Solon S. Beman, Dankmar Adler, Daniel Burnham, John Root, William Holabird and William LeBaron Jenney. It was among mentors such as these that famed architect Frank Lloyd Wright had his start. 
These architects collectively became known as the Chicago School, a group who would go on to build many of the iconic buildings Chicago has today. Their style became known as the Commercial Style, although the term is often used interchangeably with Chicago School.
Defining characteristics
Structures built in the Commercial Style had two defining characteristics: the interior structure and the exterior design. 
Interior
When we talk about internal structure in architecture at the time, it's important to note that nearly all buildings were built with thick load-bearing walls made from brick and stone. This meant buildings were extremely heavy, and there was little space for windows and open areas in the already-limited-space interiors. 
Enter William LeBaron Jenney, an architect from the Chicago School who had plans to build a revolutionary new building with an iron skeleton. Hearing about the architect's plans and seeing the potential of a new market, the Carnegie-Phipps Steel Company reached out and offered its steel beams instead. Jenney agreed, and in 1885 the Home Insurance Building was officially completed, becoming the first modern skyscraper in the world at a full 10 stories high. 
This steel skeleton became a defining characteristic in Commercial Style buildings. Although it was more expensive, the strong interior allowed for taller and lighter buildings, and there was more space for windows in the exterior walls now that they were no longer load-bearing. 
Exterior
Another defining characteristic of the Commercial Style is its much more visible exterior which, in itself, is created by the steel structure within. There are four things to look out for that can help identify this style.
Steel frame
The sharp, strong steel skeletons gave the buildings towering appearances that were testament to the pillars of steel inside. 
Greek columns
The resulting style was far from the elaborate, curved styles of neoclassical architecture, but the overall appearance took on characteristics of a Greek column; an elaborate base, a tall section of identical floors acting as the column's middle, and another elaborate cornice to top it all off. 
Chicago window
Because the exterior walls were no longer completely load-bearing, there was more space for widows and glass. These windows usually featured a fixed glass pane with at least one movable pane that allowed for ventilation.
Terra-cotta and masonry
The exterior also featured fireproof masonry, such as terra cotta, as a precaution, just in case any cows started any more city-wide fires.
Where to see Commercial Style buildings in Chicago
Now that you can identify the buildings that built Chicago, walk around town to find some of the surviving structures of the First Chicago School! The Home Insurance Building is no longer standing, unfortunately, but there are plenty of others to spot. If you live in our luxury Chicago apartments, then this is a great way to spend an afternoon!
Spend an afternoon strolling through the Chicago Loop and check out these great pieces of architecture!
Have fun!
Pin it!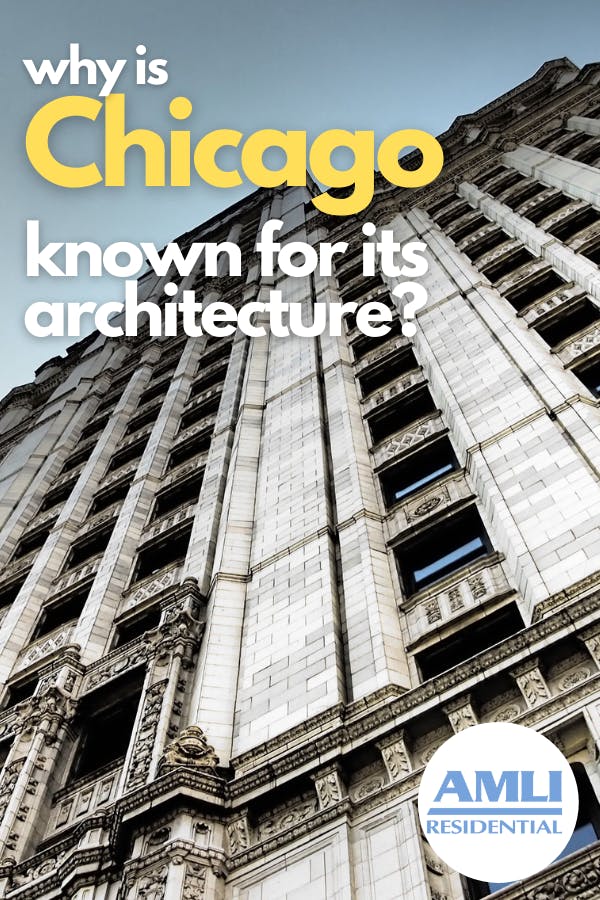 Featured photo courtesy Pixabay/juergen-polle