Have you ever had those work days where you can't help but think, "I really could have just done this work from home?" 
Working from home is a much more common form of employment nowadays. It's a trend that keeps on growing as companies and employers begin to see the benefits of allowing employees to spend less time at the office. 
For one, if employees work from home then there is less need to rent office space and purchase supplies (including coffee, snacks, pens, etc.), which can be particularly cost-effective for companies with computer-based work. The presence and use of the internet turns virtually any location into a work space, as long as the work is adaptable, so why waste money, time and energy on the distractions of an office environment?
Studies have shown that employees who have a chance to work from home, even if it's only for a few days every now and then, have increased productivity, a better attitude and saved more money than those with an office job. There are pros and cons to both an office and a remote job, of course, but it's no secret that working from home has taken off in the last few years.
If you are an employee (or manager) who works from home at least a day or two a week, then you already know that there are a few challenges to overcome in getting settled into a remote office. Namely, finding a space that you can dedicate to your work without any distraction. 
Coming from someone who writes these blogs from her apartment, it's important to make sure that your physical working area helps you get into the working mindset. Distractions come easily at home, especially if you have children or pets: laundry needs to be done, dinner must get started, the dogs need to be walked or the kids are playing the new Star Wars video game at full volume. Whatever it is, your work space needs to be able to cut out the distractions around you and get you into working mode.
That being said, setting up your own work-from-home office should be fun, liberating and totally your own style. This isn't a cubicle we're talking about here: this is your home with your own personality. Set up your working station in a way that will make you look forward to sitting at your desk every morning, whether it's in an entire room or just a designated corner. 
Here's what to look for and what to think about as you plan out your new space.
Dedicate a space as your official work area
Short on extra bedrooms to use as a home office? No problem! There are plenty of ways to create a space just for your work.
Use room dividers! 
There are plenty of stylish room dividers that can fit your existing decor. 
Bamboo room dividers are a go-to for easy, quick and versatile rearrangement. Check out some stylish options here at Wayfair!
Double your storage and create new space by placing a large bookcase perpendicular to your wall. Using bookcases like the IKEA Kallax will allow light to pass through the shelf so that you don't have to huddle in a dark corner. 
Find a desk and chair you use ONLY for work
This is important. The more you train yourself to use that desk for work and work alone, the easier it will be to get into work-mode when you sit down. It's hard to get into the working mindset when you're sinking into the same couch you take naps on. Trust me.
If you don't have a lot of space, go for a desk that is spacious without being bulky. Desks with an extra shelf or a few more drawers can keep your working space neat, tidy and out of the way. Same with the chair: find something that is comfortable to sit in but doesn't look out of place in your home. Don't even bother going to Staples for the wheeled chairs; instead, go for a high-quality piece of furniture that will keep your posture straight, your backside comfortable and your apartment stylish.
Find proper storage
The worst thing about desks is that they tend to get cluttered and messy very quickly. If you don't have proper storage, your working space could become the equivalent of a workbench — bits and pieces of work just scattered everywhere with nowhere for them to go. It's unpleasant working in a setting where you have to wade through piles of loose papers, receipts and who-knows-what-else, and if your work area is chaotic, then you too will feel cluttered and disorganized. Working in a clean and organized environment will help you enjoy your work and become more productive.
Find storage options that are easy to move around and rearrange, like boxes or baskets. That way, you can adjust your odds and ends as often as you need without clashing with the style or decor of your office area. You can find great storage containers online here at The Container Store. Also, never underestimate a good cork board for a handy place to keep your calendar, phone numbers, contacts or to-do lists. 
Consider your storage needs when shopping for furniture. Find a desk or bookcase that has plenty of storage options if you need them. If you need an extra side-table with a few more drawers, then that's totally okay, too! You want to make sure that your storage is easy to get to and clearly arranged. It's miserable to work in a cluttered environment.
Make your space your own
This is the fun part! Your workspace should make you feel comfortable and motivated to work, so don't be afraid to spruce it up with some fun decorations.
Researchers in Japan recently reported that having a small plant on your desk can reduce stress in the workplace. Luckily for you, we already have some great articles on indoor plants and how to care for them, so you already have all you need to get some workplace foliage started.
Put up pictures, install lights, decorate with removable wallpaper, hang curtains or do whatever makes you feel the most satisfied with your work space. The sky's the limit, so shoot for the stars!
Whether you need a study space for class or a work space for your job, having a dedicated area just for you is vital to your work-from-home productivity and happiness. Follow these tips, add some flair of your own and enjoy working from your home office!
Enjoy!
Pin it!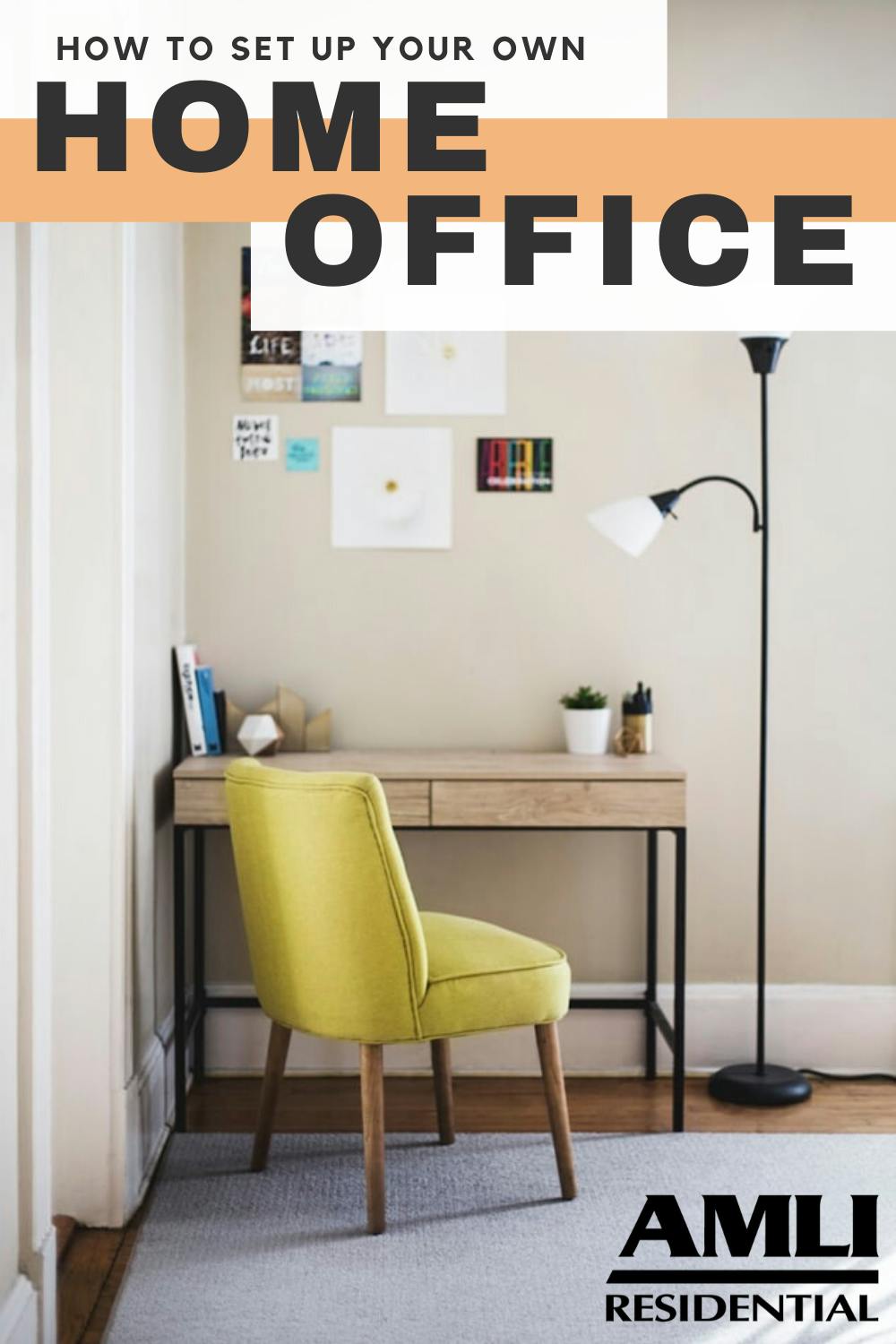 Featured photo courtesy Unsplash/Bench Accounting