Many luxury Seattle apartments have balconies and rooftops ideal for viewing the Cascades and Olympic Peninsula. They're also a great base from which to explore the PNW's diverse ecology and awe-inspiring peaks. Whether you're an outdoors-y type who's just moved to Seattle or a Seattleite looking to get into hiking for the first time, here's a list of superb hikes near the Emerald City to get you started. All of these hikes can be completed in a day, but overnighting near the trailhead is recommended for a few of them. The following day hikes are arranged in order of proximity, starting with those closest to Seattle.
A five-mile round trip hike with a total elevation gain of 1,200 feet, Little Si is an easy-to-moderate hike along a well-maintained forest path. Along the path, you'll see several fascinating rock formations. When you reach the top, you'll have great views of Mount Si, North Bend, and the Upper Snoqualmie Valley. The trailhead is just over half hour's drive from AMLI's South Lake Union apartments.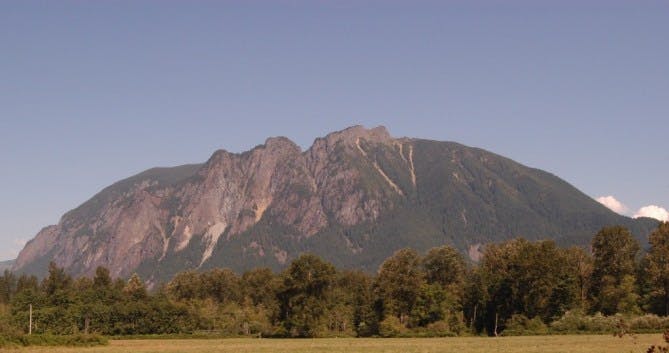 Hovering above Little Si, Mount Si is a more grueling option featuring similar scenery that's just as close to Seattle as the Little Si hike. The round trip hike is 8 miles, with a total elevation gain of 3,150 feet.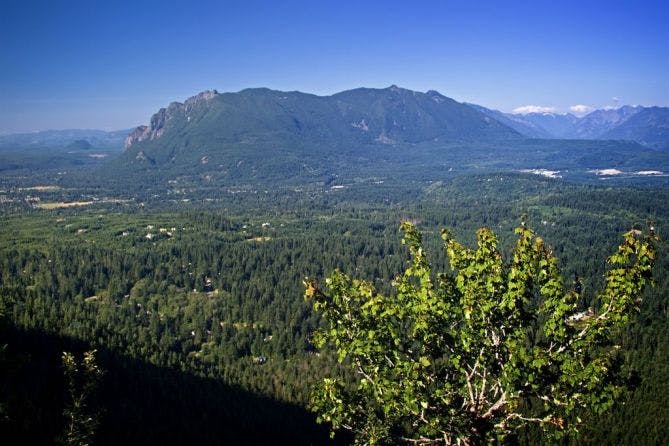 Just 40 minutes from downtown Seattle, Rattlesnake Ledge is an excellent hike for beginners who want to be run over. The four-mile round trip hike has a series of switchbacks that rise 1,000 feet and will get your blood pumping. But Rattlesnake Ledge is hardly grueling. The trailhead is just over a half-hour from downtown Bellevue.
Franklin Falls is a very manageable day hike from Seattle, with the trailhead takes less than an hour's drive from downtown and Bellevue. If you want a parking spot in the closest lot, get going early. But once you're there, you can take your time. The round trip hike is two miles, and you'll gain only 400 feet of elevation along the way. The highlight of the hike is the cluster of waterfalls, which run year-round but are most impressive during spring and after periods of heavy rain. This is probably the most family-friendly trail on our list, and a great option for a picnic.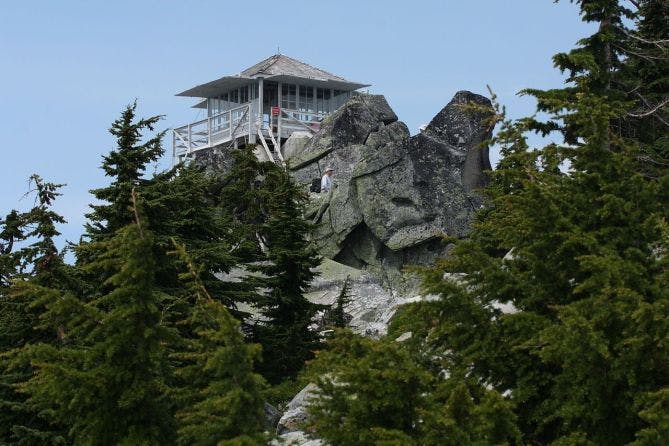 If you're looking to wake up in your South Lake Union apartment, summit a mountain, and return to your apartment before nightfall, give Mount Pilchuk a try. The 5.4-mile round trip hike passes through alpine terrain and offers stunning views of Mount Rainier, the Olympic Peninsula, and San Juan Islands. Total elevation gain is 2,300 feet, and the highest point is atop the peak at 5,327. The Mount Pilchuk trailhead is a 90-minute drive from AMLI 535, but leave early if you want to beat the crowds.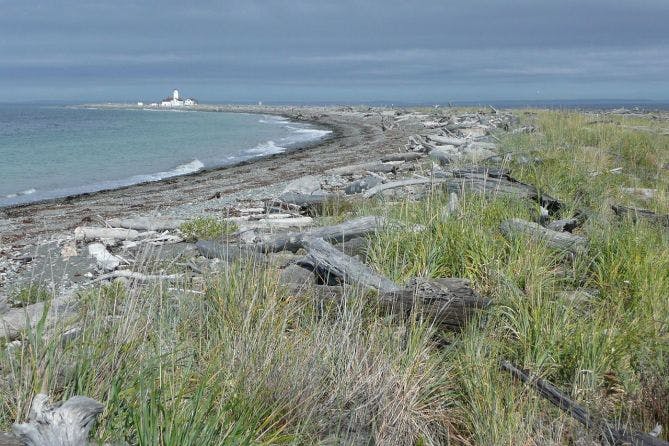 The Dungeness National Wildlife Refuge is rugged waterfront terrain at its finest. The fact that the spit jutting from the coast is the United States' longest just adds to this hike's allure. Walk the spit's entire 5.5-mile length, and you'll reach a historic lighthouse that doubles as a great photo-op. Even if you don't walk the spit's entire length, you should spot some magnificent birds and marine life. Seals and sea lions often congregate on the shore. The Dungeness National Wildlife Refuge is two and a half hours from Seattle, by car or car and ferry.
While not recommended as a there-and-back day hike from Seattle, the practically deified Enchantments can be hiked in a day. The beauty and majesty of the this Central Cascade mountain scape is undisputed, considered by many avid hikers unparalleled even in the eco-diverse Pacific Northwest. Every year, thousands of hiking enthusiasts enter a lottery for a limited number of permits. If you don't secure a permit, you can still taste the Enchantments. You just have to do so in the form of a grueling, 18-mile day hike with pre-arranged transport. While you might get away with doing the entire thing as a day trip from Seattle if you leave at 2am, you're likely to get more from the experience if you spend the night before you hike in a Leavenworth lodge or nearby campground. It's a two-and-a-half hour drive from Seattle to the Snow Lakes Trailhead.
This eight-mile loop, moderate in difficulty, offers grand vistas of the North Cascade mountains. Take this hike, and you'll be rewarded with spectacular views of Mount Baker, the third-highest peak in Washington State, and Mount Shuksan. You can make the return drive and hike Chain Lakes Loop in a day if you start early, but the trailhead is nearly three hours' drive from AMLI Mark24's Ballard apartments. If you find yourself short on time, you can drive to Artist Point and trek to the lakes and shave off roughly half of the hike.
The Maple Pass Loop rewards hikers with epic views of the North Cascades along its 7.2 miles. Widely considered the best day hike in this part of the Cascades, Maple Pass Loop is ecologically diverse and only moderately intense. Total elevation gain is 2,000, and the highest point is 6,600 feet above sea level. This is another hike made much more manageable in a day's work with a night spent closer to the trailhead than to Seattle. If you're up for camping, reserve a spot at one of the Methow Valley's public campgrounds. The Maple Pass Loop trailhead is a three-hour drive from AMLI at Bellevue Park.

Summerland
A moderate, 8.4-mile round trip hike, Mount Rainier National Park's Summerland trail is alpine day hiking at its finest. Hike in late spring or summer, and you'll almost certainly see wildflowers. Marmots, mountain goats, and other wildlife are also frequently spotted. Summerland's total elevation gain is 2,100 feet. The trailhead is just under two hours' drive from AMLI's Bellevue apartments.

Like what you just read? Why not subscribe to the AMLI Blog so you don't miss another post?