Labor Day is just around the corner and there's no better way to celebrate than getting together with friends and family and grilling out. Don't fancy yourself an adept chef? No problem. These recipes are all suitable for a novice cook and are pretty much foolproof (your guests don't need to know that though!). Wow your crowd with these four easy Labor Day BBQ recipes.
Elote, also known as Mexican street corn, hails from — you guessed it — Mexico and is a favorite street food snack. This savory side dish recipe from Delish is simple and takes less than 30 minutes to make. Be sure to serve the corn warm and immediately after coating with the toppings.
Yields: 4
Total time: 25 minutes
Ingredients:
6 ears of shucked and cleaned corn
1/2 cup mayonnaise
Chili powder to taste
1/3 cup grated cotija cheese
Chopped cilantro
Lime wedges
Directions:
Preheat grill to medium-high. Grill corn for approximately 10 minutes, turning often until the corn has a slight char.
Brush the corn with an even layer of mayonnaise. Sprinkle the cotija cheese, cilantro and chili powder on top and serve with them up warm with lime wedges.
Looking for a quick and tasty appetizer recipe? This caramelized onion dip from Food & Wine can be made up to three days ahead (covered and stored in the refrigerator) and is sure to be a favorite with your BBQ crew. Serve with pita chips or a sturdy, ridged potato chip.
Yields: 3 cups
Total time: 1 hour
Ingredients:
2 tablespoons unsalted butter
3 medium onions, thinly sliced
1 1/2 cups sour cream, at room temperature
1/2 pound cream cheese, softened
1 tablespoon flat-leaf parsley, finely chopped
1/2 teaspoon onion powder
1/2 teaspoon Worcestershire sauce
Kosher salt and freshly ground pepper to taste
Pita or ridged potato chips
Directions:
Melt the butter in a large skillet or pan. Add the thinly sliced onions and cook over medium heat, occasionally stirring, for about 25 minutes, or until golden brown. Add 2 tablespoons of water and cook for about 3 minutes, stirring, until the water has evaporated. Remove from heat and let the onions cool for about 15 minutes.
Once the onions have cooled slightly, transfer to a cutting board and coarsely chop them. In large mixing bowl, combine the sour cream, cream cheese, parsley, onion powder and Worcestershire sauce and mix until smooth. Stir in the onions and add salt and pepper to taste. Serve at room temperature with chips.
Don't be scared off by the two and a half-hour time on this sweet and spicy chicken wing recipe from the Food Network. The active cooking time is only 15 minutes and the aluminum foil packets make grilling the chicken wings a breeze. Just be sure you leave yourself enough time to marinate the wings!
Yields: 4 servings
Total time: 2 hours and 35 minutes (includes marinating time)
Ingredients:
1/4 cup chili powder
1/4 cup packed light brown sugar
1 teaspoon Chipotle chili powder
Kosher salt and freshly ground black pepper, to taste
4 pounds chicken wings, split at the joint, wingtips removed and discarded
1/4 cup vegetable oil
1/2 cup chopped cilantro
1 lime, cut into wedges
Directions:
Combine the sugar, Chipotle powder, 1 teaspoon of salt, and ½ teaspoon of pepper in a bowl. Whisk together to create a dry rub. In a large bowl, toss the wings in the oil and then sprinkle with the dry spice rub. After you've evenly coated the wings, cover in plastic wrap and refrigerate for 1-2 hours.
Preheat your grill to high heat. Tear four 18-by-18-inch pieces of heavy duty, non-stick aluminum foil. Divide up the chicken wings evenly onto the center of the four foil sheets and then sprinkle with salt and pepper. Bring the two opposite ends of the foil together and fold twice to seal. Fold in the other sides to create leak-proof grilling packets.
Grill over high heat, turning the packets over once, for about 25 minutes (or until wings are thoroughly cooked through). Watch out for the escaping hot steam when you carefully open the packets. Top with cilantro and garnish with lime wedges.
This cake actually requires no baking at all—lucky you! This no-bake strawberry shortcake on Allrecipes only has four ingredients and takes just 30 minutes to make, so you'll be able spend more time with your guests. This dessert is light and airy—perfect for a warm afternoon BBQ.
Yields: 6 servings
Total time: 30 minutes
Ingredients:
1 quart strawberries, sliced
¼ cup white sugar
1 (12-ounce) package sponge cake dessert cups
1 (7-ounce) can whipped cream or whipped topping
Directions:
Combine strawberries and sugar in a container. Stir to evenly coat the strawberries. Cover with a lid and refrigerate for about 15 minutes, or until all of the sugar is dissolved.
Fill each sponge cake with strawberries and whipped cream or whipped topping.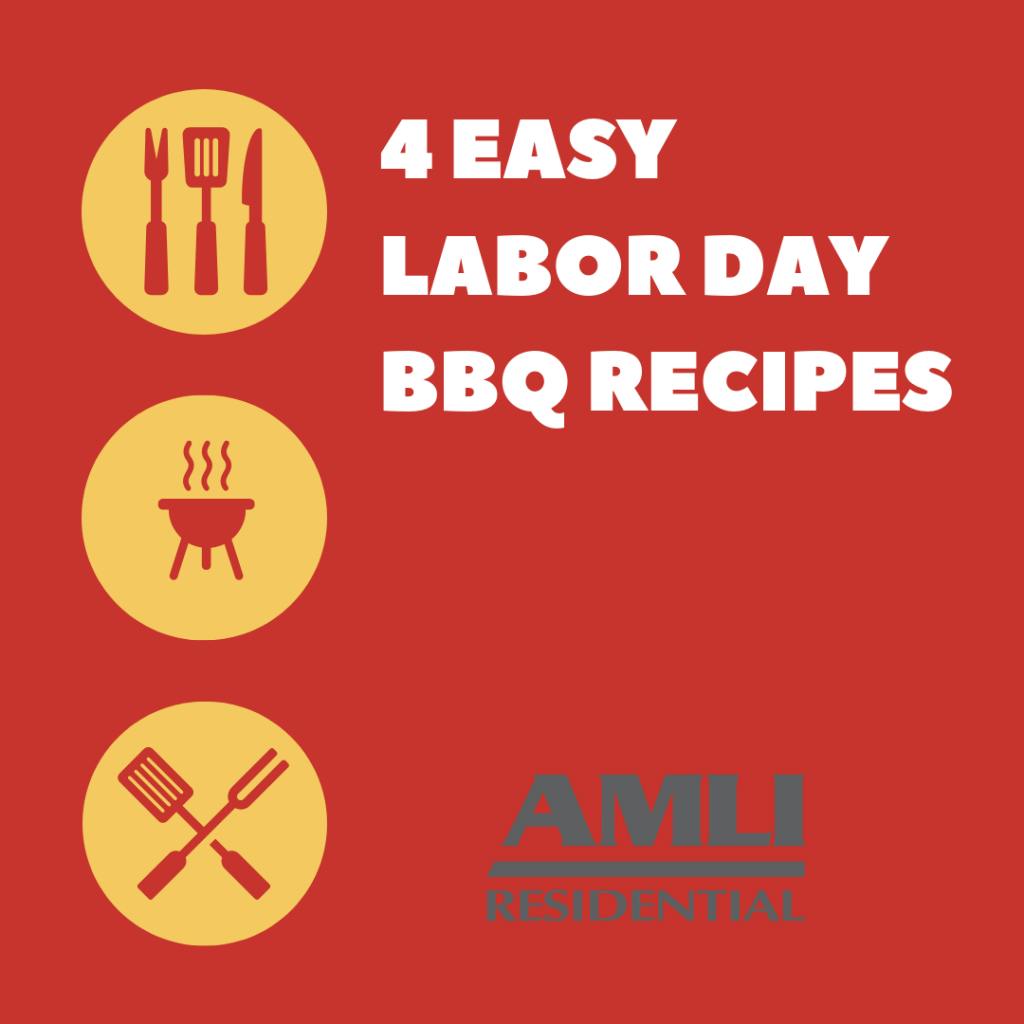 ***
Main photo courtesy Unsplash/Vincent Keiman