Now that the cold weather has truly settled in and we are confined to our warm, cozy indoors, keeping busy with some hobbies and passions is important for keeping the cabin fever far, far away. And luckily for us all, Denver offers a huge selection of extracurricular activities to keep us learning and having fun.
If cooking is one of those realms you've been wanting to explore a little more, then there's plenty of great cooking classes in Denver that will immerse you in the culinary world like never before. From creating your own homemade pasta to crafting intricate sushi rolls to gluten-free baking and much, much more, these Denver cooking classes will make you a pro in no time!
Location: 43 W 9th Ave., Denver, CO 80204
Class type: One-time classes, 4-day courses, 3-week classes, monthly series
Amount of classes offered: 20+
Price per person: $65 - $650
Specialty: Everything
The Cook Street School of Culinary Arts is an absolute gold mine for Denver-based culinary enthusiasts. With classes ranging from one-time night classes to weekend-long courses to intensive courses over three weeks, the courses and opportunities available here are designed to be accessible to anyone looking to further their skills at their own desired level of intensity.
Take, for example, the wine tours that take place monthly. Each class covers a wine from somewhere around the world, paired with hors d'oeuvres to match the flavor profile of the wine. 
You could also try the Butchery for Cooks course, or maybe the pasta class, Korean street food course, holiday cookies class or Caribbean class. There are so many available that you'll just have to just browse through them for yourself!
Location: 909 17th St., Denver, Colorado 80202
Class type: One-time classes
Amount of classes offered: One per month
Price per person: $60
Specialty: North Italian cuisine
Panzano is one of Denver's top Italian restaurants, known for its focus on contemporary North Italian cuisine made with locally sourced seasonal ingredients.
What makes this Italian restaurant so different from others? Well, the monthly cooking demonstrations bring you right into the Downtown Denver restaurant's kitchen and show you the exact techniques and skills needed to make Panzano's top-tier Italian food. 
Each demonstration is centered around a dish and a few key skills needed to make it. Learn how to butcher pork for the perfect 'nduja stuffed porchetta, or perfect fresh pasta-making techniques for the best bowl of truffle pasta. 
Lunch is included here, and you're served the very dish that you watched being made!
Location: 3215 Zuni St., Denver, CO 80211
Class type: One-time classes
Amount of classes offered: Varies each month
Price per person: $90 - $100
Specialty: Cocktails, everything
Stir Cooking School is the way to go for your next group event. With classes covering baking techniques, region-specific menus, cocktail-building and so much more, you're sure to find something that you and your five closest friends will like!
In all seriousness, though, Stir offers a wide assortment of pre-scheduled group classes for up to six people, as well as private events catered to your group's own tastes. Private events can be held on-site in Stir's Highland neighborhood space, or in-home in your very own kitchen with a customized menu just for you! The three-hour classes include two hours of cooking and an hour of enjoying your hard work with your classmates. 
Location: 1701 Wynkoop St., Denver, CO 80202
Class type: One-time classes
Amount of classes offered: One per month
Price per person: $85 - $115
Specialty: Seafood
Where better to learn the intricacies and secrets of seafood cooking than in Denver's favorite seafood restaurant?
Nestled in the heart of Union Station in LoDo, Stoic & Genuine features fresh and sustainably sourced seafood options that are carefully prepared by world-class chefs and served in its gorgeous historic space.
Stoic & Genuine is all about quality and ambiance, so taking one of their monthly School of Fish cooking classes will give you the best of both, as well as some tasty skills! Past classes have focused on lobster, clams, differences in fresh and saltwater fish, preparing sashimi and much more! 
There aren't many seafood classes here in Denver, so snag a spot in this one quick!
Whether you're a seasoned home chef or are just starting to discover the wide world of culinary art, cooking classes are great opportunities to build up your knowledge base and fine-tune your skills. Learn from professional chefs with years of experience in their field and work alongside like-minded people who are just as eager to learn as you are. You can even turn your own luxury Denver apartment into a cookery school with some of the many in-home courses! Plus, you get to munch on whatever you learn to make, which is always a bonus.
Enjoy!
Pin it!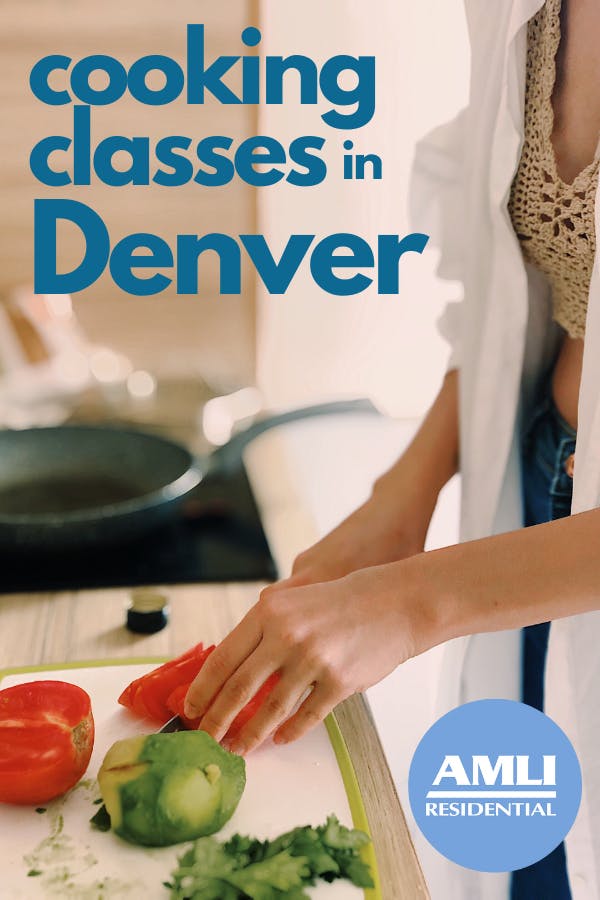 Featured photo courtesy Pixabay/ayindeabdulmajeed44