If you've spent any amount of time living in South Florida you've probably realized it is one of the major capitals of scuba diving and snorkeling. The Florida peninsula offers diving opportunities for every experience level and an endless ocean to explore. While diving conditions are agreeable year round, spring through autumn tends to be most desirable due to the warmer water temperatures and better visibility. 
Check out one of these amazing dive spots and tell us what you think!
6 great scuba locations near Miami
The USS Oriskany was an aircraft carrier during the Korean and Vietnam Wars. In 2006 the 911-foot-long ship was intentionally sunk off the coast of Pensacola as part of a program to help grow artificial reefs and now serves as the largest artificial reef in the state!
Today you can explore the tower of the ship at just 80 feet below the surface, where you can see the officers' quarters and the bridge. The bulk of the ship rests at 220 feet below water providing exploration for divers of all abilities. Marine life commonly seen include pelagic fish, sharks, manta rays, whale sharks, eels, lobster, octopus and, of course, reef fish! 
Located just off shore from Fort Lauderdale, this dive is also part of Florida's artificial reef program. Though not nearly as large as the USS Oriskany, the 180-foot barge was sunk in 1986 and has a 20 year head start on growing beautiful reefs and creating a home for ocean life. 
In addition to the barge resting around 65 feet of depth, you can also explore two large pipes, another barge and the remains of the old Pacific Reef Lighthouse. During your visit you will likely see nurse sharks, a range of snappers, turtles and even a goliath grouper if you're lucky, plus the plentiful hogfish from which the dive site gets its name. 
Home of one of Miami's largest natural reefs, Emerald Reef is an amazing dive spot for beginners to test out their equipment and gain confidence. The maximum diving depth is around 20 feet here, so you can practice your skills while seeing some of the prettiest reefs around.
This reef system is home to some of Florida's native hard corals such as elkhorn and pillar coral. Due to the shallow water, you are able to take in the full vibrancy of the colors and can clearly see the range of coral, sponges and tropical reef fish that call this coral reef home. You may even see nurse sharks and squid during your visit! 
Perhaps the most unique dive spot on this list, 1000 Mermaids is both an artificial reef project and underwater art gallery. 
This Ocean Rescue Alliance project is an eco-art initiative to create sustainable tourism and research opportunities in the waters off South Florida. The health of natural reefs can be severely impacted if visitors aren't careful during their exploration, so artificial reefs such as this one and others on this list can help offset the volume of visitors while giving time for the natural reefs to heal and create homes and habitats for ocean life. 
On your dive here you will get to explore the many mermaid statues resting on the ocean floor, all of which are crafted from sustainable concrete and human models to enhance marine habitats and expand educational opportunities to the public. Be sure to visit these art exhibits at Palm Beach and Hollywood and let us know which mermaid is your favorite!
Only 1% of this National Park is dry ground, so the primary way to explore is by jumping right in! Boasting more than 67,000 acres of underwater coral, this park has endless exploration opportunities, high quality coral and a diverse array of marine life that makes it a hard spot to beat. On a dive here you an expect to find expansive coral gardens and a wide variety of marine life like turtles, eagle rays, tropical fish and hammerhead sharks, just to name a few. 
There is also plenty of historical significance at this dive site dating back to the 16th century, with half-buried remains of Spanish galleons just waiting to be explored. Over 250 marine disasters have occurred here since the landscape forms a natural ship trap, leaving no shortage of waterlogged wrecks to be found. 
This site is only able to be visited by boat or seaplane and requires a little more logistical leg work to prepare for the visit, but we're sure it will be worth every effort!
One of the best places to drift dive in Miami can be found right here at Hammerhead Reef. Expanding two miles long and measuring 60 to 90 feet deep, this dive is an exciting opportunity for seasoned divers who are experienced with deep water and strong currents.
Unlike traditional diving, drift diving is spent going along with the current and letting it carry you on your adventure. It is one of the more relaxing types of diving as the current does all the work for you. 
There are three distinct layers of coral reef, each waiting to be explored as you make your way out from shore. The more than 10-foot ledges and deep nooks and crannies are home to a variety of marine life — as you drift on by, you will easily see a variety of turtles, sharks and fish. Reef fish of all kinds call this coral reef home and boxfish often hide from the current in the barrel sponges. Stingrays often play hide-and-seek in the sand below.
It can feel impossible to tackle all the dive spots in South Florida but starting with this list is a great way to explore the magnificent ocean and the treasures that lie below. If you live anywhere in or near our luxury South Florida apartments, then be sure to check these spots out! 
Enjoy!
Pin it!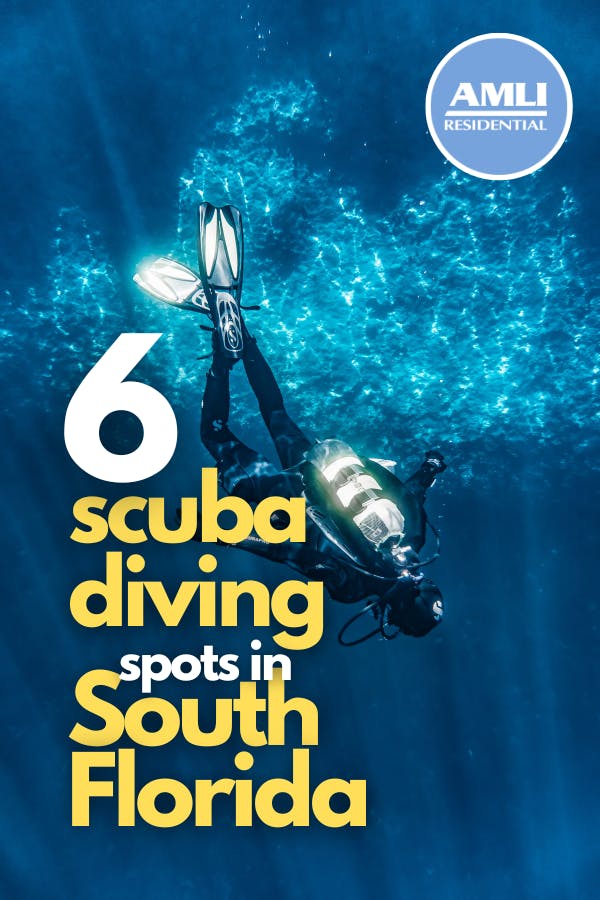 Featured photo courtesy Pixabay/FIRSTonline