Austin has an absolutely superb selection of food, drink and entertainment, and there's no better place to experience all of it than at one of Austin's spacious breweries. When the weather is nice, the sun is out and the social juices are flowing, these breweries with outdoor spaces are the perfect spots to visit!
7 Austin breweries with large outdoor patios
Neighborhood: South Austin
Location: 1305 W. Oltorf, Austin, TX 78704
Dog-friendly: Yes
Specialties: Hell Yes (Munich-style Helles), Big Mama Red (red IPA), Rocket 100 (Pre-prohibition-style Pilsner)
Where better to start than with one of Austin's most popular brewpubs around? 
The Austin Beer Garden Brewing Company, also known as ABGB, has everything that makes Austin famous. There's live music, amazing food, gorgeous scenery and a killer vibe that makes for the perfect hangout spot with friends and family, as well as an award-winning selection of microbrews.  
ABGB beers feature a steady lineup of Pilsners, IPAs and Helles, as well as a rotation of sours, farmhouse beers and American Pale Ales.
Neighborhood: North Austin
Location: 6015 Dillard Cir A, Austin, TX 78752
Dog-friendly: Yes
Specialties: Dr. Doctor (German Pilsner), Confabulator (Doppelbock), Schwarzengiggles (Schwarzbier)
Known for their impressive selection of house-brewed German beers, The Brewtorium is the place to go for food, drinks, music and outdoor seating in North Austin. Be sure to check out their mead and wines, too, as well as their strong list of lagers. 
Neighborhood: East Austin
Location: 4824 E Cesar Chavez St, Austin, TX 78702
Dog-friendly: Yes
Specialties: CMW Oatmeal Stout, CMW Kölsch
Housed in an old World War II airplane hanger, Central Machine Works has created an artsy and industrial-style atmosphere complete with spacious indoor dining, a sprawling outdoor patio, enviable event spaces and even an in-house art gallery! 
The patio is what draws loyal customers back again and again, though. Fire pits, picnic tables, string lights, huge patio… what's not to like? 
Neighborhood: South Austin
Location: 121 Pickle Rd, Austin, TX 78704
Dog-friendly: Yes
Specialties: Cocktails, local brews, boozy coffee
This coffee house, food truck venue and beer garden combo means you can spend all day relaxing in the lush grounds around Cosmic that reflect the company's sustainable-forward mindset.  
Whether you're there for the coffee, the food or the beer, you can enjoy the pond and garden, chicken coops, vegetable gardens and rainwater-collection stations that create and sustain Cosmic's regenerative and environmentally-friendly environment. The massive outdoor space features plenty of shade, an abundance of seating options and a gorgeous setting in which to enjoy their selection of local draft beers, seltzers, ciders and wine.
Neighborhood: North Austin, South Austin, East Austin
Location: 3508 S Lamar Blvd Suite 200, Austin, TX 78704 (South location); 6406 N Interstate 35 Frontage Rd Suite 1100, Austin, TX 78752 (North location); 1501 E 7th St, Austin, TX 78702
Dog-friendly: Yes (at all locations)
Specialties: local and house brews
With three locations in North, South and East Austin, as well as an impressive collection of local and house brews, Easy Tiger has made a name for itself as having some of the most popular beer gardens in the nation! 
The North location is steps away from the Tesla Supercharger station in The Linc, making Easy Tiger the perfect place to get your own recharge in the shaded garden and event space. 
The South location on South Lamar Boulevard is minutes from the Barton Creek Greenbelt natural area, where swimming, hiking and biking are popular all year 'round (i.e. it's a beer garden perfect for ending a day of hiking!).
The East location — Easy Tiger's newest — on East Seventh Street features a whopping 15,000 square feet of outdoor space, complete with paved patio, soft grass, shady trees, picnic tables galore and plenty of space to enjoy the fresh-baked goodies and house-brewed beer.
Neighborhood: West Austin (Dripping Springs)
Location: 19510 Hamilton Pool Rd, Dripping Springs, TX 78620
Dog-friendly: Yes
Specialties: Cosmic Cowboy (IPA), Saison c'est Bon! (Belgian-Style Saison), Glider (American Light Lager)
Nestled on a sprawling 15+ acres of Hill Country land just outside Dripping Springs, Family Business Beer Co. is the ultimate family-friendly and pet-friendly brewery around. Stroll through and relax in the shady groves of oak trees, strung with string lights and dotted with picnic tables, or settle down beside the children's playground for an afternoon of family fun. A rotation of food trucks keeps things interesting, but give the solid in-house food options a go, too!
Pets are welcome, friends and family are welcome, and the house-made brews will keep you there until long after the sun has set.
Neighborhood: Del Valle (Southeast Austin)
Location: 1615 Crozier Ln, Del Valle, TX 78617
Dog-friendly: Yes
Specialties: Old-World European-Style smoked beers
Named as one of the top 50 breweries in the nation, Live Oak Brewing Company creates many of its craft brews using an old-world process of smoking malt over an open fire, resulting in a rich, flavorful beer known as Rauchbier, or Smoked Beer. This unique technique is what makes Live Oak so well-known around the area, and attending any one of the tours and special tappings is well worth it. 
The expansive beer garden, set on the sprawling 22-acre grounds on the banks of the Colorado River, is perfect for a weekend hangout or any of the festive biergarten events. Play a few rounds on the 12-hole disc golf course or relax under the shady trees, and grab a bite from the rotating selection of food trucks.
If you live near any of our Austin apartments, then these breweries should be at the top of your must-visit list. Try them out and let us know how you like them!
Cheers!
Pin it!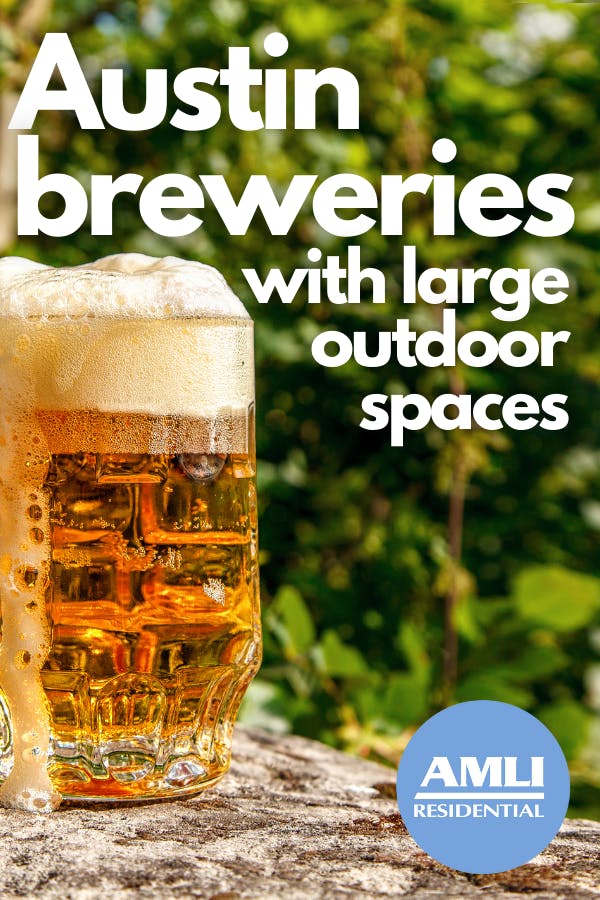 Featured photo courtesy Unsplash/Fred Moon