In 2009, Forbes Magazine ranked Atlanta the most toxic city in the nation. In almost a decade since, Atlanta has made admirable strides toward becoming a greener city. Its air and waterways are less polluted. Its carbon footprint is down. Green building is on the rise, with strict regulatory standards in place for new construction. Even the city's parks are nicer. Here's a look at the city's most laudable sustainability initiatives.
In 2010, recently elected mayor Kasim Reed teamed up with Atlanta's new Office of Resilience (then called the Office of Sustainability to develop and launch Power to Change. The citywide initiative established a basis for measurable sustainable action in 10 impact areas, including air quality and energy efficiency.
Less than a decade later, two-thirds of the projects envisioned by this ambitious plan have been carried out. Residential systems for harvesting rainwater for potable use are now legally in place. Energy-efficient lighting has been installed on the majority of municipally owned land. And electric vehicle charging stations are cropping up all over the city, including at luxury Atlanta apartment rentals like AMLI North Point and AMLI Old Fourth Ward. The Power to Change plan has been in essential in helping Atlanta reconcile its development goals with its environmental limits.
Vision 53 Initiative
Chattahoochee NOW is an alliance of riverside communities committed to reclaiming and preserving the beauty of the Chattahoochee River. The group is particularly focused on expanding access to the 53-mile stretch of river between Peachtree Creek and Chattahoochee Bend.
The Altanta BeltLine is one of the most comprehensive transportation and economic development efforts ever undertaken by the City of Atlanta. Already underway, the Beltline Strategic Improvement Plan is on track to connect 45 Intown Atlanta neighborhoods via a 22-mile loop of multi-use trails, parks, and pedestrian-friendly rail transit by 2030. When completed, the Beltline will boast 33 miles of interconnected multi-use trail, 1,300 acres of parkland, and prized public art. Separately from the BeltLine, Atlanta's Department of Parks, Recreation, and Cultural Affairs is working to improve current park facilities, green spaces, and bike trails.
The nonprofit organization Park Pride is responsible for several major improvements to Atlanta and DeKalb County's parks over the past three decades. The organization aims to create safe and attractive green spaces that support community health and recreation. Park Pride is currently working to restore Proctor Creek, along which underserved communities currently face flooding, sewage, pollution, and other public health issues.
Green building
According to the 2017 National Green Building Adoption Index, Atlanta ranks third in sustainable development and construction among the country's 30 largest markets. More than 50 percent of new commercial buildings have LEED and ENERGY STAR certifications. An ordinance passed this year requires new municipal construction and renovation projects to meet the criteria for Silver-LEED certification. With enthusiasm for sustainable development high and mandates like this, the future of green building in Atlanta looks bright.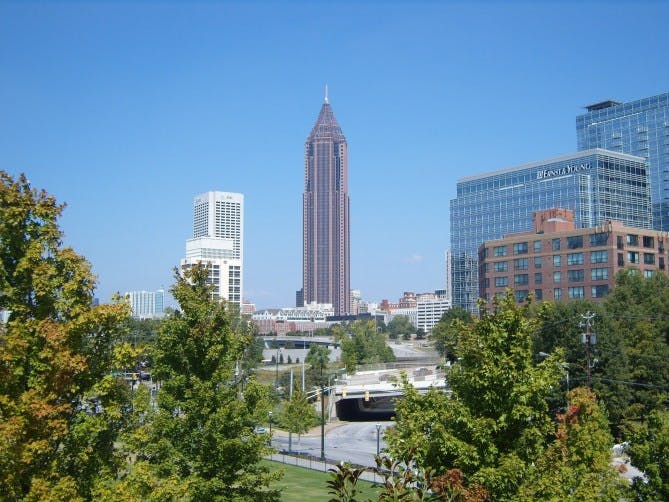 Connect Atlanta Plan
The Atlanta Streetcar opened with 2.7 miles of initial rail in 2014. The streetcar network is expanding alongside other improvements in the city's public transport infrastructure. Atlanta hopes this and other improvements in the city's public transit infrastructure will encourage more widespread use of public transport. This will further reduce the city's greenhouse gas emissions.
Community engagement and education
Atlanta's infrastructural improvements are designed to make it easier for citizens to live more sustainably. But meeting Atlanta's goals for a greener city also depends on residents' choices. Citywide events like "Walk Day" and "Give Your Car the Day Off" encourage community engagement, and are designed to inspire residents to live more sustainably. A commuter rewards program provides another incentive for Atlantas to travel sustainably.
Georgia State University, for its part, implemented a campus-wide initiative called Go Green. The initiative is focused on education and raising awareness around community and global environmental issues. The university added several sustainability classes to its course curriculum, and offers more green internships and campus groups than were available just a few years ago.
Resource conservation
Since implementing its Power to Change plan, Atlanta has reduced its consumption of fossil fuels, natural gas, energy, and water. Greenhouse gas levels were down 12.5 percent after just two years, far surpassing a goal of reducing greenhouse gas production 7 percent by 2012.
Ambitious future goals
In addition to current initiatives, Atlanta plans to undertake new projects and implement additional environmentally-minded policies in the future. Among its ambitious targets are 40 percent reductions in both municipal energy use and greenhouse gas emissions by 2030. Primarily through reuse and recycling, the city also aims to reduce residential waste by 90 percent by 2020. Other aims include the creation of more green space, greater accessibility to local foods, and more renewable energy capacity.
Like what you just read? Why not subscribe to the AMLI Blog so you don't miss another post?