A coastal city in Southern California, Long Beach is a place where the sun is (mostly) always shining and the ocean breeze is a constant source of happiness. And as the seasons change and the temperatures begin to rise—the best time for ice cream is now. While there's no denying that ice cream isn't exactly a health food, it is good for the soul. Whether you've had a long day at work, want to reward your children or your sweet-tooth craving is acting up, Long Beach offers an abundance of ice cream shops that are sure to hit the spot. With an endless amount of flavors to pick from, choose wisely! But then again, you could also just try them all.
4141 Long Beach Blvd.
Open six days a week, Long Beach Creamery opens each day at noon—allowing you to get your sugar fix as soon as lunchtime rolls around. Known for using fresh and local ingredients, Long Beach Creamery offers up unique twists on classic flavors, including burnt caramel, pineapple upside down cake and whiskey vanilla. If you've got a birthday or special occasion coming up, Long Beach Creamery can create an ice cream cake to suit your needs. Even better? Head on into the creamery to purchase your very own pint chip, where one chip equals one pint of ice cream! Purchase it for a friend, family member or loved one so they can head on in and pick out whichever flavor their heart desires.
5305 E. Second St.
An ice cream shop that originally opened in Denmark, Paradis has since then made its way over to Los Angeles and has nine current shops open throughout Southern California. With homemade ice cream made fresh each and every day, Paradis leaves out any and all artificial ingredients for a natural taste you can appreciate. All of their ice cream flavors are made from scratch, and there are even vegan sorbet options—made with fresh fruit! And while their flavors of ice cream may seem endless, we recommend trying out the almond chocolate chip, chai latte or oreo cherry cheesecake. Yum!
5708 Seventh St.
Creativity, unique flavors and plenty of calories make Afters Ice Cream a must have for anyone with a sweet tooth. Flavors such as the peanut butter s'mores and cookie butter will take your taste buds to a new galaxy and serves as the perfect addition to any part of your day. Interested in stepping things up a notch? The milky bun creates a mouth-watering sandwich by combining your favorite ice cream flavor with a warm, glazed doughnut. Are you drooling yet? And while this ice cream join might not be the place to go to achieve your beach body, it's too good to pass up. Even better? It's a short 15-minute drive from our Long Beach apartments! Afters Ice Cream is open seven days a week from noon to midnight, go check it out!
4725 E. Second St.
Known as the Creamistry difference, Creamistry uses liquid nitrogen to handcraft their ice cream, made-to-order and one scoop at a time! This ensures that your ice cream is fresh, creamy and rich—and also completely customizable! With over 60 flavor and topping options, you can create your ice cream in any way which you desire. Choose from the regular scoop options, or add a twist on your favorite classic by creating a nitroshake or ice cream sandwich. Flavors range from classic to nutty and fruity to sweet, you can't go wrong!
So get out there, and get to tasting!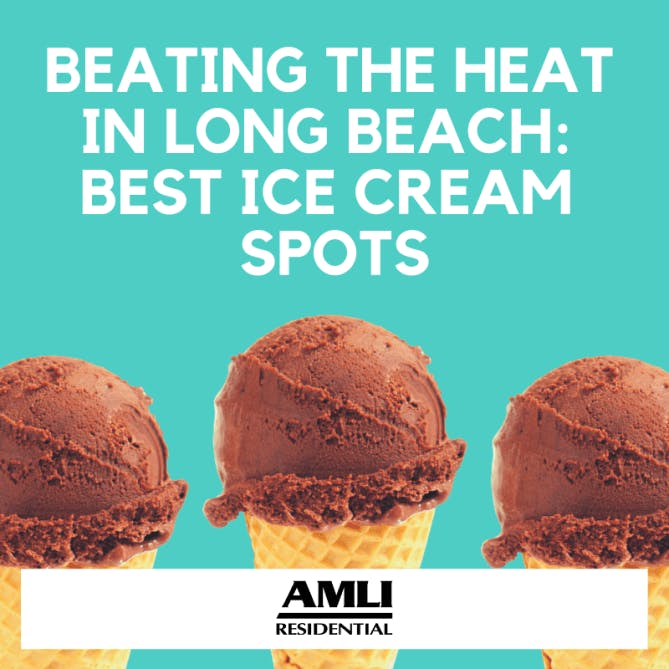 Interested in more blogs like this? Stay up to date with the AMLI blog!