If you live in our luxury apartments in Bellevue, then you already know how culturally diverse the city is. Living in a place where you can interact with people of different cultures, languages, religions and traditions is so important, especially as today's world becomes more and more connected and intertwined.
Statistics show that Bellevue is more diverse than its neighboring city of Seattle. By a decent amount, actually! In a 2019 study on diversity in cities in the United States, 501 cities across the country were ranked on a number of diversity areas such as socioeconomic, cultural, economic, religious and household diversity. Out of those 501 cities, Bellevue ranked 42nd for cultural diversity and 138th for overall diversity, and it ranked as the fifth-most diverse city in the state! For comparison, Seattle ranked 138th for cultural diversity and 180th for overall diversity. Wow!
That being said, it's no wonder that Bellevue's cultural diversity has greatly influenced the restaurant scene. International food from all over the world has popped up throughout the city and surrounding suburbs, so if you're looking for some great meals and tasty bites, then Bellevue is the place you need to be.
Here are a few of the most popular and highly-rated Indian and Thai restaurants in Bellevue that you can frequent for your next meal or takeout!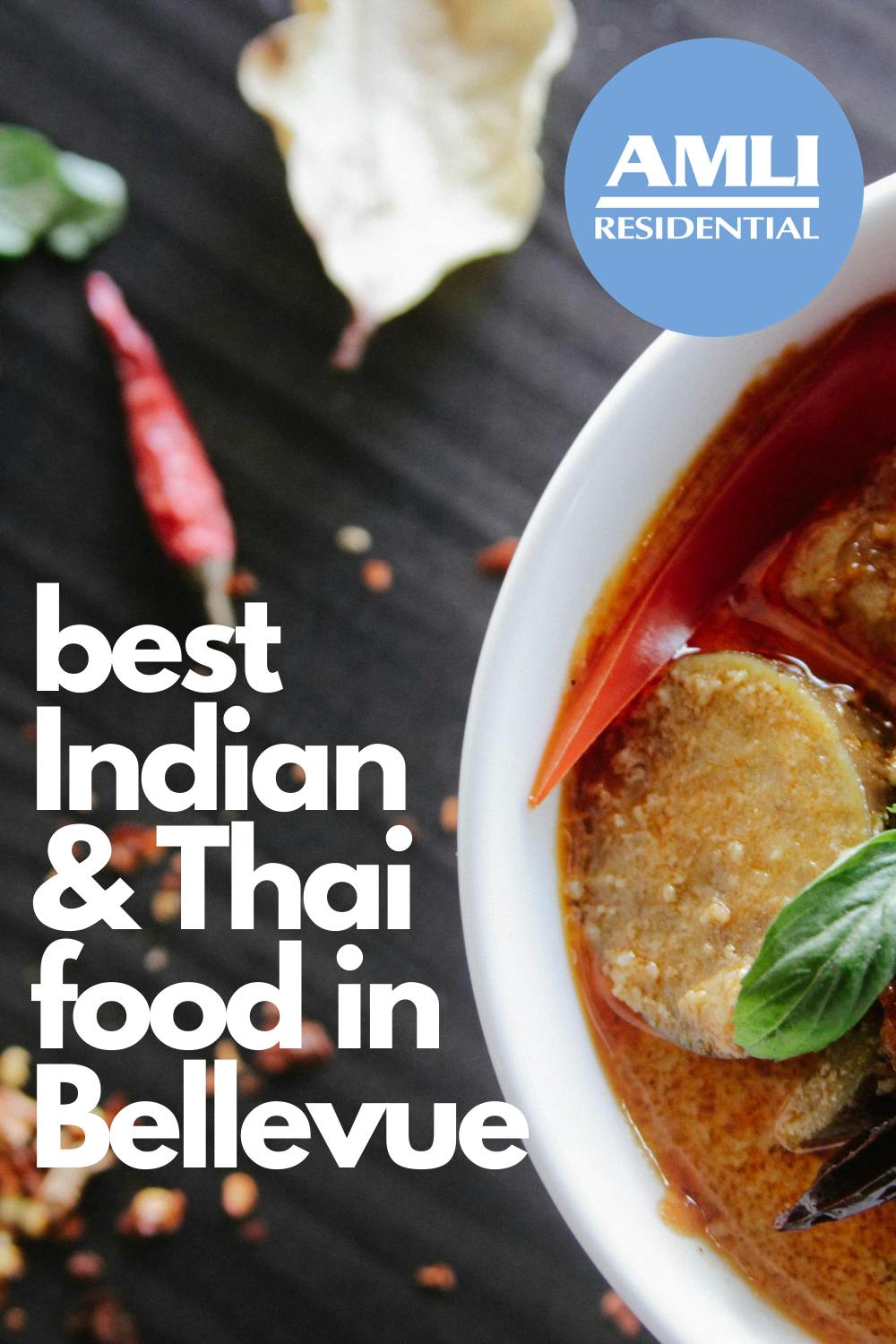 Top 4 Indian restaurants in Bellevue
Price: 💲💲
Delivery: 🚚 yes
Takeout: 🥡 yes
Whether you're craving a quick mango lassi or are ready for a hearty plate of paneer butter masala, this is the place to go! Dakshin South Indian Bistro has a wide variety of dishes that will suit meat-lovers, vegetarians and vegans alike. Gone are the days of less-than-authentic Indian dishes, because here you can absolutely load your table full of quality sides, drinks, combos and starters. Check out their menu here!
Price: 💲💲
Delivery: 🚚 yes
Takeout: 🥡 yes
For anyone looking for halal and gluten-free Indian options, The Roll Pod is where you should go! It's great for those who want to grab a quick bite on-the-go or order takeout dinner for a night at home. There are also two food trucks you can stop by if you're in the South Lake Union area, so there's no reason to not try it out! Check out their menu here!
Price: 💲💲
Delivery: 🚚 yes
Takeout: 🥡 yes
When you're in a hurry, why not grab some curry? Finding authentic Indian food that works well with your busy day is a big deal, and that's why Bhojan Xpress is perfect for those quick meals and jam-packed schedules. Conveniently located just north of Downtown Bellevue, this little express allows you to build your own meal and be out the door before you know it. It's fast, tasty and super convenient!
Price: 💲💲
Delivery: 🚚 yes
Takeout: 🥡 yes
You may think this is just a restaurant (Justaurant, get it?), but this yummy locale has some great bites that you're sure to order again and again. This restaurant's fusion of traditional Indian Dosai and assorted fillings makes these TOtally Stuffed And Interestingly Indian (TOSAII) meals one for the books. Check out their menu here!
Top 4 Thai restaurants in Bellevue
Price: 💲💲
Delivery: 🚚 yes
Takeout: 🥡 yes
Aesthetically-pleasing plates and expertly-crafted dishes are what you can expect here at Tem Sib Thai. Grab a feast box to-go for your stay-at-home date night, or try out their signature pad thai or green curry dishes, too. 
Price: 💲💲
Delivery: 🚚 yes
Takeout: 🥡 yes
You're not going to find a better combination of Thai and seafood than right here at Sukho Thai. Vegetarians and pescatarians can find a wide range of dishes suited to their tastes, and you'll be amazed at the depth and flavor of some of these.
Price: 💲💲
Delivery: 🚚 yes
Takeout: 🥡 yes
Looking for a quick meal and affordable dishes? This place is for you ! Located in Downtown Bellevue on Main Street, Racha Go is the new Thai place on the block that's already made a name for itself. Outstanding flavors and dishes from all regions of Thailand can be found on this menu, so why not try something new?
Price: 💲💲
Delivery: 🚚 yes
Takeout: 🥡 yes
Bai Tong offers a level of authenticity that not many other restaurants can offer. The quality dishes are worth the extra few dollars, for sure, and the level of service is outstanding, too. 
Whether you;re looking for a spicy curry or soothing lassi, you now know that you're sure to find something around our luxury apartments in Bellevue! These represent a fraction of the hundreds of international restaurants all over the city, so there's always more to discover around town. Let us know what your favorite international restaurants are, and we'll try them, too!
Enjoy!
Pin it!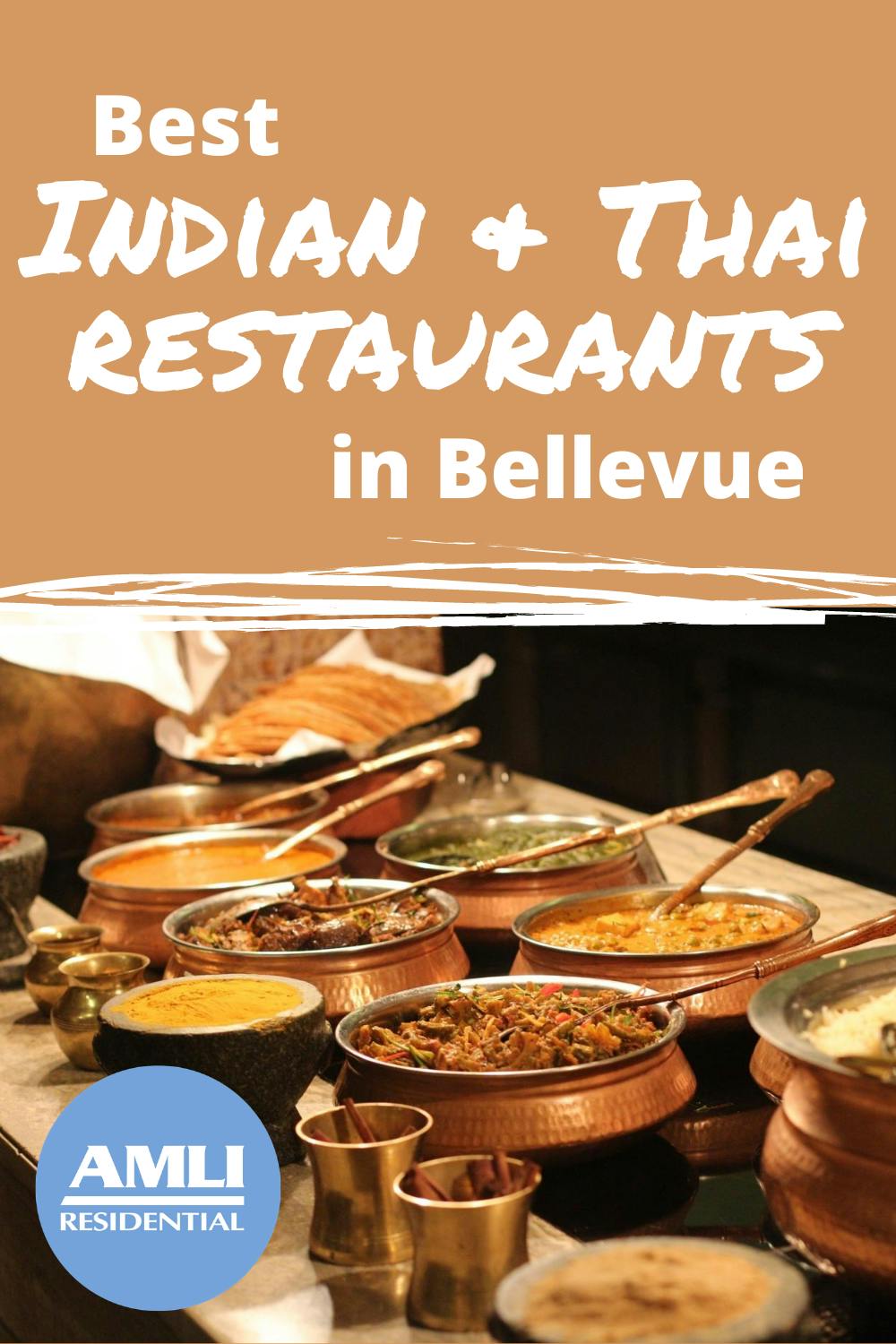 Featured photo courtesy Pixabay/PublicDomainPictures