Beat the heat this summer with a dip in one of the many mountain-fed creeks, rivers, lakes and ponds around Denver!
Swimming is a great way to get outside and cool off in the harsher summer months, especially when the community pools are feeling just a tad too crowded. 
Here are some of our top picks for swimming spots in and around Denver — give or take a few extra miles. Check them out this summer and, if you find any more, let us know!
Where to go swim around Denver, Colorado
Big Soda Lake
Location: 15600 W Morrison Rd, Lakewood, CO 80228
Distance from Downtown Denver: 24 minutes
Dog-friendly: no
The Soda Lakes have long been a popular destination for water enthusiasts around Denver, thanks to its location, scenery and accessibility. 
Located just west of Denver in Morrison, the two Soda Lakes in Bear Creek Lake Park provide a perfect respite from the hustle and bustle of the sprawling metropolis. The larger of the two lakes is certainly the more bountiful in terms of space and activities, but there's certainly plenty to do at both!
Big Soda Lake has a large, sandy beach that's perfect for propping up umbrellas and tents for a day on the water. Visitors can rent paddle boards, buy concessions, play beach volleyball, kayak on the water and, of course, swim to their hearts' content!
Boulder Creek
Location: 101 Arapahoe Ave, Boulder, CO 80302
Distance from Downtown Denver: 40 minutes
Dog-friendly: yes
This creek is just outside, you guessed it, the city of Boulder, making it ideal for a quick getaway or afternoon swim.  
Boulder Creek is a popular tubing destination, but it's also known for its strong current in some places. For swimming, though, a dip in the mountain-fed creek will leave you feeling crisp, clear and refreshed!
Chatfield Reservoir
Location: 11500 N Roxborough Park Rd, Littleton, CO 80125
Distance from Downtown Denver: 30 minutes
Dog-friendly: yes
Chatfield State Park's gravel pond is ideal for swimmers and picnickers who want to bring their four-legged family members along. 
This reservoir just outside Littleton is a popular destination for boaters, kayakers, paddle boarders and water skiers, to name a few. The large lake offers plenty of space for all kinds of water activities, as well as surrounding trails for hikers, cyclists and equestrians. You can even rent a campsite or cabin and hang out for a few days! There's a boat marina, a floating restaurant and boat rentals for those who want to leave their gear at home.
The best part? The wide, open spaces offer unobstructed views of the Front Range beyond, making this one of Denver's best must-see swimming spots!
Grand Lake
Location: 1121 3rd St, Grand Lake, CO 80447
Distance from Downtown Denver: 2 hours, 15 minutes
Dog-friendly: yes
This swimming spot is certainly one of the biggest ones out there, considering it's in the deepest and largest natural lake in Colorado!
Grand Lake is a popular mountain destination that's tucked alongside Rocky Mountain National Park. The Town of Grand Lake is right on the water's edge and provides visitors with plenty of resources and recreation activities. Sit on the sandy beach and swim in the shadows of the surrounding mountains, walk along the lakeside boardwalk to the quaint marinas, paddle on the water in a canoe, or rent a boat and spend the day exploring the far shores away from the crowds. 
Truly, this swimming spot is a must-see for anyone chasing scenic views and cool mountain waters. 
Horsetooth Reservoir
Location: Foothills Trail, Fort Collins, CO 80526
Distance from Downtown Denver: 1 hour, 32 minutes
Dog-friendly: yes
Fed by the Poudre River, this 6.5 mile-long lake is a little further away from the city, but the sheer amount of water-related activities available here are well worth the trip.
Head to Horsetooth Reservoir for swimming, cliff jumping, rock climbing, fishing and scuba diving, as well as boating, water skiing, tubing and more! The 1,900 acres of public lands surrounding the lake ensure that visitors will feel like they're truly away from the city, although the million-plus visitors to the lake might make the experience anything but quiet. 
If you want to swim in peace, make sure to arrive early or late to find parking, as summer days are the most popular times of the year for this gem of a swimming spot. 
North Fork of the South Platte River
Location: 30400 Crystal Lake Rd, Pine, CO 80470
Distance from Downtown Denver: 1 hour
Dog-friendly: yes
For those seeking a more quiet stretch of water to paddle in, the North Fork of the South Platte River is the place to visit, for sure. 
Multiple access points to the river allow for float put-ins and take-outs, though there is the understanding that you must swim, paddle and tube at your own risk. Pools of gently-flowing waters make for perfect swimming spots, though be sure to stay away from the rapids and harsher currents downstream.
If you do go tubing or floating, keep an eye out for the old (and, supposedly, haunted!) South Platte Hotel which sits abandoned on the north bank of the river. 
Paradise Cove
Location: 13999 Main St, Guffey, CO 80820
Distance from Downtown Denver: 2 hour, 24 minutes
Dog-friendly: yes
Filled with crystal-clear waters and surrounded on all sides by ancient cliffs, this tucked-away cove outside Colorado Springs certainly lives up to its name. 
A short half-mile hike along the Guffey Gorge Trail brings hikers, swimmers and cliff-jumpers alike to this secluded swimming hole that's been frequented by visitors for generations. That being said, it does get pretty busy on summer days, especially on the weekends, so pick a weekday morning or a warm fall day to get some real peace and quiet at this breathtaking swimming hole. 
If you live anywhere near our luxury Denver apartments, grab your sunscreen, new bathing suit, a towel and some summer-y snacks and head off to one of these swimming holes around Denver for a day out in the sun, sand and water! Be sure to practice Leave No Trace principles wherever you go, and you'll leave wanting to come back time and time again!
Enjoy!
Pin it!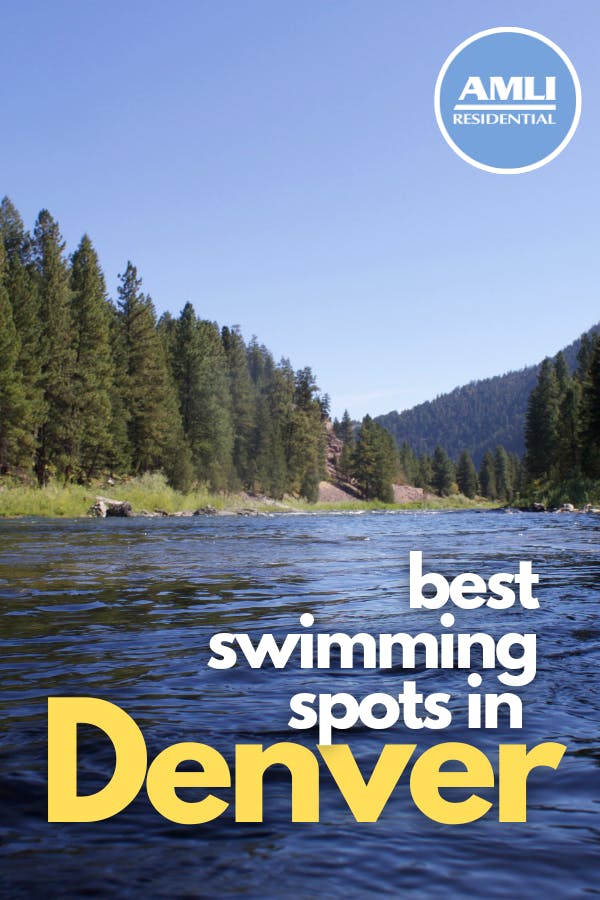 Featured photo courtesy Pixabay/sandgroper